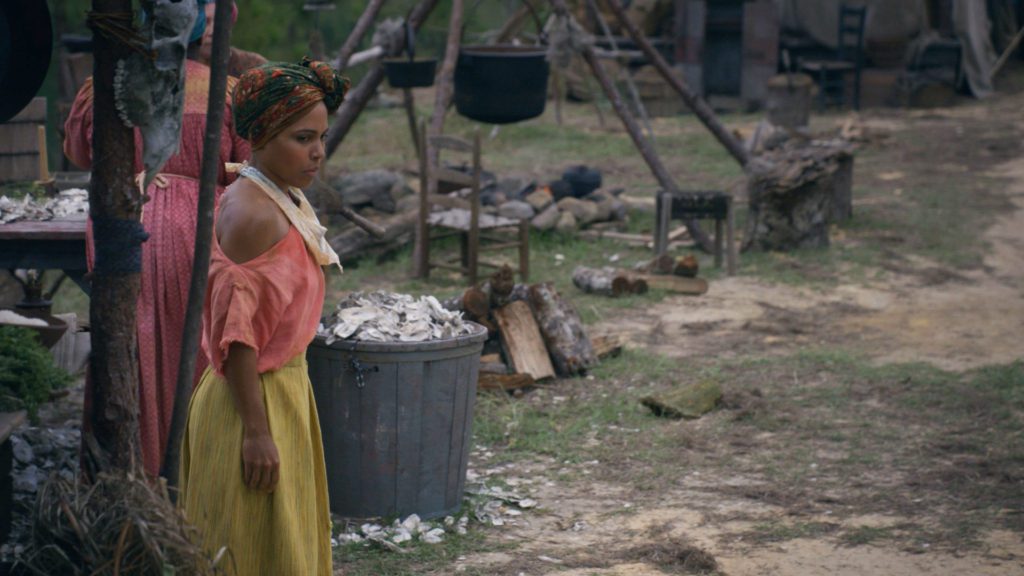 Pictured:  Amirah Vann's character (Ernestine) struggles are brought to light in season 2
WGN America has teamed with the National Domestic Violence Hotline and the National Suicide Prevention Lifeline for public service announcements following episodes of its critically acclaimed series"Underground," airing on Wednesday, March 15 and Wednesday, March 22 at 10:00 p.m. ET/PT. Delivered by series co-creator Misha Green and actress Amirah Vann, the PSAs will address domestic violence and suicide prevention to provide a resource for viewers who may be dealing personally with these issues. Vann's character (Ernestine) faces these struggles, which were brought to light in the season two premiere of "Underground."
"Domestic violence and suicide are two issues that still plague our communities today. Both thrive on isolation, and we wanted to let those at risk know that we see them and encourage them to seek the help they deserve," said"Underground" co-creator and executive producer Misha Green.
"We appreciate WGN America using a powerful platform like 'Underground' to help spark conversations about domestic violence," said Cameka Crawford, Chief Communications Officer at the National Domestic Violence Hotline. "The only way we will end this epidemic is by continuing to speak openly about domestic violence, which brings this issue into the light and shows people affected by relationship abuse that help is available."
"We believe that healing, hope and help are happening every day," said Frances Gonzalez, Director of Communications for the National Suicide Prevention Lifeline. "By having these conversations and sharing resources for those in crisisand their loved ones, we can prevent suicides and save lives."
The National Domestic Violence Hotline's highly trained advocates are available 24/7/365 to talk with anyone affected by domestic violence. The Hotline provides lifesaving tools, safety planning, immediate support and hope to empowervictims to break free of abuse. Resources and help can be found at thehotline.org or by calling 1-800-799-SAFE (7233). Click here for PSA on domestic violence prevention.
The National Suicide Prevention Lifeline toll-free number, 1-800-273-TALK (8255) connects the caller to a certified crisis center near where the call is placed. The service is free, confidential, and available 24/7 to everyone in the United States. Click here for PSA on suicide prevention.
From creators and executive producers Misha Green and Joe Pokaski, and executive producer and Academy Award®-winner John Legend, season two of the 10-episode, hour-long series "Underground" follows an unremitting struggle for freedom within a divided America on the brink of civil war, each side vying to enact their own justice.