After all the buildup concerning Fed Chair Bernanke's Jackson Hole speech, European Central Banking President Mario Draghi's speech, and both the Democrat and Republican political conventions, have we been left with a clear picture of what's to come?  While some of the economic data is better, the jobs picture remains underwhelming.
U.S. equities participated in a global rally following Thursday's ECB announcement. By Friday's close the major indexes had all recorded solid weekly gains, led by the Russell 2000 with an advance of more than 3.7%. The S&P 500 and the NASDAQ made new, year to date highs, while the Dow and Russell came up short. The twelve major foreign indexes were also positive.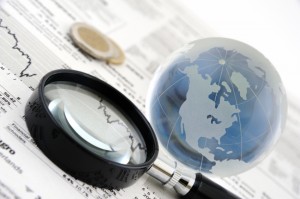 The 30 year bond ended the week above 2.8%. Gold pushed past $1,700 and silver kept pace. Copper broke out likely thanks to the announcement of a Chinese 1 trillion dollar infrastructure initiative.  Crude oil did not move and Natural gas continued to trade under $3.  Grains were mostly flat as were the softs.  The (King) U.S. dollar was down against most of the major currencies.  If the Fed doesn't open a new round of Quantitative Easing, we could see the dollar index firm up and regain strength. I'll be watching cautiously to see what the week brings. As soon as Wednesday, the German Federal Constitutional Court is expected to issue a favorable ruling to allow Germany's participation in the permanent European Stability Mechanism bailout facility. There is the outside possibility that the Court could rule against the ESM, which would cause an immediate and sharp drop in the euro and European stocks.  Expect a significant correction (not panic) if the court rules against ESM participation.
I remain optimistic. Home prices continue to rise, job creation was strong (according to ADP and various other analysts) and Auto sales are rebounding.  The official jobs numbers reflected a weak economy as the official employment data is roughly consistent with the GDP numbers, with a growth of 2% or so. The ECB purchases will be "sterilized" so that the overall balance sheet does not expand. This is not the money printing that some hunger after (like we did here in the U.S.). To some, this sounds good, but it could prove difficult to sustain in the long run.  In addition, the ECB will not have seniority to private creditors – a very positive point for the banks and other institutional holders of sovereign debt.  Negatively, foreign economic indicators (Europe and China) all declined last week.  Although confidence remains meek, I remain optimistic, cautious; and oh…did I mention I'm ridiculously ecstatic that my beloved San Francisco 49ers went into Green Bay and put a hurting on the Packers?  Ahem, there are a few individuals, who will remain unnamed, that I expect to see parading around for the next full MONTH in 49er jerseys.  HA HA HA – choke on that, chumps!!!!
Dempster R. Cherry
Financial Advisor