Note: When cooking in the Spring I like to match the flavor of the day with the type of day it is. Pasta Primavera is one of my favorite dishes to make on a cool sunny day. What I like about Chef John's recipe is that it's very distinctive; refreshingly tossed with green vegetables.
Chef John's Pasta Primavera
Ingredients:
1 bunch fresh basil
3 cups chicken broth, divided
1/2 cup olive oil
2 cloves garlic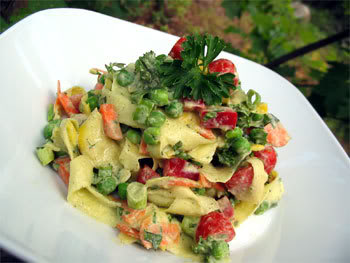 1 pound fettuccine pasta
2 tablespoons olive oil
1 large leek, white and light green parts only, chopped
1 bunch green onions, chopped
2 jalapeno peppers, seeded and diced
2 pinches salt
2 zucchinis, diced
1 cup chopped sugar snap peas
1/2 cup shelled English peas
1 bunch asparagus, stalks diced, tips left whole
1/2 cup grated Parmesan cheese, or as needed
Directions:
1. Fill a large pot with water. Add a small amount of salt and bring to a boil. Immerse the basil bunch in the water until it is bright green, and immediately transfer into a bowl of ice water. Drain the basil, and discard the stems.
2. Use a blender to blend the basil leaves, chicken broth, olive oil, and garlic until it's smooth.
3. Put your noodles into the pot of boiling water until they are firm to the bite and drain.
4. Heat 2 tablespoons of olive oil in a large saucepan over medium heat. Add your leeks and green onions when the oil is hot and cook until softened. Add in jalapeños and salt and stir until they're soft.
5. Increase the heat to medium high and stir in chicken broth, zucchini, snap peas, and English peas to you jalapeño mixture and simmer for about 5 minutes. Add your asparagus last and cook until they are soft.
6. Add a 1/4 cup of the basil mixture to the zucchini and heat thoroughly. When its hot remove from heat.
7. In a large bowl, pour your zucchini mixture on your pasta. Add remaining basil mixture. Add parmesan cheese and toss. Let it sit for 5 minutes and toss again. Enjoy!
Note: Entrées should always have a strong side item to strengthen your dining experience.
Here is a quick and easy recipe that is strong enough to hold its own during dinner. The rice is stir fried which reduces the intensity of the curry. You can also try adding leftover chicken for a quick lunch.
Curry Fried Rice
Ingredients:
1 1/2 tablespoons vegetable oil
1 beaten egg
6 chopped scallions
2 teaspoons curry powder
4 cups cooked rice
Soy Sauce and pepper (to taste)
Sesame oil (to taste)
Directions:
1. Heat vegetable oil in a large nonstick sauté pan over medium high heat. Add 1 egg, and swirl the pan. Transfer to a plate.
2. Add chopped scallions to the pan, and season with curry and pepper. Stir fry for 2 minutes.
3. Stir in cooked rice and soy sauce. Cook for 3 minutes, and add the egg. Stir the rice while breaking up the egg. Drizzle sesame oil and serve.
Note: Chicken soup doesn't always have to have rice or noodles. This recipe utilizes orzo which is a short cut pasta that resembles rice. The dill and lemon give this soup a robust flavor which is perfect for soup on a cold Spring night.
Lemony Chicken and Orzo Soup
Ingredients:
1 tablespoon olive oil
1 medium leek, white and pale-green parts only, halved lengthwise, sliced crosswise 1/2″ thick
1 celery stalk, sliced crosswise 1/2″ thick
12 ounces skinless, boneless chicken thighs
6 cups low-sodium chicken broth
Kosher salt, freshly ground pepper
1/2 cup orzo
1/4 cup chopped fresh dill
Lemon halves (for serving)
Directions:
1. Heat olive oil in a large pot over medium heat. Add leeks and celery when the oil is hot and stir often until the vegetables are soft.
2. Add the chicken and the broth. Season with salt and pepper( to taste). Bring it to a boil, reduce the heat (to simmer), and cover until the chicken is cooked through.
3. Transfer the chicken to a plate, and cut into small pieces.
4. Bring the liquid back to a boil, and add orzo until cooked al dente.
5. Remove the pot from heat, and stir in chicken and dill. Serve with lemon halves to squeeze over you soup. Enjoy!
Charles Dejesus