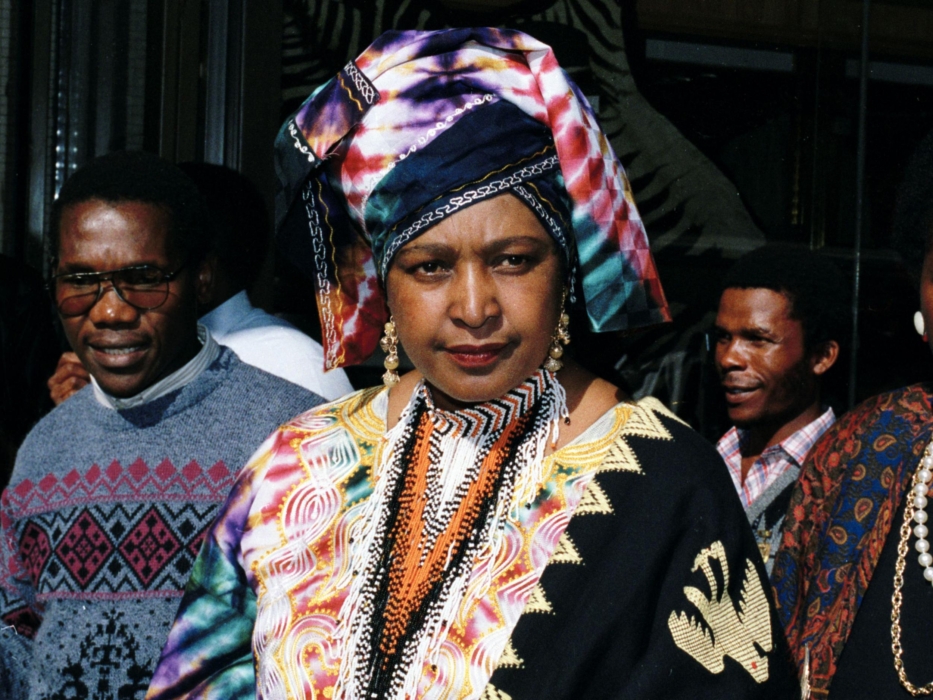 Winnie Madikizela Mandela, the former wife of South Africa's first black president, Nelson Mandela, has died at the age of 81.
Born Nomzamo Winifred Zanyiwe Madikizela on Sept. 26, 1934, in the village of Mbongweni, Transkei — a homeland, or bantustan, set aside for the Xhosa people in the Southeastern part of South Africa, according to the Nelson Mandela Foundation.
Her father, Columbus, was a senior official in the homeland of Transkei, according to South African History Online, an unofficial archive, which lists her as the fourth of eight children. Her mother, Gertrude, was a teacher who died when Winnie was 8.
She attended a Methodist mission school and then the Hofmeyr School of Social Work in Johannesburg, where she befriended Adelaide Tsukudu, the future wife of Oliver Tambo, a law partner of Mr. Mandela's who went on to lead the A.N.C. in exile. She turned down a scholarship in the United States, and went on earn a degree in social work in 1955 in Johannesburg, and became the first black medical social worker in the city's Baragwanath Hospital in Soweto.
While working at the hospital, Winnie took an interest in the African National Congress (ANC), a national liberation movement that fought the injustices of the apartheid government and worked for political rights for the black majority of South Africa. Winnie did research on infant mortality in Alexandra Township, Johannesburg (10 deaths to every 1,000 births at that time). Her political affiliations and actions would increase after she met Nelson Mandela, and apartheid worsened in South Africa.
In 1957, at 22 years old, Winnie was waiting for the bus in Soweto when lawyer and political activist Nelson Rolihlahla Mandela walked up to her. According to him, it was love at first sight. He asked her to lunch and she accepted. Problem was, Nelson was married to his first wife, Evelyn Mase, with three children. Months later, in 1958, Nelson and Winnie were married in a Methodist service. She gave birth to two daughters, Zenani (born 1959), and Zindzi (born 1960).
At the time Winnie met Nelson Mandela in 1957, he was on trial for treason. Living in Soweto, Winnie and Nelson experienced four years of domestic partnership until 1962, when Nelson was arrested and put in prison on Robben Island on charges of violent conspiring against the republic. From the moment Nelson was charged, bans and travel restrictions were placed on Winnie, and the badgering by the South African government started. Confined to the Orlando Township in Soweto, Winnie began working officially for the ANC.
Visiting Nelson often in prison, among other untimely and heartbreaking events is what led to her activism. Things would worsen for her and her family. After a night raid on her home in 1969, Winnie was arrested in front of her daughters for conspiracy under the Terrorism Act. From 1969 to 1970, for 17 months, Winnie was put in solitary confinement in Pretoria Central Prison. In a cement box with no windows, urine-stained blankets crawling with bugs, and a single light bulb, Winnie did not speak to a single human for 200 days. After 491 days, intensive interrogation and routine torture by authorities, she was released. Her prison journals can be read in the memoir, "491 Days."
To the end, while Winnie is credited for her activism, her reputation became tainted legally and politically. Never the less, Winnie Mandela remained a iconic and a powerful force in South Africa, revered by loyalists on her contributions to end apartheid.
"If you are to free yourselves you must break the chains of oppression yourselves. Only then can we express our dignity, only when we have liberated ourselves can we co-operate with other groups. Any acceptance of humiliation, indignity or insult is acceptance of inferiority." – 1976
Sources: books.google.ps, en.wikipedia.org