Women Of Color Unite hosted by Producer Cheryl L. Bedford Sets of a Flurry of Excitement, Hope and Action in The Industry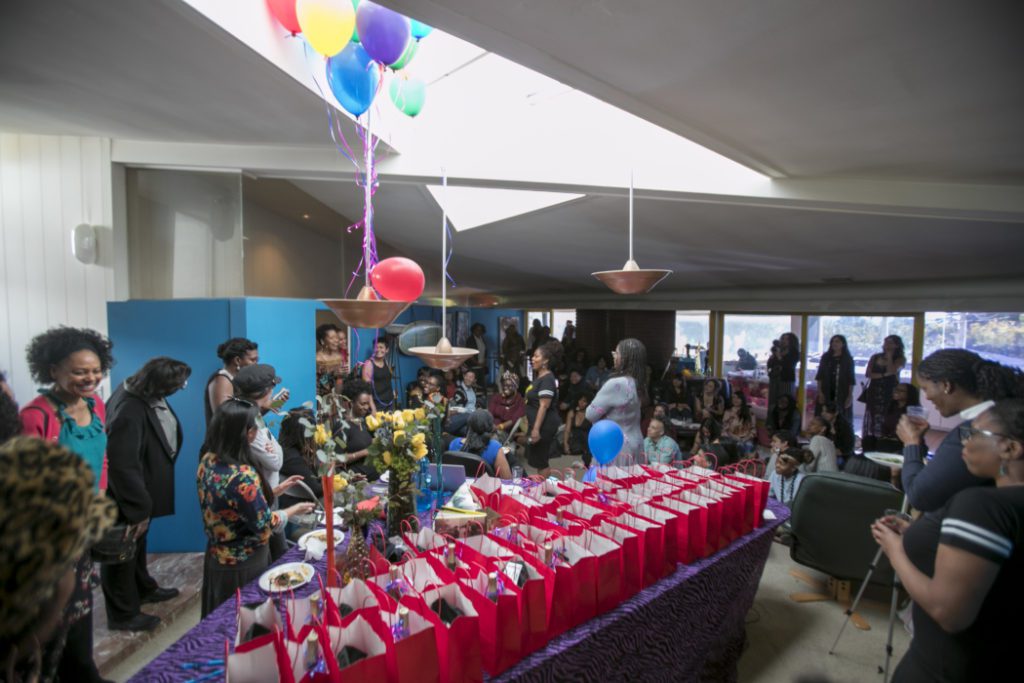 Photo Credit: Leonora Anzaldua 
LOS ANGELES (February 26, 2018)- Nearly 150 women of color aligned at the valet positioned on a hillside, in residential area in Los Feliz where Cheryl L. Bedford and Cheryl L. Bedford Productions in association with IndieFemme and Infinite Scope PR hosted the first ever Women of Color UNITE on Sunday, February 25, 2018. Women of Color Unite is the brainchild of veteran producer Cheryl Bedford who touts more than 20 years of experience in the industry, and has produced 16 feature-length films including the NAACP award nominated documentary Dark Girls, directed by Bill Duke. 
After hosting a few smaller gatherings in 2017, Bedford realized the problem with women of color in the industry was much bigger than she had imagined and she wanted to come up with a solution to help them to be more visible and increase employment opportunities. She also wanted to get women together to see how they could help one another to get their projects to the finish line. This cause attracted an array of talented women EP, producers, writers, directors, actresses, DP's, stylist, hair and costume.
"I needed to do this, because I got so tired of hearing white males in the industry say they don't know of any qualified women and specifically women of color to employ. They claim they don't know where to find them, so I thought, simply solution. Let me help you. I will create a worldwide list!", says Bedford. 
Upon arrival, women were happy to sign up on the "JTC List", named after Joan Theresa Curtis, the mother of Executive Producer Cheryl Bedford who was a political activist throughout her entire life, standing up for equality and issues that affected race and human rights until her death in 2016. The JTC List will make it easy for talented and skilled women of color from all over the world to join and to be recognized. The list will go live Oscar night, Sunday, March 4, 2018 with it's own FB page, Twitter and Instagram accounts.
During the event guests were treated to an assortment of wines by Zuri Wine Tasting who provided wine selections from black owned wineries, appetizers followed by a hearty Soul Food buffet prepared by Salt of the Earth Catering. After Bedford addressed the crowd, she went around the room and ask every woman state her name, what she does and what she needed or would like to offer and instantly, ladies were interviewing and hiring each other, phones were out and information were being exchanged. 
"Mission accomplished! This is what I'd hoped for. This is what I envisioned. Women helping Women until Hollywood get's the memo," says Bedford.
With so much positive chatter, the event went into overtime and ended with each lady walking away with a gift bag full of goodies. This was a day fit for a queen produced by Cheryl L. Bedford and Cheryl L. Bedford Productions, producers Melanna Gray and Gianni Amber North, sisters who started IndieFemme for Female Driven Content and Reid Rich of Infinite Scope PR. Valet provided by Valet of the Dolls. Event design was by Oneita Parker, Costume and Production Designer who also showcased a few of her show stopping items and finally one the ones and twos was DJ Lizz KimKim.
The next gathering "Women of Color and Their Allies" is scheduled for April 2018.