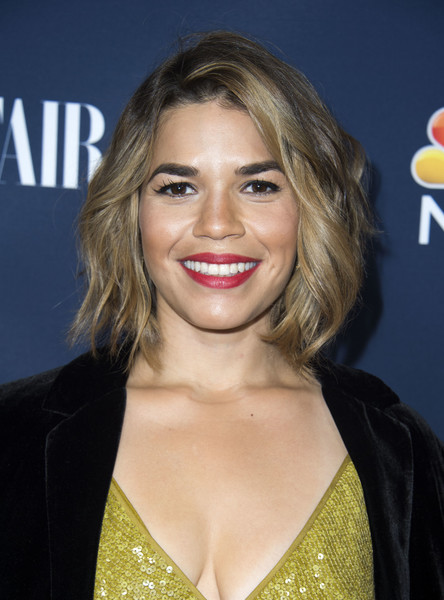 The Women's March on Washington announced actress America Ferrera, along with a growing list of celebrities, including Uzo Aduba, Cristela Alonzo, Patricia Arquette, Danielle Brooks, Cher, Lea DeLaria, Diane Guerrero, Danai Gurira, Chelsea Handler, Scarlett Johansson, Margo Jefferson, Angelique Kidjo, Padma Lakshmi, Shantell Martin, Debra Messing, Frances McDormand, Julianne Moore, Hari Nef, Katy Perry, Monica Raymond, Amy Schumer, Yara Shahidi, Alia Sherif, Kara Walker, Olivia Wilde, Constance Wu, and Zendaya, have joined the March's Artist Table. More than 100,000 are expected to attend the Women's March on Washington, which will take place in Washington, D.C. on January 21, 2017.
"Since the election, so many fear that their voices will go unheard," said Artist Table Chair America Ferrera. "As artists, women, and most importantly dedicated Americans, it is critical that we stand together in solidarity for the protection, dignity and rights of our communities. Immigrant rights, worker rights, reproductive rights, LGBTQIA rights, racial justice and environmental rights are not special interests, they affect us all and should be every American's concern."
There are also 150+ independently organized solidarity marches that are being planned in all 50 states and in 20 countries around the world. Chelsea Handler will helm a march down Main Street in Park City, Utah followed by a rally.
"I'm honored to join the Women's March on Washington Artist Table," Handler said. "By hosting a sister march in Park City, our Women's March on Main will help send a message to the incoming administration that attacks on Planned Parenthood and our fundamental human rights are unacceptable and if we have to re-fight for rights we have already fought for and won, we will do it louder and stronger, with men by our side."
Held on the first day of the new presidential administration, the Women's March on Washington aims to send a message to all levels of government and the incoming administration: that we stand together in solidarity and expect elected leaders to act to protect the rights of women, their families and their communities.
---
The Women's March on Washington is a women-led grassroots movement that will bring people of all genders and backgrounds together to take a stand on social justice and human rights issues ranging from race, ethnicity, gender, sexual orientation, religion, immigration and health care. The March is a statement of solidarity affirming our shared humanity and fundamental human rights. Visit www.womensmarch.com  for additional information.
###