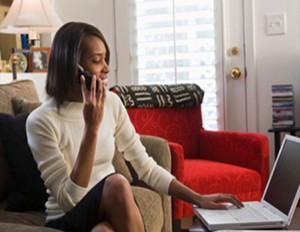 Experts point to numerous studies that demonstrate that people who work from home are, on average, more productive than their office counterparts. They've also shown that telecommuting improves morale and reduces turnover.
A February 2014 survey by PGi, a leading global provider of collaboration software and services, confirmed that telecommuting provides important emotional benefits for employees; it also delivers meaningful operational improvements for businesses. In fact, the State of Telecommuting 2014 found that employees who telecommute reported improvements in their stress levels (82 percent), morale (80 percent), productivity (70 percent) and absenteeism (69 percent).
Anne McGurty,  the president and founder of the Arizona-based consulting and coaching firm Strategize and Organize, says that although the benefits of telecommuting are clear, working from home has its challenges, with temptations and distractions.
To make working from home a win-win for you and your employer, McGurty suggests five tips that can help you get ahead and stay ahead.
1. Having a designated workspace in your home is essential. "Some people think they can 'set up shop' on the kitchen table or plop on the sofa, open a laptop and work. In my experience, that's a recipe for distraction." explains McGurty. "You need an organized space in your apartment or home that allows you to keep your work space and your home separate."
2. Keep it professional. Treat your home office like a business. "Just because you're working from what used to be the storage closet off your family room doesn't mean the same rules governing an office don't apply," says McGurty. "Ban barking dogs and playing children from your work space, and keep your desk and work area organized; it'll help create the right environment for getting things done. A clutter-free environment (and computer desktop) frees up space and is also easier to manage.
3.  One of the hidden dangers of telecommuting is procrastination. It can creep into your day because, when you work from home, it can seem like you have all the time in the world to get things done. But don't let the clock get the better of you. "Working from home takes self-discipline, and that means getting things done in the right time," says McGurty. "One way to keep your day on schedule is to set a daily start and stop time for working. The structure of a routine will help you avoid procrastination and boost your productivity," says McGurty. "If you're always wondering where the time went, consider using one of the many free online apps, such as RescueTime, to help you track your activities."
McGurty also advises telecommuters to plan out their day the night before. "Whether you keep a written list or use a computer-based program like Outlook, creating daily goals gives structure to an otherwise flexible workday, helping you to hit your important deadlines. And to avoid getting mired in day-to-day details, be sure to include at least one productive long-term, goal-oriented task each day."
4. Play to your wheelhouse. As a corollary to setting priorities, McGurty also suggests getting more tactical about when you actually work. "One of the bonuses of telecommuting is having the freedom to schedule your time. If you're a morning person, use that time to tackle your most important goals, and leave emails and other tasks for later in the day. If you have more energy in the afternoon, flip the order," says McGurty. "Either way, keep your schedule consistent to promote concentration and motivation." Some other ideas to ratchet up your productivity? McGurty suggests getting a change of scenery once in a while. "There's a reason that places like Starbucks and Panera are filled with people typing away on their computers during office hours. Leaving your house for an hour or two can do wonders for your focus," explains McGurty.
5. Don't forget "me" time. It can be difficult to disengage when working from home, but don't let that stop you from maintaining a healthy work-life balance. McGurty suggests setting clear boundaries around family and work time. She also encourages workers to join a gym or club, get involved in a hobby or interest that gets you out the door, and/or take regular vacations to avoid falling into a rut and to recharge your mind and body.
Staying focused can be tricky when working from home. The key is to develop habits and rituals that tell your brain (and your family if that's relevant to your situation), "I'm at work now." After working 9 to 5 at a company for more than 20 years, Libert says that telecommuting is the way to go, assuming you have the option. "Sure, working from home tests my discipline. But for me, the flexibility and quality of life it provides is far greater than the challenge of managing any occasional lapse in focus or motivation I may encounter along the way."