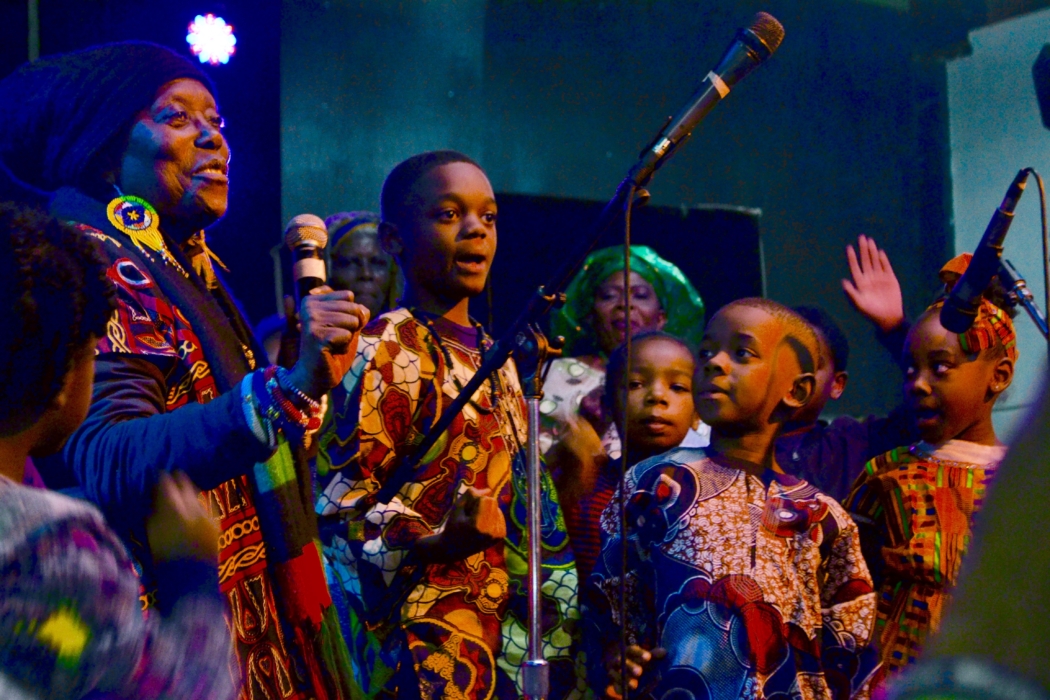 Habari Gani (What is the news)?
The news is that, 2016 marks the 50th anniversary of Kwanzaa! And, for thirty-six out of 50 years, America's finest city San Diego, has become known as presenting one of the finest Kwanzaa celebrations across the nation.
Kwanzaa, the week long celebration begins on December 26, and ends on January 1.  However, this year WorldBeat Cultural Center, opened their doors to the public for four nights and celebrated four of the seven principles: Umoja, Kujichagulia, Ujima and Ujamaa.
On the first night, the center was filled to capacity with a lively crowd of diverse members from the community dressed in traditional colorful print dashiki's and bold head wraps, proudly honoring the styles of African heritage.
The WorldBeat Cultural Center, which is located off of Park Avenue in Balboa Park, is under the direction of community activist Makeda Ori Cheatom (Pictured above holding the mic), Executive Director/Founder. Cheatom and a team of organizers deserve high praise for extraordinarily organizing a full schedule of all inclusive and welcoming activities open to the public including: Ceremonial candle lighting and libation with live drumming, African storytelling, musical performances, poetry readings and delicious food!
This year's theme "Healing Our Community and Preparing for A New Era," was  quite relevant to many of the attendee's in light of the outcome of this years election.
The rich cultural center that is decoratively surrounded with ancient artifacts on display, walls and ceilings of colorful murals of prominent figures from around the African diaspora, also has a new exhibit space with their first Kwanzaa exhibition and, features a new gallery which will be officially open to the public until mid January.
Created in 1966 by Dr. Maulana Karenga, the seven principles, or Nguzo Saba are a set of ideals representing each day of Kwanzaa to emphasize a different principle.
The candle-lighting ceremony each evening provides the opportunity to gather and discuss the meaning of Kwanzaa. The first night, the black candle in the center is lit (and the principle of umoja/unity is discussed). One candle is lit each evening and the appropriate principle is discussed.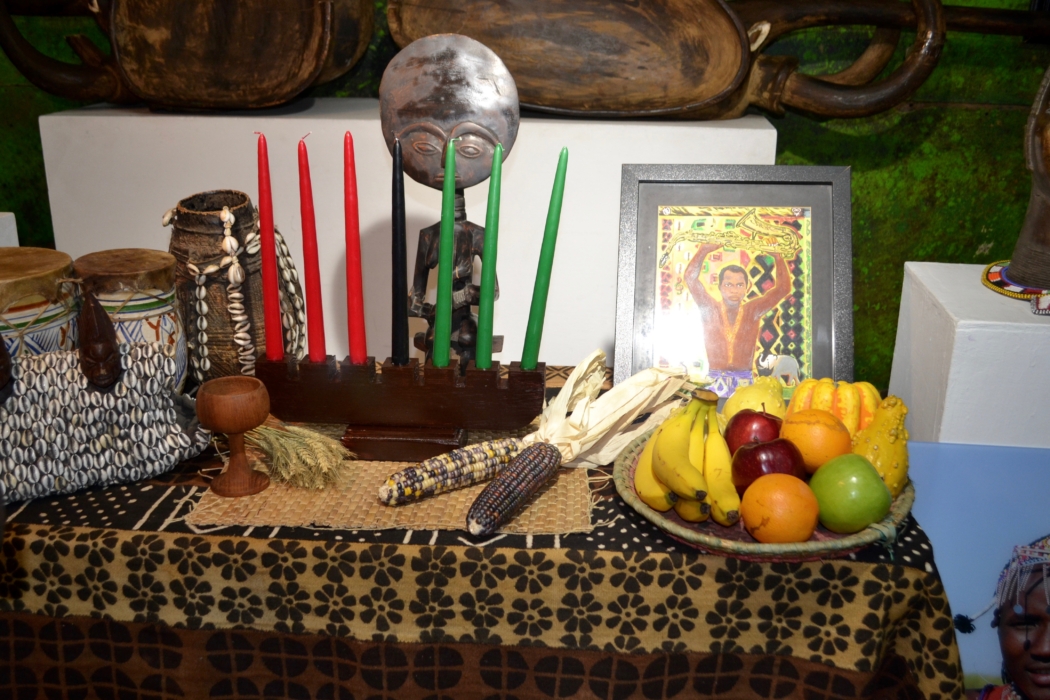 SEVEN PRINCIPLES
Umoja (oo–MO–jah)
Unity: To strive for and maintain unity in the family, community, nation, and race.
Kujichagulia (koo–gee–cha–goo–LEE–yah)
Self-determination: To define ourselves, name ourselves, create for ourselves, and speak for ourselves.
Ujima (oo–GEE–mah)
Collective Work and Responsibility: 
To build and maintain our community together and make our brother's and sister's problems our problems and to solve them together.
Ujamaa (oo–JAH–mah)
Cooperative Economics: To build and maintain our own stores, shops, and other businesses and to profit from them together.
Nia (nee–YAH)
Purpose: To make our collective vocation the building and developing of our community in order to restore our people to their traditional greatness.
Kuumba (koo–OOM–bah)
Creativity: To do always as much as we can, in the way we can, in order to leave our community more beautiful and beneficial than we inherited it.
 Imani (ee–MAH–nee)
Faith: To believe with all our heart in our people, our parents, our teachers, our leaders, and the righteousness and victory of our struggle.
For more information on WorldBeat Cultural Center Kwanzaa check out their Facebook page