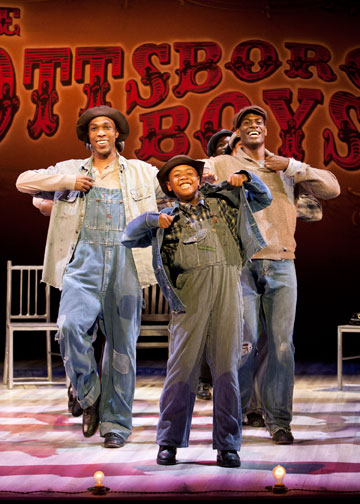 It's amazing how innovative direction and creativity has a precise way of bringing art forms to life.
Case in point: In one of the most horrific cases of legal injustice in our history, The Scottsboro Boys currently playing at the Old Globe Theatre, accomplishes what it sets out to do and that is, reliving an American tragedy by turning a stage production into a foot stomping, invigorating musical.
Directed by five-time Tony Award winner Susan Stroman, The Scottsboro Boys is the true story of nine young men who were riding a boxcar headed for Memphis in 1931. While looking for work during the depression era, they were arrested in Scottsboro, Alabama, charged with raping two Southern white women who were also passengers on the train.
In the opening act, the ensemble's soul stirring performance of "Minstrel March" had the crowd mesmerized with strong vocals and energetic group dance moves.
Watching the stellar performance, it's hard to imagine an American tragedy such as The Scottsboro Boys relived in minstrel, however, the production is remarkable and it innovatively follows the tragedy, reminding us of a time in history that ignited the civil rights movement.
The super talented cast primarily made up of African American males made it difficult for the audience to allow sorrowful emotions to set in. The cast is made up of: David Bazemore (Olen Montgomery), Cornelius Bethea (Willie Roberson), Nile Bullock (Eugene Williams), Christopher James Culberson (Andy Wright), Clifton Duncan (Haywood Patterson), Ron Holgate (The Interlocutor), Eric Jackson (Clarence Norris), Jared Joseph (Mr. Bones), James T. Lane (Ozie Powell), JC Montgomery (Mr. Tambo), Clifton Oliver (Charles Weems), Clinton Roane (Roy Wright) and C. Kelly Wright (The Lady), with Audrey Martells (The Lady Understudy) and Shavey Brown and Max Kumangai (Swings).
Clearly, the entire cast has what it takes to make the production a success, however, standouts Jared Joseph (Mr. Bones) and JC Montgomery are both brilliant and humorously played multiple roles. James T. Lane (Ozzie Powell) and Clifton Oliver, who also played dual roles, one of them being white women, moved the crowd with their comical antics and mockery. Nile Bullock (Eugene), the youngest in the cast, held his own superbly, showcasing his amazing vocals and pristine dance moves.
Lastly, there was Clifton Duncan who shined as Haywood Patterson. Haywood's piercing eyes and dramatic presence was so captivating that his scenes were most likely the ones to bring us back to a sad truth. The original Haywood was quoted, "I don't tell people stories. I tell the truth."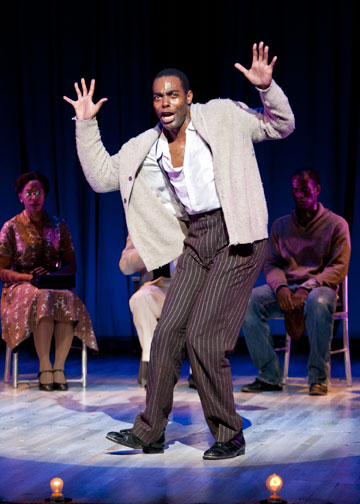 Clearly, there is no happy ending here, but the uplifting musical score and gifted cast keeps it moving while at the same time reminding us of a time in history that we must never forget.

The Scottsboro Boys
• Sunday, April 29 – Sunday, June 10
• Old Globe Theatre
• Conrad Prebys Theatre Center