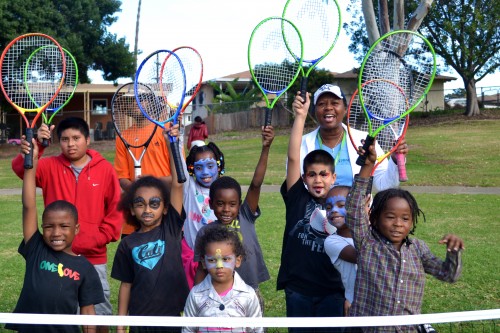 Tennis is one sport for children that often times gets over shadowed by baseball, softball, football and soccer. Unlike most sports Tennis can be played just about anytime of the year and, it's quite affordable.
Children's rackets and balls that can be purchased for a total of under $20.00, in comparison to other sports. 
According to popwarner.com, typical registration fee for each participant ranges from $75.00 to $200.00, with some programs that vary to include equipment and fundraising costs.
Frances Simpson-Lang,  President of the Mountain View Sports and Raquet Association in San Diego, CA, says that the key to getting children to enjoy tennis is to actively engage them in a fun environment. Although the focus is on the sport of tennis, the benefits of developing a fun program extends far beyond the tennis court. It instills sports principles, fosters leadership skills, self-esteem, confidence, discipline, accountability, and the values of hard work, team spirit, and individual effort.
Tennis enthusiast's argue that, tennis has been found to be one of the most mentally demanding sports that helps to improve grades, concentration, and focus as well as helping children to become more independent and handle stress better.
After-School Tennis at the Mountain View Sports and Raquet Association in San Diego:
Ages 6 – 17
Wednesdays & Thursdays
Cost: $30 for 6-week session
(or $6.00 if your child receives free lunch program)