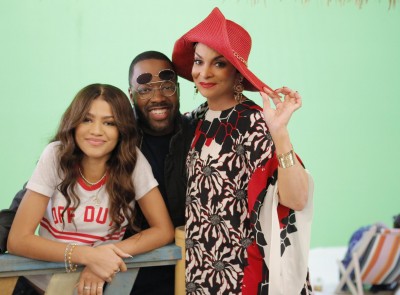 Zendaya returns as K.C. Cooper, an everyday high school math whiz and martial arts expert turned international  super spy, in season two of Disney Channel's hit comedy "K.C. Undercover" premiering SUNDAY, MARCH 6 (8:00 p.m., ET/PT) on Disney Channel.  Ranked as TV's #1 series in Kids 6-11 and the #1 live action in Kids 2-11, "K.C. Undercover" returns with even higher stakes, more intricate disguises and daring missions.
In the season two one-hour special episode, K.C. and her family are having a hard time adjusting to civilian life now that they are no longer spies. K.C. enlists Marisa to help her fit in at school, while Ernie tries to find a new niche as an inventor. When longtime criminal, The Jackal, escapes from prison and threatens revenge on Craig and his loved ones, K.C. and her family have one last chance to capture the fugitive and prove themselves as spies with The Organization.
Check it out here.
Season two of "K.C. Undercover" will also feature an impressive list of guest stars, including TV icon Florence Henderson, veteran actress Jasmine Guy ("A Different World," "The Vampire Diaries"), NBA great Rick Fox and  Samm Levine ("Freaks and Geeks").
"K.C. Undercover" also stars Kadeem Hardison, Tammy Townsend, Kamil McFadden, Trinitee Stokes and Veronica Dunne.
K.C. Undercover premieres on Sunday, March 6 @ 8PM on Disney Channel.