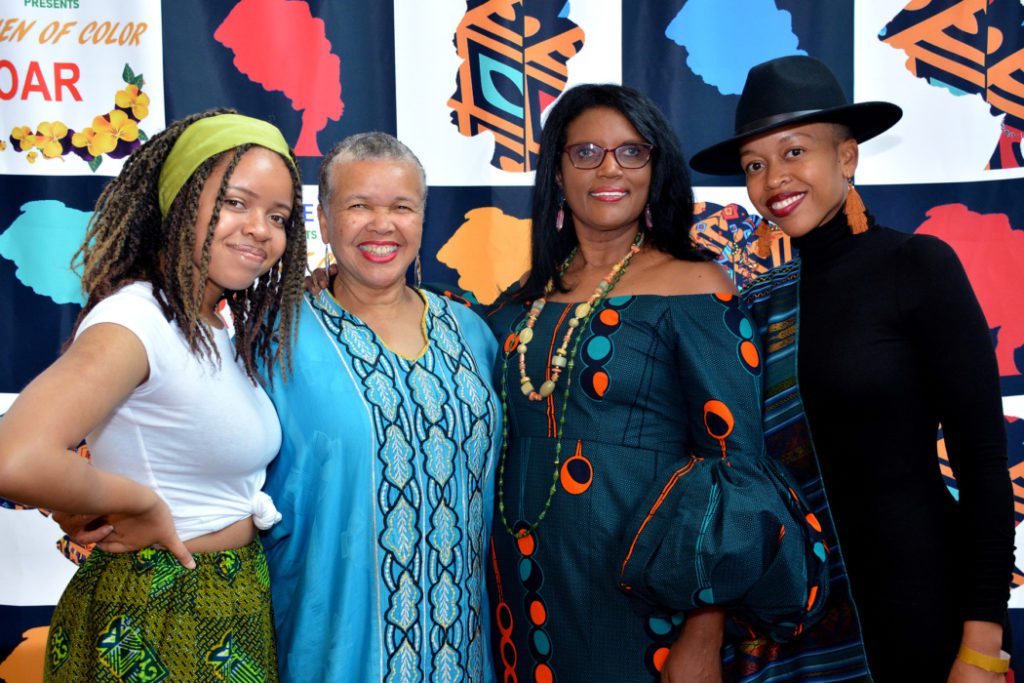 In just a few short years of living in San Diego, Angela de Joseph, founder of Indivisible Watu and producer of the Women of Color Roar Breakfast has made a huge impact in the community. At the 2nd annual Women of Color Roar breakfast held on February 2, Angela, and organizers of the event welcomed four hundred attendees to this year's sold out event including over 100 students, dubbed, "Future Leaders," who received scholarships to attend the breakfast.
As stated in a post release:
The purpose of the Black History Month event, presented by Indivisible WATU, is to celebrate the election victories and milestones of African American female office holders and to encourage young women of color to run for office and seek careers in public service. A prestigious panel of elected officials included: Assemblymember Dr. Shirley Weber, City Council President Georgette Gomez, and City Councilmember Monica L. Montgomery who were candid and commanding in answering questions posed by Mistress of Ceremonies, de Joseph.
An unprecedented four Democratic Congressional Representatives from San Diego County participated in the 2nd annual power-house gathering, themed Women of Color: Running and Winning, which was held on Saturday, Feb. 2, 8-11 a.m., at the Jacobs Center for Neighborhood Innovation, in Southeast San Diego. Congresswoman Susan Davis of the 53rd gave the opening greeting followed by remarks from Congressman Mike Levin of the 49th district. Scott Peters, Congressmano f the 52nd and Congressman Juan Vargas of the 51st district were sponsors of the event who donated their tables to the students allowing those on a waiting list to attend.
Additionally, Senate President Pro Tempore Toni Atkins, City Council President Pro Tem Barbara Bry and Assembly member Todd Gloria, along with dozens of local elected officials and candidates for office were in attendance.
The panel addressed topics including the challenges and opportunities facing women of color running for office, shed light on the turmoil in the recent 2018 elections and give their perspective on the opportunities and challenges for Women of Color in the coming 2020 campaign season and beyond. Like last year's inaugural Breakfast, the 2019 breakfast not only instilled a sense of mission and encouraged young women to run for office, it provided opportunities for mentorships and internships.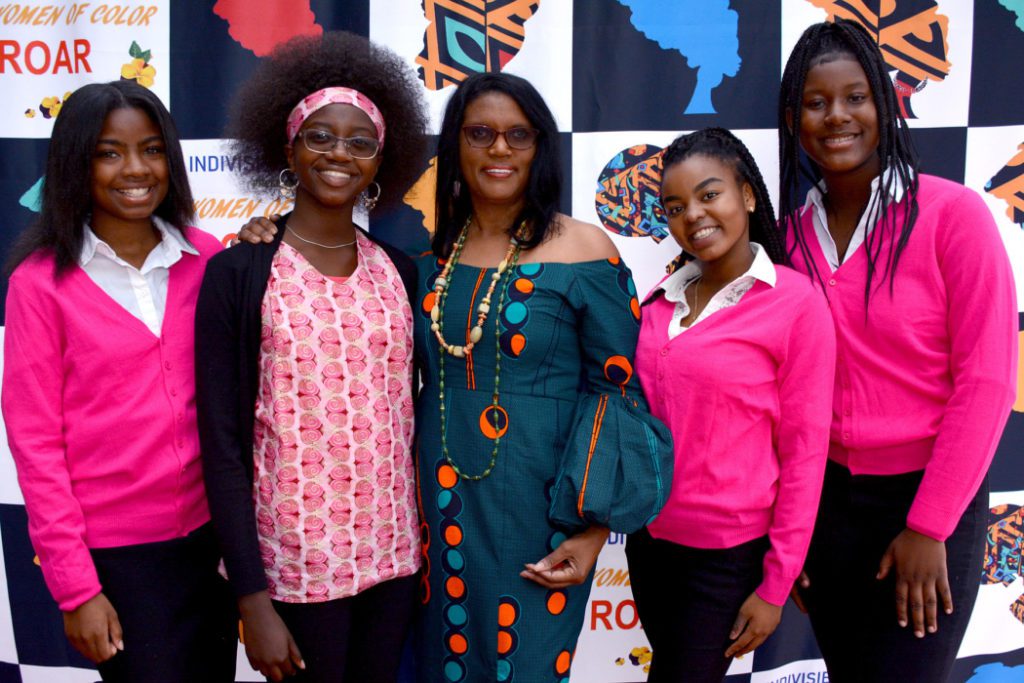 Congresswoman Maxine Waters was the recipient of the WOC Roar "Woman of Distinction" Award. Although she was unable to attend the event, she sent a personalized greeting to the event chairs, Angela de Joseph and Kathleen Harmon and a message to the members of Indivisible and attendees to continue with activism and run for office.
Wendy Shurelds of Susan G. Komen's Circle of Promise and Sonja Robinson of the Community Choice Alliance both received "Woman Warrior" Awards for their fierce commitment to community service.
Rounding out the stellar breakfast was a spoken word performance from Starla Lewis and her daughter Ishe. Buki Domingos brought the room to their feet to sing and dance to her powerful rendition of Tina Turner's "You're Simply the Best."
In closing, Angela de Joseph, a marketing consultant and Emmy-nominated filmmaker, gave credit for the overwhelmingly successful event to her team of volunteers.
"Women of Color Roar has a multi-cultural steering committee and supporters who are determined to diversify the pipeline and provide opportunities for Black women to break through what Dr. Shirley Weber calls, 'The steel ceiling,'" de Joseph emphasized.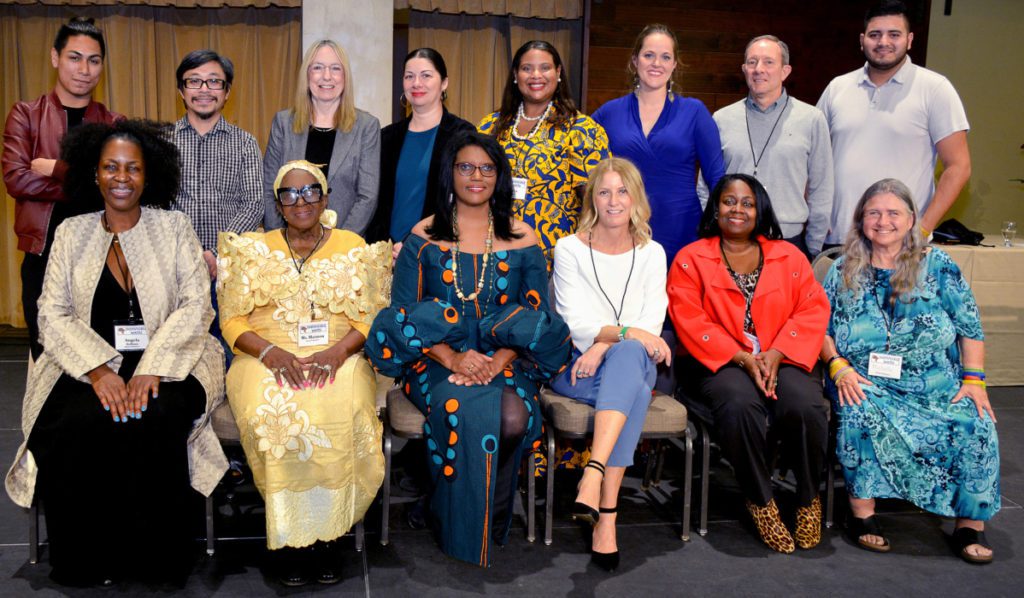 Solidifying the tradition, the WOC Roar 2019 Breakfast ended with an audience sing-along. The committee paid homage to the Queen of Soul, Aretha Franklin as Angela reminded the women as especially the young women to always expect and demand, R-E-S-P-E-C-T.
In looking towards 2020, a campaign and presidential election year, de Joseph says, "We are still celebrating the historic elections of women of color in 2018, "Although we have made gains, there is much work to do. Our Women of Color Roar 2020 Breakfast will lay the ground work for not only a blue wave, but a Black and Brown tsunami."
Event Table sponsors included; ACLU of San Diego and Imperial Counties, Senate President Pro Tempore Toni Atkins, President Pro Tem San Diego City Council Barbara Bry, Democratic Woman's Club of San Diego, Indivisible Project, Sara Jacobs, Kumeyaay Nation, Congressman Mike Levin, Dave Meyers, Pacific Beach Democratic Club, Congressman Scott Peters, Planned Parenthood Action Fund of the Pacific Southwest, Run Women Run, Kenya L. Taylor, Together We Will (TWW), and Congressman Juan Vargas.
The next Women of Color Roar Breakfast is scheduled for February 1, 2020.
TICKETS are available on Eventbrite: http://bit.ly/WOC_2020
SPONSORSHIPS email: [email protected]
STUDENT SCHOLARSHIPS to nominate high school or college age students for complimentary tickets to the WOC Roar Breakfast – email: [email protected].
Indivisible WATU is a nonprofit Southeast San Diego grassroots volunteer advocacy group dedicated to voter education, engagement, and political activism.

Click here to follow Women of Color Roar on Facebook .
Want your life a little sweeter? Subscribe here with The Chocolate Voice!