For those who have ever had the chance to meet Ambrose Brodus, Jr., you'll agree that he's one dedicated man with a lot to say. I quickly learned this while working with him as secretary 10 years ago, on a humanitarian project titled, "The Facilitators Group."
"TFG" was a group of community members who worked together on an educational conference that focused on motivating and uplifting young Black males.
Recently, I learned that the longtime Southeast San Diego community activist celebrated a birthday on January 6, turning 94. And, that he had published his first book.
A book signing was held on Saturday, January 19, for Brodus, with his wife of over 70 years, Lois, by his side. Brodus, who appeared a bit more fragile than I last saw him still had lots to say. In his book titled: A Dastardly Act: The Story of One Soldier's Experience in WWII: You are Still Beautiful, America (Montezuma Publishing), is an autobiographical account documenting Brodus' experience as a young Black man born in the segregated south Louisiana, who was inducted into the United States Army in 1943.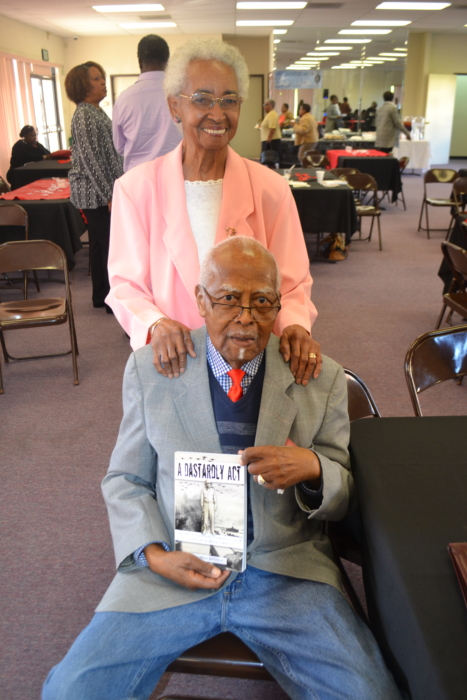 The book traces the political and cultural dilemma Black servicemen faced—racial segregation and discrimination—while serving for a country they called home. He spoke to a room filled with attendees, including members from his church, Bethel Baptist located in Southeast San Diego. He recalled memories of his past as one of 5,000 Black Soldiers that served in segregated units in Europe, facing the fanatical German Army during the time of the Battle of the Bulge. Brodus, shared that he was one of 2,221 selected under Allied General Dwight D. Eisenhower, becoming a member of the first-ever integrated United States Infantry, participating in four major battles.
For years Brodus, has wanted to write a book to share with the world the involvement of Blacks in the war in Europe. And, in his nineties he made sure that it happened.
We are pleased to present with permission two excerpts from the book:
Excerpt 1: The Black man's struggle for freedom, justice and equal opportunity in America has taken many turns over the years. I accepted General Eisenhower's letter to Black troops as another avenue towards freedom, justice , and equality that my people have sought since the first slave was taken ashore from the first slave ship to arrive in American waters.
Excerpt 2: "For a long time, it was difficult for me to consider even attending a social event organized by veterans' groups. The experience of November 1945, was still fresh in my mind. I acknowledged all of the wonderful work that A. Phillip Randolph's had done, and I applauded the accomplishments being made in the Armed Forces, especially the Army. Clearly, there was very significant progress, but for the longest time, nowhere in our government was there any indication that anybody gave a damn about those Black soldiers who fought the enemy in Europe and returned to our country to face insults and deprivation. Nowhere had there been any act of reconciliation. That is, until a guy from Arkansas was elected President. When, William Jefferson Clinton became the 42nd President of the United States in 1993, some things changed."
A Dastardly Act : The Story of One Soldier's Experience in WWII: You are Still Beautiful, America, Copyright © 2018 by Montezuma Publishing and the author Ambrose Brodus, Jr. can be purchased on Amazon.