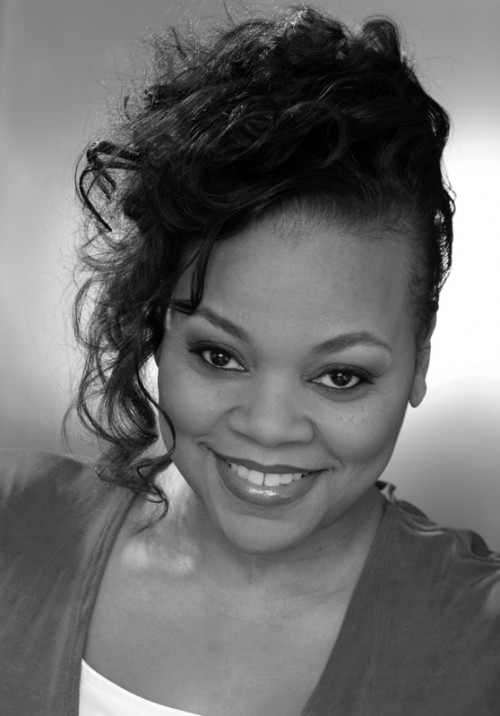 Tonye Patano (Mama Nadi) is making her La Jolla Playhouse Debut. Ms. Patano garnered multiple nominations and an award for her performance as Heylia James on Showtime's Weeds. Film: The Taking of Pelham 123, The Hurricane, The Savages, Trainwreck, Little Manhattan, The Great New Wonderful, A Price Above Rubies, Fresh and Messengers. TV: Curb Your Enthusiasm, Monk, Hope and Faith, Sex and the City, Third Watch, Law & Order, Law & Order: SVU, Eli Stone and Bunker Hill. Theatre: numerous Off-Broadway and regional productions including Legends (national tour), 45 Seconds from Broadway (Broadway) and most recently Neighbors (The Public). Upcoming projects include the features Company Men, Stolen and Ponies.
TCV: I love the spelling of your name Tonye (pronounced Tony) is that your birth given name?
Tonye: My mother literally gave me my full name as is which is a version of her stage name. A long story but the short of it is, when she came to California in the sixties to become an actress, people like Lena Horne and actresses of that guild existed and she couldn't quite get her foot in the door as a black actress because she was so fair skinned. So she took what I'd consider a bastardized version of her maiden name which was Marsh, a "black" name and, she always loved the name Tony. In Spanish, I believe marsh means pantano and so she named herself Tony Pataño which she felt gave it somewhat of a flair, this way she could be cast as Latin, Italian or Black. I'd say during the fifties this was her way of giving herself latitude to be cast. And so when I was born, her little "chocolate baby" she just thought it was such a beautiful name so she literally gave me her full stage name as my birth name. My name is Tonye Teresa Pataño. And then years later, I took the tilde off. But as an honor to her I kept the spelling and tell everyone that the (e) is silent. In fact, most people before they meet me think I'm Italian.
TCV: How did you get bitten by the acting bug and what is your formal training?
Tonye: When my mother decided to get out of the "rat race" of the business when I was six, we moved from Los Angeles back to Columbus, OH where my mother performed in community theatre. I used to go with her to rehearsals where I would throw lines and all sorts of those things. And long before I was born at aged seventeen, my mother went away with a troupe that traveled with the Chitlin Circuit called Solace Green and the Brown Skinned Models during the late forties early fifties. How she found out about them was when they came to Columbus. She joined the troupe as a seamstress, which in those days a lot of gals signed on as the person taking care of the wardrobe and slowly moved through the ranks to fill in as a dancer, performer or what have you. She never quite got her foot off the ground as an actress. She and my Father who was an actor met while performing a show in the sixties, an affair that produced me while on the road, his name is John Hawker and he did quite well in the business. So, I have a somewhat of a shady background in terms of parents who were performers. I guess you could say acting is in my blood. As far as my formal training, I did my undergrad at a wonderful school called Otterbein College in Ohio which had a terrific program, I really loved my undergrad training. From there, I went on to Graduate school at Brandeis University, in Boston which was also a great program and lived in New York thereafter.
TCV: Tell me about your current project "Ruined" at La Jolla Playhouse and, how did the role of Mama Nadi come about?
Tonye: Playwright Lynn Nottage is a brilliant woman with a lot of insight and depth. Herself along with Director Kate Whoriskey were talking about the idea of creating a Bertold Brecht's Mother Courage type of piece set in the war-ravaged nation of the Democratic Republic of the Congo during the time period of late nineties through now, which is technically known as a peace time which is absurd! Lynn had connections with the United Nations and wound up in Uganda and outside of Rwanda because it was too dangerous to travel to the Congo. While there, they had the opportunity to interview thousands of refugees and women who were victims of the Congolese war through rape and torture. After listening to the compelling and horrific stories of these women, the end result was the creation of the Pulitzer Prize winning play, "Ruined."
Mama Nadi represents a woman who in a sense capitalizes on the war by running a bar/brothel set in the middle of the Congo which allows anyone to come and seek refuge in a way which is very unique. Her business caters to the men who commit these atrocities outside of her bar and, women who basically have fled from the abuse and have become prostitutes which is where they all meet. One of the lines in the play is "'This is a place where people can leave behind whatever mess that they've made out there." The idea is that these men would actually pay for food, drink and sex when in all actuality they can just take it. In some ways, since the men are making this choice it shows a bit of humanity in that everyone suspends the horror that's been created either on their own or, that has been created against them as a result of the war. It's as though an agreement has been made to make this place slightly different.
There's a lot of hope in this play, it really speaks to the resilience of the human spirit and how we make way out of no way and how even at our most heinous, it shows how people strive to reach for humanity.
Catch our complete interview with Tonye in the upcoming December issue of The Chocolate Voice