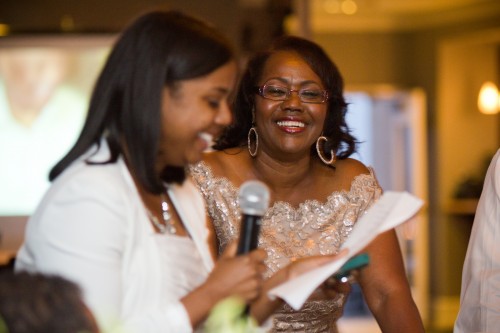 Mother's day is here! I've heard it mentioned time and time again how being a mother is the hardest job on earth. Well, being a mother, I'd have to say I agree.
One of the most important lessons that I learned in being a mother is to keep the lines of communication open.
In the past, I interviewed my son for a school project. This time, I decided to share with you an interview with me and my daughter, which I hope will inspire and encourage all of you to have a conversation with your children.
Our chat goes something like this:
Shanda: Is what you're doing now (career or personal wise) what you envisioned you would be doing?
Gwen (Mom): Well, sort of. I've always loved journalism. I wish that I had realized that earlier in life. In reflecting on my life and past careers, I'd have to say that this is truly me. I'm a very chatty person who loves hearing people's stories. That's just who I am. Of course, I had no idea that journalism and how communication is today, would have evolved into what's presently known as New Media.
Shanda: What advice would your past self tell your current self?
Gwen (Mom): I would share and emphasize this quote: "Strive for progress not perfection." You see, I've always considered myself somewhat of a perfectionist. So with that in mind, I would tell my current self to, stop wasting valuable time and energy sweating the small stuff. And, just know that, there are certain things in life that are beyond your control. Don't worry, everything will turn out just fine. And it has. I've had a great life.
Shanda: How similar are you to your Mother?
Gwen (Mom):Very! I guess you could say that we're both bashful by nature. I'm still very reserved at this age and, so is she. We both don't really care for cooking, but we both love to eat! Neither of us are fussy about our hair. We love connecting with organizations that promote and uplift humanity. In fact, everyday we talk about what we can do to improve race relations. It's funny watching her get fired up about stuff she's passionate about, and then I think – that's me too!
Gwen Pierce is the Founder of The Chocolate Voice. Shanda, is the Co-Founder and the Owner of Avenue Six Events.