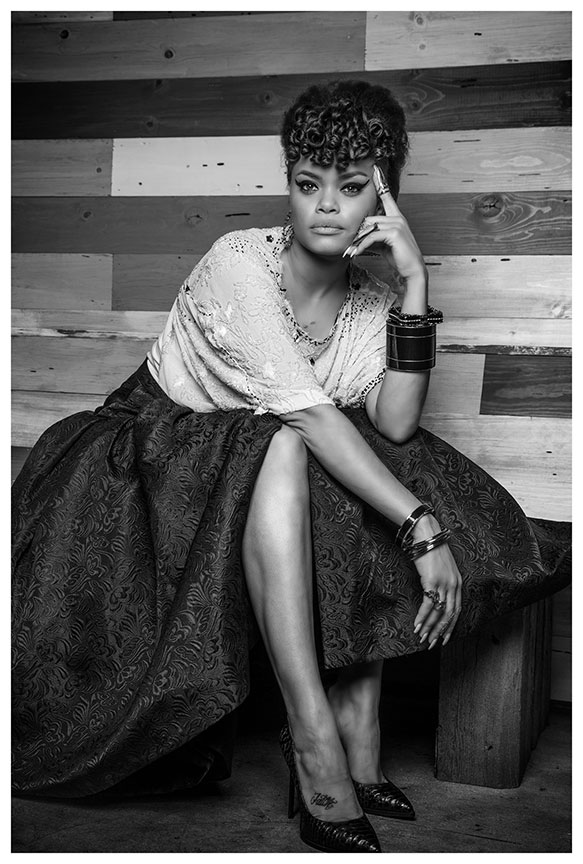 SAN DIEGO (March 2, 2018)—The Old Globe will celebrate in style at the 2018 Globe Gala on Saturday, September 22, in support of the theatre's arts engagement and artistic programs. The glamorous annual event will feature an exclusive, one-night-only performance by the incomparable Andra Day. Karen Cohn, Nina Doede, and Sheryl White serve as Co-Chairs.
Her signature scarf and eyeliner have captivated audiences across the country. With voice booming bright, Andra Day resonates with passion, perseverance, and power amongst audiences everywhere. Day's full-length album debut Cheers to the Fall (Buskin Records/Warner Bros. Records) garnered a 2016 Grammy Award nomination for Best R&B Album, while its anthemic Platinum lead single "Rise Up" achieved a nod for Best R&B Performance, as did "Stand Up for Something," which Ms. Day performed at the 90th Academy Awards this  past Sunday, March 4. Soul courses through Day's DNA.
During her childhood in San Diego, the budding songstress split her time between singing in the church choir and diligently studying dance, theatre, and music at the School of Creative and Performing Arts. Galvanized by the likes of Billie Holiday, Nina Simone, Etta James, Lauryn Hill, and Janis Joplin, Day followed in their footsteps by developing a style that's unequivocally her own.
The can't-miss black-tie event will begin at 6:00 p.m. with an elegant reception of cocktails and hors d'oeuvres on the Globe's Copley Plaza, followed by the performance by Day at 7:00 p.m. on the Donald and Darlene Shiley Stage in the Old Globe Theatre, part of the Conrad Prebys Theatre Center. After the performance, dinner and dancing will light up Copley Plaza until midnight.
Tickets are $800 (regular seating) and $1,000 (VIP seating) each and include the reception, performance, dinner, and dancing. Tables are also available starting at $8,000. Underwriting levels, which include tickets for the Gala, begin at $4,500 per couple. Valet parking is included in the price of the ticket. To purchase tickets or a table, or to become an underwriter, contact Events Director Eileen Prisby at (619) 684-4146 or [email protected]
"Every year the Globe Gala is one of the great celebrations in San Diego, and this year is going to be the most fun ever," said Erna Finci Viterbi Artistic Director Barry Edelstein. "Yet again the Gala showcases the talents of a giant star, San Diego's own Andra Day. She's going to raise the roof, and we are thrilled to have her here. Like Andra Day, our Gala Co-Chairs are elegant and sophisticated women. Karen Cohn, Nina Doede, and Sheryl White are pillars of the arts in San Diego, and they are planning a magical night. I thank them and encourage everyone to support our great theatre at this fabulous party."