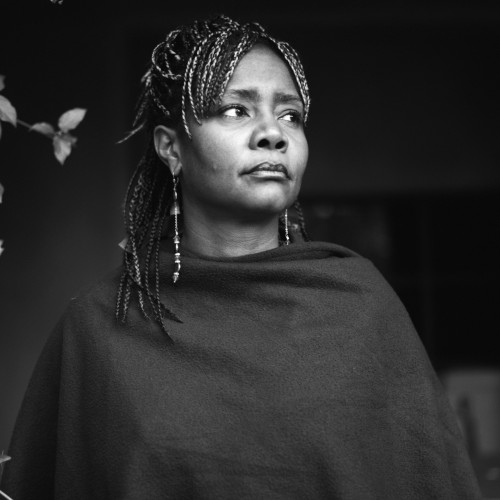 Making her return to La Jolla Playhouse performing in the world premier of "Milk Like Sugar,"  Tony Award winning actress Tonya Pinkins takes some time out to interview with the Chocolate Voice by phone and let's just say, she's as real as it gets.
Pinkins last performed at La Jolla Playhouse  where she starred as Muzzie in "Thoroughly Modern Millie."  In "Milk Like Sugar," she plays Myrna Desmond, the only adult in the play.  Myrna's 16 year old  daughter Annie gets caught up in a gripping tale of peer pressure, forcing society to look at the issue of teens making a conscious decision to become pregnant.
A stellar performer, Pinkins won her first Tony Award for playing the sultry Sweet Anita in "Jelly's Last Jam" on Broadway in 1993, and starred in the Tony nominated, "The Wild Party." In addition to a string of theatre roles, she has appeared in numerous film and television roles including: Above the Rim featuring the late Bernie Mac and Tupac Shakur, Emmy nominated ABC soap opera "All My Children," "Law and Order," "The Closer" and more.  The mother of six is also the Founder of the Actorpreneur Attitude workshop and the author of Get Over Yourself: How to Drop the Drama and Claim the Life You Deserve. This Fall Ms. Pinkins will reunite with "Play On!" playwright Cheryl West for "Pullman Porter Blues" at the Seattle Repertory Theatre.
TCV: When did you know that you wanted to become an actress?
TP: I remember my grandma used to call me her little show girl, and that would probably be as early as when I was about two years old.
TCV: When you act, how do you connect with the character?
TP: I was trained in a very specific method which is called "The Method" by Sandy Meisner.  The phrase that goes with it is, "Acting is living truthfully and fully in imaginary circumstances."  So in that sense the training in that particular school of acting is learning how to be your most authentic self, then bringing your imagination to the world of the play and bringing all the truth and authenticity of your behavior to the imaginary circumstances of the play.
TCV: How do you choose your roles, and what are your standards as an actress?
TP: I wish I could say that I just get to choose what I want to do, if it was only that simple.  But I have been fortunate that most of my career I've worked on new plays rather than doing shows that were hits. Often, most of the time, new work doesn't have great commercial success, or even getting seen by a lot of people.  But I find the ability to be in the room with playwrights and directors at the very beginning of their work is incredibly rewarding, because you get to be part of the creation of the play.  Some except that, some don't, but I find it incredibly rewarding to work on new works, and being there from the ground floor.
TCV: Tell us about the moment you won the Tony, and what was going through your mind?
TP: I remember the Friday before the Tony's on Sunday, the New York Times always puts out their predictions of who and why, and they had said why I wasn't going to win (Laughs).  I remember my friend Director George Wolfe from Jelly's last Jam, who was also nominated,  joking and saying, "How to respond with the camera on you when they announce, and the winner is Not You!" We we're saying, "Well, you can't take it in your face and you have to be clapping or smiling for whoever won." (Laughs). When they called my name I didn't even hear it. My husband was like, "That's you!"
TCV: Congratulations on winning!  Was it after winning the Tony that you created the Actorpreneur Attitude workshop?
TP : That was something I started during a period of performing when I just finished a play called "The Wild Party," and at the beginning of a play called "Thoroughly Modern Millie."  I really had a sense of what I wanted, and I wanted to be the star on the next show I'd be in.  I wanted to contribute on that level, so I started working with metaphysics, different spiritual counselors and came up with that idea.
TCV:  Do you feel that actors need agents?
TP:  It depends on where you are in your career.  When you're young and beautiful in America, I believe that's the ticket in.  It is possible for someone to recognize your beauty and call you in for something.  Agents in a contractual way are the only people who can contractually negotiate for you, but I wouldn't want any actor to think that agents get you a job; they never do.  They have a legal and contractual obligation to negotiate the terms of the contract once you get the job. You always get the job yourself and you do that by talking to your friends, finding out what's out there, and putting in your interests by creating good relationships.  Agents as a general rule do not make calls, they answer them.  Managers, on the other hand, have less clients and tend to make calls and look out for you.  Representatives only get 10% and that's about all the work that they do.  The work is yours to do, to go out and create relationships, do good work and people seek you out to hire you.
TCV:  As a black actress and writer, what challenges have you faced in such a small, predominately white industry?
TP: Girl, don't get me started.  I would say that we're in a very unique time right now.  It was bad before, but getting a black president made it worse.  It's almost as if the culture said, now we've got a black president don't ask for anything else.  And so, we have less black shows, less black actors working.  I happen to be a Writers Guild of America Member (WGA).  Networks would start shows because we (African Americans) tend to be loyal viewers and once they've raised enough venture capital, the shows are dropped.  So it's very difficult.  My manager once said, "If there's a black lead, it's considered a black show."  The closest to having a network is Tyler Perry, who is making a lot of money.  They're not as interested in that money; that money is an after thought. We still give our money to products that don't represent us.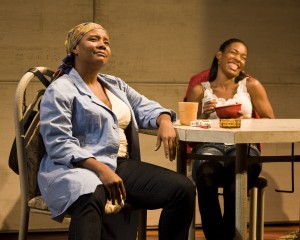 TCV: What aspects in theatre would you like to see change and what do you think black people within the theatre community can do to change?
TP:  Well, it isn't that we're not represented, but we're not represented in the larger commercial field. The National Black Film Festival is an amazing week of entertainment where there's a plethora of incredibly talented people  in black film. It's just that the larger market distributes, picks and chooses the voices that they want to be heard.  As a rule, people occasionally sneak out of that box but not the most revolutionary and prophetic voices in a certain sense.
TCV:  How do you feel about the current state of black theatre?
TP:  I love the theatre!  It's the one place where as an actor you can rent a room, sell tickets and make theatre out of nothing. So in that sense it's like that rose breaking through the concrete. You don't need permission or fancy equipment. You can make theatre on a street corner by yourself.  Theatre is always the place to create versus the desire to be seen.  As far as the commerciality of the theatre, we are the minority and we don't control the distribution of it. Tyler Perry is the closest we come to having a network.  The narrow selection of material he does is making him money, but he doesn't express the full range of who we are as a people. It appears as though those who we think have power, and I admire and respect Oprah and I'm happy for all of her successes, but what I've observed from her is that my celebrity is not mine.  The larger culture uses my celebrity for their behalf with what they want to market with.  Everyone talks about Oprah has the Midas Touch, yet one of the greatest films ever made about black people in which she was the producer, "The Great Debaters", did not do well at the box office and did not have any Golden Globe or Oscar buzz.  I'm sorry (serious tone) but this is one of my favorite films of all time. Denzel acted his butt off, directed his but off and no recognition what so ever.  If you look at the history of the Oprah Show, what new black artist did she make a multi-millionaire?  The Black people that she put forward had already been anointed and accepted, Iyanla Vanzant, Maya Angelou, Toni Morrison, etc. She has the Midas Touch but not for black up an coming actors and writers.
TCV: What do you think the future has in store for Broadway and where do you see it going?
TP: Broadway is star driven.  They're saying that you really can't have a play on Broadway at this point in time without a star – TV or movie star.  The most skilled actors aren't getting opportunities on Broadway. With ticket prices at $150-$200, producers feel that only a star can make it happen.  I don't believe that. I believe it's a great marketing ploy and I think part of the culture is that we like to be in the room with the limousine crowd.
TCV: Sad but so true.  Well, we're excited about seeing "Milk Like Sugar" at the La Jolla Playhouse!  I read that you have six children. Are any of your children the same age as the girls in the play?
TP:  I have six children total and two are my step children.  One of my daughters is the exact age as the girls in the play, which is a sophomore in high school.  So I'm like, "Do I want her to see it, do I not want her to see it?" Is the message strong enough that she won't want to get pregnant in high school, or are these girls so wonderful and charming that it looks cool?
TCV:  Is she familiar with the controversy surrounding the pregnancy pact?
TP:  No. She's not familiar with it but she will be soon. I'm taking her to rehearsal today and I'm hoping to get some feedback from her.
TCV:  Can you give a brief synopsis of the production and your character?
TP:  I'm the only parent in the play. My character's name is Myrna Desmond.  It's a bleak kind of picture where the parent is not connected to the kid at a time when the kid needs guidance, answers and direction. And the mother, for her own personal reasons, makes mistakes which we all make. Her daughter is the only one in the group of girls who had a chance and ends up throwing that chance away.
TCV: What attracted you to the role of Myrna in Milk Like Sugar?
TP: I always like working on new plays.  I like the director Rebecca Taichman a lot, and Kirsten Greenidge is a new voice in American theatre. These are the people I want to work with. Also, the La Jolla Playhouse is close to home.
TCV:  What sets you apart from other actresses and how would you advise aspiring performers to do the same?
TP: Well, some of the best actors I know are some of the smartest people I know.  What sets me apart is that I have a voracious appetite for learning and I'm curious about every kind of person and every kind of story.  I'm constantly developing myself for the work that's really important to the artistry.  I don't know if I really got to express in my Actorpreneur book the first time, but when Dave Chappelle was on The Actors Studio talking about his father telling him that he had to know his price, I say you have to know you're replaceable.  A lot of actors feel that if they don't do this or that, no one will hire them, they'll be replaced and their understudy will go on and be better than them. Anytime you're operating from a fear of loss, they own you.  But if you go in and say, you're right I'm absolutely replaceable, now you can't get me.  You have to know how much nuisance you're worth and bring something of great value to the table. What I'm really clear about  is what will get me in the room and what will keep me in the room. If we can't agree on that, I wish you well finding someone who matches with what you need.  Because I certainly want to be someplace where I am celebrated rather than tolerated.
For more information on Tonya Pinkins visit www.tonyapinkins.com
Milk Like Sugar
When: Aug. 30–Sept. 25, 2011 – 7:30 p.m. Tuesday-Wednesday; 8 p.m. Thursday-Saturday; 7 p.m. Sunday
Where: La Jolla Playhouse – Sheila and Hughes Potiker Theatre, UCSD campus
Tickets: Start from $35
Website: www.lajollaplayhouse.org