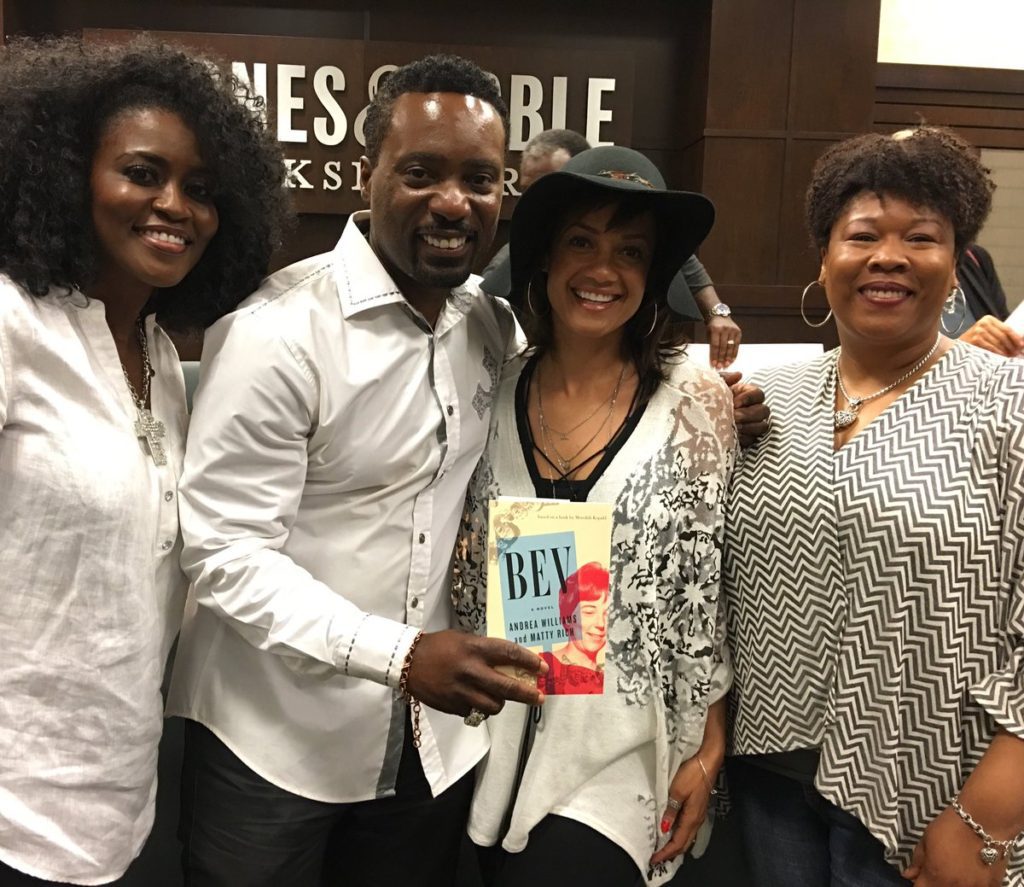 Reid Rich, Matty Rich and Tammy Townsend "K.C. Undercover" at book signing for "BEV" in Los Angeles
Pioneer filmmaker Matty Rich is getting rave reviews for his gripping new novel BEV (Karen Hunter Publishing/Gallery Books:$16.00).
The award-winning writer/director/producer of Straight Out Of Brooklyn and The Inkwell is taking readers into the lives of an unsung hero, a little known figure in the civil rights movement.
But, just who is Bev?
Based on a self published book by Meredith Kopald (the older sister of Bev) Bev Luther, is the real life story of a pint size, freckled face white woman who had the guts to stand up against her family and white supremacy during the civil rights movement.
After reading the self published edition of the book, Rich says he was blown away by the story. "Because, it's not just telling the story of the white woman who saves the day. This was a woman who put her life on the line and who didn't see the civil rights movement as only a black issue.  She saw it as a human rights issue."
After witnessing the horrific incidents of Bloody Sunday, when nonviolent protesters were brutalized by the police, Bev, was among a group of northerners called on by Dr. Martin Luther, King, Jr. to help with the march from Selma to Montgomery.  Educated at Columbia University and a social worker at the time, she made the decision to leave the comforts of her life in New York City to travel to the segregated south to help African Americans fight for equal rights.
Bev used her social skills to help pre-screen marchers, and walked the rural south with people of all races registering black voters to fulfill their right in the democratic process.
As a filmmaker, Rich says that telling Bev's point of view reads like a movie.  The book shows that Bev was someone who saw racism and police brutality towards African Americans first hand, when her friend Micky Schwerner (C.O.R.E.) was murdered for promoting voter registration among African Americans.
Although we have seen progress in our society, the book recounts incidents that eerily parallel what's happening in the world today – a true sign of history unfortunately repeating itself. Rich points out to the reader that all generations can play a part in helping mankind when we see injustice. We don't just sit back and watch it play out on television, we must get out and be proactive.
A must read for all, BEV is not just about the civil rights movement, the book is also a love story that shows the humanistic side of a woman who is on a journey to learn more about herself while fighting for equality. Stressing the point that Bev's story reads like a movie, it's highly probable that a biopic is forthcoming from Matty Rich. In fact, when asked who he sees being cast as Bev he says, either Jennifer Lawrence or Reese Witherspoon.