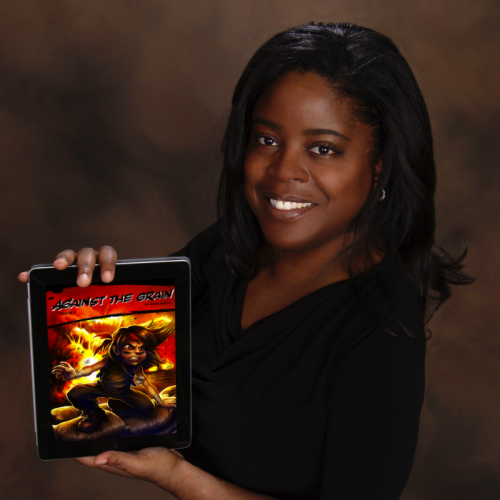 (Chicago, IL) Going against the grain is considered a "cultural norm" for computer wiz Erica Austin. The former IBM employee who's revolutionizing the way comic books are read with the creation of her own app, "Against the Grain," Erica is just one more example of what it means to be apart of a growing number of smart, Black Girls Who Tech. Her timely innovation is one of the first of its kind, that's created by her own company Slightly Off Productions.
Born in West Germany, the self-described "Fifth Culture Kid" tells The Chocolate Voice in a phone interview that spending her formative years traveling globally with her family is what helped to enhance her wildly creative imagination.
"My childhood was not the norm," reveals the Chicago resident. "I was born in Germany, lived in England and then in Nigeria, traveled Europe, vacationed in Amsterdam, and went to high school in the states. I was a fifth culture kid. I had to mix the German, with the English, with the Nigerian, with the American to form my own culture."
Austin was raised in a household with two other sisters by progressive parents, who didn't believe in limiting children based on gender roles.  She grew up watching her mother an Optometrist, run several practices and her father a Phd, who was the parent that cooked breakfast for his girls every morning. "Growing up my father would take us out and we'd do pull-ups and push-ups. I ran track as a middle distance runner.  As far as toys, we played with walkie talkies, blasters and dolls.  My father was real big into education so we'd have chemistry sets. He really pushed us to learn more about what's considered "boys toys" and "girls toys." 
She says that it was her father, that introduced her to Calvin and Hobbes (November 18, 1985 to December 31, 1995), a daily comic strip that follows the humorous antics of a precocious six year old and his stuffed tiger.
Leslie, the heroine of "Against the Grain," is a tomboy with a vivid and wild imagination. An outcast of sorts, she is a free spirit coming to terms with herself, the world around her, and the world in her head.
With a target audience aimed at teens to young adults, Leslie's ongoing saga is captured in two current volumes, available in the app, with many more to come.
"I didn't really fit in anywhere and neither does Leslie, in 'Against the Grain.'  It was great growing up around the world, but because of the different accents and customs I picked up along the way, I was constantly made fun of for it. It is my hope that Leslie inspires young girls, and boys to realize that it is all right to be who you are because, that's what makes you unique. Being different gives you an edge. It's not a good idea to conform to be someone else. You're fine just being who you are!"
When asked, how do we as a society get more girls interested in STEM(Science, Technology, Engineering and Math)?  Her answer is simply this: "It starts in the home with the framing of words.  Girls minds are automatically pushed to be homemakers. Nothing is wrong with this, but it doesn't mean that you can't have both.  It's limiting especially for African Americans."
"Against the Grain" featuring Leslie and her journey is available now only at the Apple app store at https://itunes.apple.com/app/against-the-grain/id968736696.   
For more information on the "Against the Grain," series and its creators, visit http://www.slightlyoffproductions.com.
Follow them on Facebook at "Slightly Off Productions," and on Twitter at@slightlyoff99.