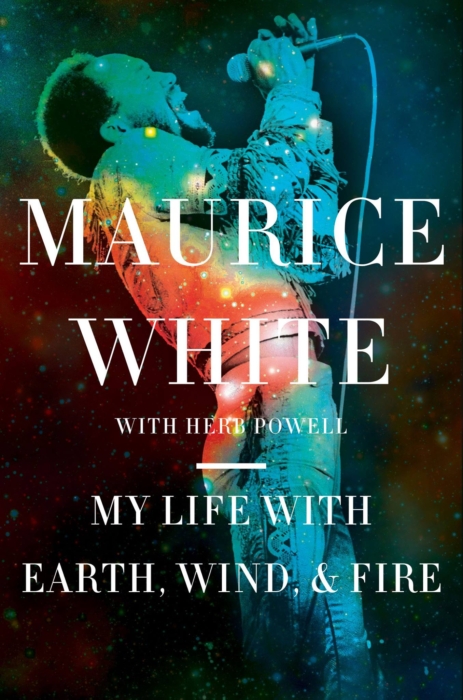 You'd be hard pressed to find a music lover who won't say that Earth, Wind & Fire is one of the greatest bands of all time. Better yet, a huge fans like us, might even break out in song on the spot, singing a few of the bands hits—"After The Love is Gone," "Reasons" or, "You Can't Hide Love" just to name a few.
Known as having been the first African American band to sell out Madison Square Garden, stage performances by seven-time Grammy Award winning Earth, Wind & Fire are spectacular, legendary and simply, FIRE!
In the memoir titled, "My Life With Earth, Wind & Fire" (Amistad/Harper Collins) co- authored by Herb Powell and founder of the group the legendary Maurice White, you will find throughout the 363 pages of the book, where an intensely private White, bares his soul.
Sadly, as the book was being prepared for publishing, Maurice White, died peacefully in his sleep on February 4, 2016 at the age of 74.
Deeply personal and revealing, the book starts out telling the story of how as a toddler Maurice, was left by his seventeen-year old birth mother Edna, who he refers to as "Mother Dear" to live in Memphis, with a family friend, a grandmother figure who he refers to as "Mama." White writes, "Mother Dear" explained to me that she didn't know where she was going but, she had to leave Memphis for a better life and didn't want me raised by babysitters."
White counts Elmira Robinson, "Mama," as the first blessing in his life and credits her for his strength. He recalls her saying to him as a young child,
"You're going to be a successful man, and you're going to get the world's attention."
Boy was Mama right.
Painfully shy and introverted as a child growing up in racially segregated Memphis, White reveals his struggles to fit in. He writes that he couldn't identify with blacks resulted in him being a target of bullying. He was teased unmercifully by other black children in the neighborhood because of his sandy colored "Light Skinned" complexion. And as for white people, they saw him as just another "Nigger." As a paper boy he recalls being beat relentlessly by white cops for delivering papers across the tracks on the "White" side of town.
Through adversity and extreme racial tensions, White writes how he found solace in God, spirituality and the different types of music that he was exposed to at home, and in the church.
As his love for music grew, so did his confidence. He went on to become childhood friends with future legends, Lifetime Achievement Grammy Award-winner Booker T. Jones of Booker T. and the M.G.'s, and Grammy Award-winning songwriter David Porter, just to name a couple of future legends that are mentioned throughout the book.
During his high school graduation in what White describes in the book as being one of the most traumatic events in his life, was when he found out he was leaving Memphis to live in Chicago, with his birth mother and step father, Dr. Verdine Adams, Sr. who he refers to in the book as "Dad." During that time is when he first came to know his six half siblings.
White deeply admired and respected the man he knew as "Dad" for his brilliant mind and worldliness. He shares in the book how at one point he considered following in his footsteps and becoming a doctor. For a stint he enrolled in college to study medicine until, his thoughts became consumed with music. At that point he realized that music is what he was born to do.
White's memoir reflects on his youth and the struggles he endured growing up in Memphis, to transitioning from the southern way of life to the more progressive lifestyle in Chicago. As an eighteen year-old he rarely turned down an opportunity to work in music. While working with The Ramsey Lewis Trio, Lewis became White's mentor and source of inspiration. During his time with the band, he toured the world and absorbed everything he could about life, the music business.
Eventually, he moved to Los Angeles and formed EW&F arguably the greatest band of all time.
A band like no other, during the seventies and eighties, EW&F was known for their spectacularly creative, high-tech extravagant shows, which didn't look cheap. White made sure to provide detailed information on the music business, tour budgets, contract negotiations and more importantly, how to lead a band. He writes at length about the importance of healthy living, discipline and organization.
Described as an introvert and intensely private, he writes about his at times strained personal interactions with certain members of the band, his relationship with his family, and being married to the music business is what ultimately kept his personal relationships at a distance.
A consummate professional and true perfectionist, White is considered one of the most prolific bandleaders of all time. As fans of EW&F, you'll find great satisfaction in reading his memoir as Maurice White passionately tells his truth in "My Life with Earth Wind & Fire," available on Amazon.
"My Life With Earth, Wind & Fire" is nominated this year for an NAACP Image Award for 'Outstanding Literary Work – Biography/Autobiography.'
The 48th NAACP Image Awards will air on February 11th, 2017.