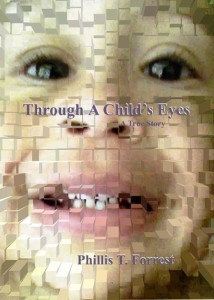 Recently, I met a young woman while judging a scholarship essay competition who asked if I would review a book written by her mother. About a week later it arrived in the mail just as I was leaving for vacation—which I thought was perfect timing because traveling is typically when I find time to catch up on my reading.
As it turns out, the book, Through A Child's Eyes, was the first book ever written by self-published author, Phillis T. Forrest.
As I begin reading, let's just say, I was hooked at the prologue.
She explains in the prologue that her story is a nightmare.  It's not your typical story of sexual abuse, and the sexual predator is not who you would expect.
She introduces the reader to 19-year-old Stephan, who seemed to genuinely care for children.  The writer shares that she and her siblings were raised by a single mom, who was reported to Child Protective Services(CPS) by a neighbor for leaving her children unattended, making her a prime target for the charismatic young man to enter her life and have close contact with her children.
The writer, encouraged by her daughter to tell her true story, boldly shares every detail of the abuse that began for her as a seven-year-old little girl through her character named Toni.
Sadly, the abuse takes place over the course of 14 years, and Forrest does not withhold any of the gut-wrenching details, including being introduced as her abuser's wife at aged 13.
What is commendable about Forrest's prose style of writing is that throughout the book, she gives strong examples, interjecting bold clues in her writing to make parents aware of what tactics are executed to trap their victims.
Sadly, young Toni's mom missed every-single clue.
Admittedly, reading little Toni's story weighed heavily on my heart, particularly as a mother.  I wanted to pick up the phone and call all of my family and friends and tell them to hold their babies close, and to trust NO ONE with your kids!
The book is a must-read for everyone.  However, the book specifically sends a strong message to single parents who at times are most vulnerable when it comes to finding someone to care for their precious children.
Let me just add, I personally see a film project here.  Director Lee Daniels of the Academy-award winning film Precious, might just want to give Phillis T. Forrest a call.
Reviewed by: Gwen Pierce
To order a copy visit:
http://www.throughachildseyes290611.com/