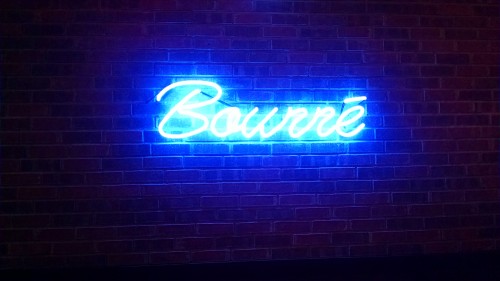 (San Diego, CA) Jambalaya, Strawberry Cornbread, Creole Shrimp Risotto, Fried Green Tomatoes, Stuffed Mushrooms, Catfish PoBoy and, Salmon!  Sounds good, right? You have know idea what you're missing out on. Especially, if you haven't dined at San Diego's hot new restaurant Bourré Southern Bistro.
The food at this place is incredible! Best described as an old southern expression: "Tastes so good, makes you want to slap yo Momma!" 
A hidden gem located in an unassuming strip mall in the Rolando area on University Avenue, Bourré satisfies diners with ambiance, combined with delicious menu items focusing on New Orleans Southern-inspired dishes.
Judging on a view from the street, the size of the venue appears somewhat small. But once inside, you'll find that the cozy upscale eatery has room for a stage area used for live entertainment including; the soulful Blue Mic Night, which the restaurant hosts a pool of talented artist who come out and perform, typically on a Thursday evening. There's a bar area and a cluster of restaurant seating inside and outside in an enclosed patio.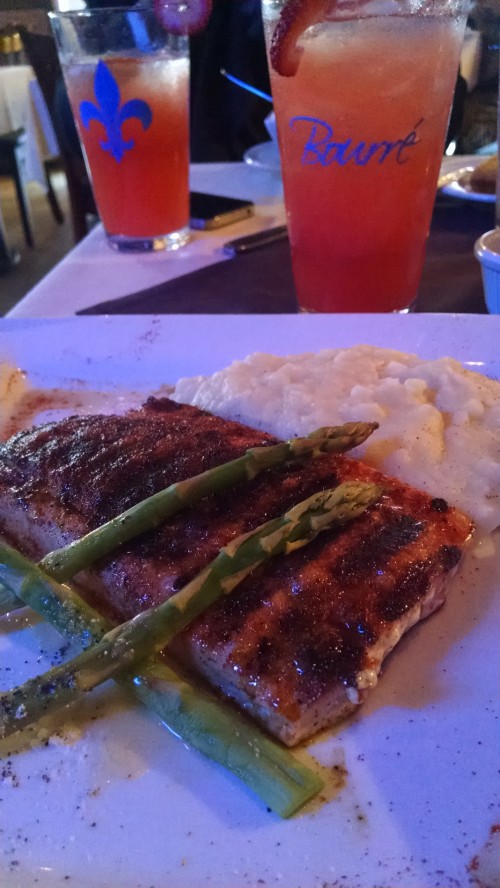 While there, make sure to check out the walls adorned with powerful historical images of: Adam Clayton Powell, Maya Angelou, Duke Ellington, Frank Sinatra and Ray Charles, just to name a few.
The courteous staff are all around friendly and accommodating.  One of the newest members of the team is the excellent Chef Daryl Des Hotel, a Louisiana native who shared a few of his favorite creations that are not just yet on the menu–Macaroni and Cheese Fritters, Catfish Clam Chowder and a healthy Kale dish, all of which sound amazing!
Mouth watering and incredible desserts include; Red Velvet Cake, buttery sliced banana's sauteed in brown sugar, known as the heavenly Banana's Foster, Mommie Helen's Sweet Potato Pie, Southern Pecan Pie and, Peach Cobbler all served nice and warm.
As for beverages, a non-alcoholic sweetened Strawberry Lemonade served in a glass with the restaurant's distinct namesake which in French means stuffed, is the perfect way to wash down a delicious meal. 
With perfect ambiance, fantastic live entertainment, sweet and savory New Orleans style cuisine, Bourré Southern Bistro is a welcome addition to San Diego's eclectic culinary scene.
For more information on hours of operation and upcoming events visit:  http://www.bourresouthernbistro.com/menu