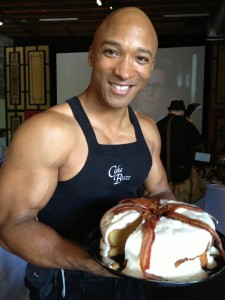 I feel a buzz coming on! That's exactly the feeling I get whenever I eat any type of dessert infused with liquor, i.e., rum cake.  Admittedly, when a friend insisted that I taste the "Halle Berry" from CakeBuzz® at first I was reluctant. Truthfully, as much as I enjoy desserts, those filled with any type of booze so far have not been my favorites.
That being said, I politely agreed to take the nicely packaged dessert home and promised to taste. After all, how could I refuse something that was so creatively named after one of the few black actors' to win an Academy Award, Halle Berry. 
The next day, living up to my promise I had a lunch date with Halle. Needless to say, I was hooked after one bite. Before I knew it I had devoured the liqueur cake, which led  me to have a conversation with the master of this heavenly dessert. 
CakeBuzz® is the unique creation of Los Angeles native Sean Allen, a longshoreman by trade and self taught baker who has become known throughout southern California as The Cake Bartender®.
His catchy slogans, "What's your drink™?" "Let me cake it!™" are customized based on the customers preferred cocktail.
The company has been in business since 2005, the same year Allen's Mom passed away leading him to experiment with some of her old recipes. According to Allen, his mother was a wonderful cook who could make just about anything. 
In one of her cook books, he found a recipe for an "old-school pound" cake, and decided to see what the end-result would be if he combined those ingredients from a traditional Rum cake recipe, with a butter cream frosting made with alcohol. It turned out perfect 
"The cake was DaBomb!" Allen says.
From there, he began to further experiment baking with different types of liqueur: Brandy, tequila, vodka, wine you name it.  Once he realized that alcohol could mix with almost any recipe, he knew that he was on to creating something delicious. 
Today, the CakeBuzz™ creates over 500 authentic flavors. There's a dark chocolate with caramel frosting called the undercover brother. Another flavor, he says was inspired when he once lived in a neighborhood where a lot of wino's hung out. He said jokingly,
"They'll drink anything, so I concocted the wino cake,  which consists of wine, blackberry vodka and, Godiva chocolate." 
The Halle Berry is a light sweet creation that consists of Godiva caramel liqueur, Stoli Salted Karamel Vodka and Kissed Caramel Vodka. The vision came to Allen to creatively named the cake after the celebrity while preparing for an event. 
"It just came to me that Berry's skin tone is a beautiful brown caramel complexion. The next thing he knew, I was participating in the Halle Berry's annual Golf tournament promoting the cake and, the guys went wild! They would come up to my hole and say, 'I want to taste the Halle Berry cake.'"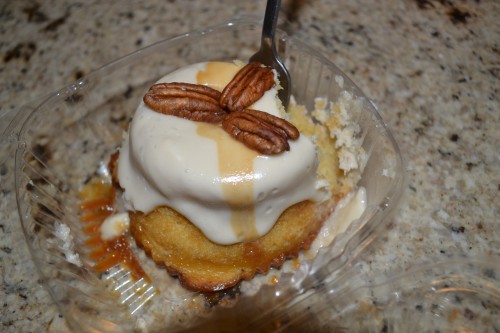 CakeBuzz™ products are currently sold inside of the W Hotel in Hollywood and, BYO Pizza in Redondo Beach, CA.
 "My menu is your imagination," Allen says.  
The company also makes  a drunkin' peach cobbler, and a tipsy sweet potato pie made from Vanilla Schnapps,  Amaretto and Pecan Praline Liqueur. 
To order direct from CakeBuzz™  mini cakes start off priced at $15.00. As for medium and large cakes, the price range start from $65.00 to $120.00.
For those who want to order CakeBuzz products contact Sean at: www.CakeBuzz.US.