In light of George Zimmerman's acquittal in the case of shooting 17-year old Black male, Trayvon Martin, Assembly member Shirley N. Weber held a press conference today, in San Diego, California.
Community members gathered in front of the Hall of Justice in support of the first African American south of Los Angeles to be elected to the California State Legislature. The press conference was held to show a united front, encouraging the community to come together and demand social justice, stand your ground laws, racial profiling and false assumptions that have plagued communities of color.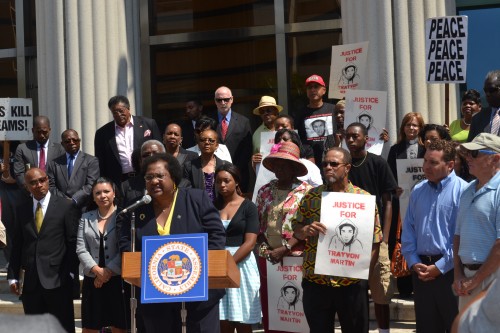 In a press release Weber stated, "I am utterly heartbroken for Ms. Sybrina Fulton and Mr. Tracy Martin. The system failed to provide any type of justice for their son, Trayvon. It is an outrage that this country continues to place a different value on the lives of others, including men, women and children of black or African descent. It is clear that many people fail to recognize the impact that racial profiling and stereotyping have had on all our values, beliefs, relationships, impulse, and decision-making. This tragedy reinforces the fact that we must all work hard to heal our hearts, to expose and expunge racism everywhere it exists, to repair our communities and to build toward a just society. We must do so with dignity and in peaceful fashion."
Among the groups and advocates who came out to show support and voice their concerns included: San Diego NAACP, (Philip Liburd), NuWay Ministries, (Pastor Steve Cooper), UUMAC, (Gerald Brown),  ACLU, (Norma Chavez-Peterson).
Peterson addressed the press with saying, "It's not okay when a child of color constantly fears being criminalized or being seen as guilty for doing nothing. The ACLU of California has prioritized criminalization reform and stands with the community by investing in educational equity in order to combat systematic oppression, and systems that tend to disproportionately affect communities of color."
Other community organizations who were present: Youth Division of the NAACP, (Jordan Robinson), San Diego Organizing Project, (Christine Figueroa -Pettis), BAPAC (Kathleen Harmon), San Diego Black Contractors Association (Hameed Rahim-Abdur), My Community Huddle (Dr. Vangie Akridge), San Diego Labor Council and San Diego Unified School District, Richard Barrera and more.
Weber concluded the press conference by stating,  "I stand today not only as an Assembly woman, but a mother of a son and a grandmother to a son, who understands that the greatest fear of an African American male is to be stopped by a police officer.  That in itself is a waste of police time and, tax payers dollars." She went on to say, "We have to be vigilant and committed, we want everyone to boycott the state of Florida.  When you withdraw those resources you withdraw them all, that includes  no vacationing, no conventions, no major sporting events.  The State of Florida needs to know that we will not continue to give them our resources."
The California Legislative Black Caucus (CLBC) is formally supporting and working in concert with Assemblymember Weber for her upcoming event on August 28th, 2013 at the State Capitol which will commemorate the 50year anniversary of the March on Washington, which will highlight how it served as a catalyst for the passage of landmark reforms including the Voting and Civil Rights Acts. The event will also focus on topics relating to equal opportunity as well as further explore the circumstances surrounding Trayvon Martin's death and examine George Zimmerman's murder trial and not-guilty verdict.