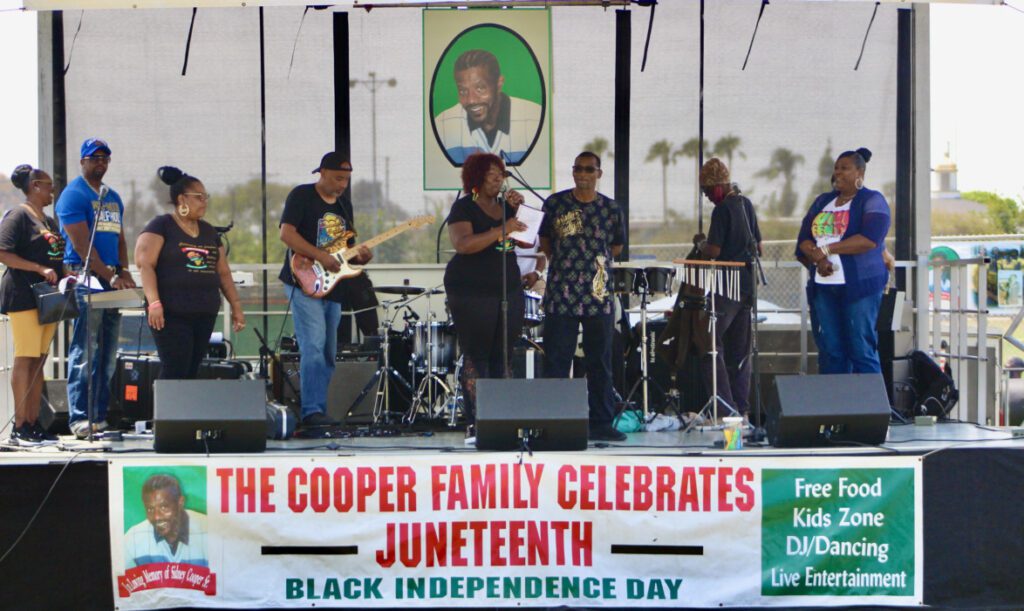 As part of his efforts to create a more inclusive San Diego and celebrate the diversity of its residents, on June 19, 2021 Mayor Todd Gloria joined by Councilmembers Monica Montgomery Steppe and Marni von Wilpert, his Black Advisory Group, and community members came together to declare "Juneteenth" in the City of San Diego.
Last years Juneteenth celebration took place at the annual Cooper Family foundation Juneteenth program, located at Memorial Park, 2975 Oceanview Blvd, In San Diego, California.
This year the Cooper Family will hold the celebration at the same location from 11:00 AM to 6:30 PM.
As always , the event is FREE with a great educational programs, gospel music, cultural performances, and in partnership with WILDSTYLE Entertainment the Cooper Family Foundation presents 70's and 80's chart topping R&B hit group Con Funk Shun.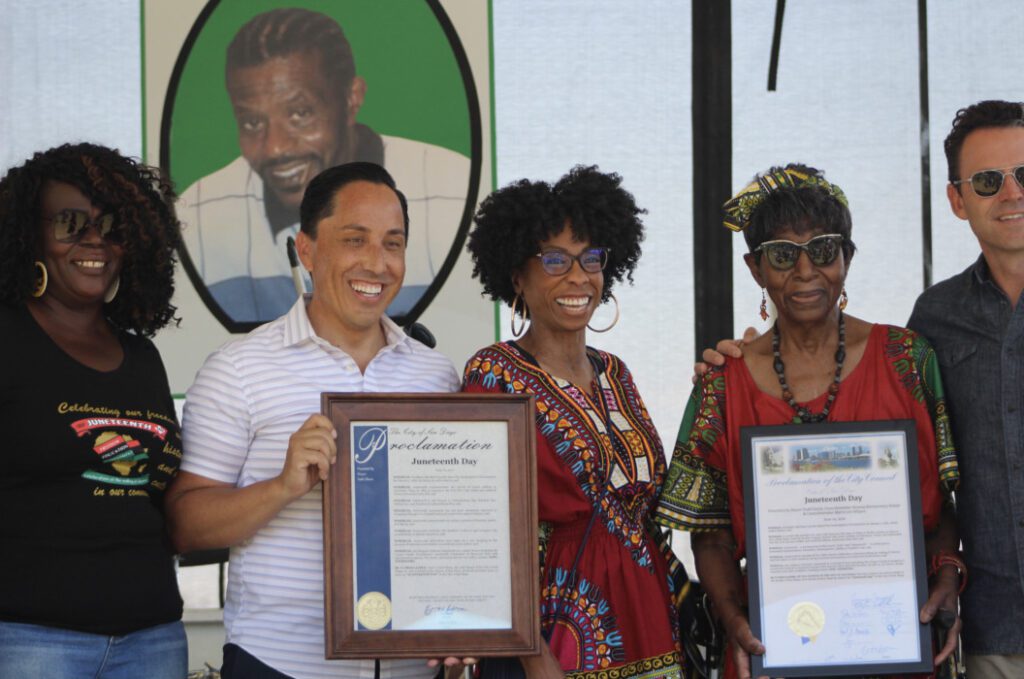 History of Juneteenth
The holiday is recognition of June 19, 1865, the day Union soldiers notified enslaved African Americans in Galveston Bay, Texas that they were free under the Emancipation Proclamation.
Two and a half years earlier, enslaved and free African Americans gathered in churches and private homes across the country to mark what was known as "Freedom's Eve" on Jan. 1, 1863. They were awaiting news confirming that President Abraham Lincoln had signed the Emancipation Proclamation that ended slavery in Confederate States. Anticipation heightened and celebrations began as the news spread of the 13th Amendment, the constitutional modification that established the abolition of slavery. Union soldiers began their march to spread the news throughout plantations and cities in the South.
However, not everyone in Confederate territory would immediately be free. Even though the Emancipation Proclamation was signed into law in 1863, it could not be implemented in places still under Confederate control. As a result, in the westernmost Confederate state of Texas, enslaved people would not be free until much later.
In Galveston Bay, freedom finally came on June 19, 1865, when some 2,000 Union troops arrived. The army announced that the more than 250,000 enslaved black people in the state, were free by executive decree. That momentous day came to be known as "Juneteenth," by the newly freed people in Texas.
The post-emancipation period known as Reconstruction (1865-1877) marked an era of great hope, uncertainty, and struggle for the nation. Formerly enslaved people immediately sought to reunify families, establish schools, run for political office, push radical legislation, and even sue slaveholders for compensation.
A California 2022 Juneteenth State Proposal
On May 19, California State Senators Steven Bradford (D-Gardena) and Sydney Kamlager (D-Los Angeles) introduced Senate Concurrent Resolution (SCR) 109, which would recognize Juneteenth as an official holiday statewide this year. Nine other members of the California Legislative Black Caucus are co-sponsors of the resolution.
For the past three years, Gov. Gavin Newsom has issued Juneteenth proclamations commemorating the holiday and declaring it "Juneteenth National Freedom Day: A Day of Observance" in the State.
SCR 109 urges "the people of California to join in celebrating Juneteenth as a day to honor and reflect on the significant role that African Americans have played in the history of the United States and how they have enriched society through their steadfast commitment to promoting unity and equality."
California would join Texas (1980), Massachusetts (2007), New Jersey (2020), New York (2020), Pennsylvania (2020), Virginia (2020), Washington (2021), Oregon (2021) and Delaware (2021) recognizing Juneteenth as an official state holiday giving state employees the day off from work.
"By making Juneteenth an official state holiday, California would demonstrate its commitment to celebrating the emancipation of all slaves," Assemblymember Akilah Weber (D-San Diego) said in a statement.
"Juneteenth is an important and special annual celebration for Black culture, resilience, and achievement," Weber continued. "Designating this date as a paid state holiday mirrors the federal holiday commemorating the end of slavery in the United States."
Below are just a few Juneteenth Celebrations in California:
Cooper Family Foundation: Juneteenth 2022, Healing The Community Festival, Memorial Park, 2975 Oceanview Blvd, In San Diego, California. This event will follow ALL COVID-19 GUIDELINES AND SAFETY PROTOCOLS.
30th Annual Juneteenth Celebration: Remembering the Legacy of Slavery, Celebrating Freedom.
June, 18, 2022 1-7 PM – Pico Boulevard Neighborhood, Virginia Avenue Park, 2200 Virginia Avenue, Santa Monica, CA. 90404
June 18 and June 19, 2022 Annual Leimert Park Juneteenth Heritage Festival in Los Angeles, Celebrating the Anniversary of the Emancipation Proclamation.
June 18, 2022 Bay Area Day Party: Juneteenth Celebration, Marina Park, 14001 Monarch Bay Dr., San Leandro, CA
---