In 2007, Roslyn Rawlins was busy moving up in her healthcare management career and raising her family in San Diego when her 12-year-old daughter, Ryan, had her first tonic-clonic seizure. Rawlins was terrified. She knew this was going to turn their world upside down, and it did. Their medical team worked to stabilize Ryan because she was having over 100 seizures daily which resulted in a diagnosis of epilepsy. This was a very chaotic time for Rawlins as she struggled to learn as much as she could about this condition.
Rawlins' profession was crucial in her decision-making process because the only thing she knew she had to do was to meticulously start documenting everything about her daughter's health, seizures, medications, moods, etc. Unfortunately, almost 15 years ago the only tools available for that were pen and paper which were not very efficient and difficult to effectively quantify and measure. Rawlins knew she needed to track her daughter's progression through her diagnosis and be able to retrieve all the data during doctor appointments. Not being able to monitor the efficacy of treatment and protocols in real-time was the starting point of knowing there had to be a better way for her and so many millions of people going through similar medical situations.
That frustration led to Bleuberi, a secure mobile health platform co-founded by Rawlins that allows people to more easily track their loved one's overall health, symptoms, triggers, treatment plans, medications (including cannabis), side effects, and outcomes. Using data analysis to give users instant feedback allows patients and their families to more easily make sense of all the information.
Below, Rawlins explains how Bleuberi is leveraging the power of data and technology to give the patient community a better solution to help manage their complex chronic health conditions and improve their quality of life.
Year Founded: 2018
Co-Founders: Roslyn Rawlins & Daniel Hopson
Data-Driven: Bleuberi is an app that helps individuals and caregivers better manage epilepsy and other health conditions. Bleuberi's many data points track areas of the medical condition, pharmaceuticals and medicinal cannabis, etc., to be able to correlate and cross-correlate information to find real insights into what is working and what is not working. A person's data on conditions such as seizures, daily health factors, routines, medications, vitals, and triggers are entered daily. The technology then assimilates all this data into easy-to-read graphics which helps with crucial decision-making and provides insights for medical professional monitoring health conditions.
One of the medications that the app tracks is cannabis. Being able to see how and when patients are benefiting from cannabis use allows them to know what specific cannabinoids and the types of consumption that work best for their condition.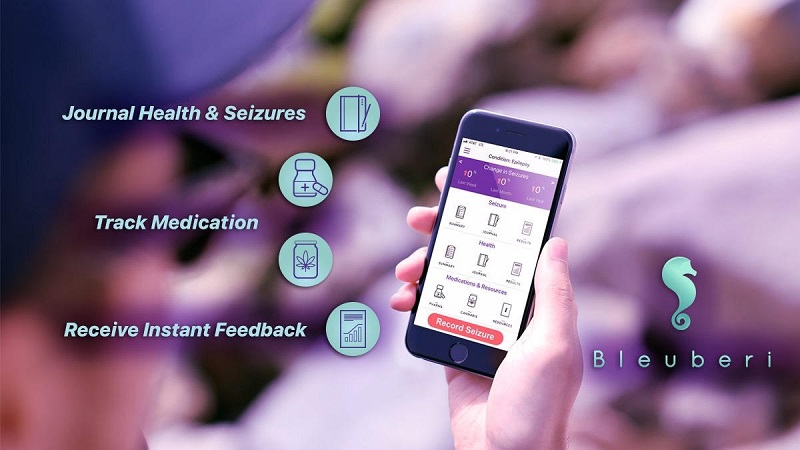 "Being able to access this data, especially for epilepsy, makes managing things easier," Rawlins said. "For example, with epilepsy, the factors of success include reduced seizures, reduced seizure length and severity, increased mood, better quality sleep, and more. Bleuberi's data analysis allows everyone to focus on a complete picture of the medical condition for the patient. Bleuberi tracks experiences and makes them scalable so you can pinpoint certain areas of the health data when needed."
What's App: The Bleuberi app, currently available on iOS, works on a subscription basis with monthly, annual, and lifetime pricing options available. The fees range from $14.99 for a monthly subscription, $9.99 monthly with a paid annual subscription, or a $599 for a lifetime subscription. The Android version of the app is currently under development and is expected to be available in early 2020.
Currently, Bleuberi is not covered by health insurance. However, Team Bleuberi is currently pursuing working with health insurance companies. Diabetes, asthma, and heart disease paved the way for many startups in the mobile health app game because reimbursements are being paid. More and more consumers are utilizing their smartphones to track their health and make better lifestyle choices. There are over 318,000 health apps offered on the top app stores worldwide. The global mobile health app market was projected to reach $28 billion last year and by 2023, it's predicted to climb to $102 billion.
Symbolism: Rawlins explained that Bleuberi's logo, the seahorse, represents the hippocampus – the part of the brain that regulates memory – because it resembles it. Understanding the negative emotions and chaos that is part of everyday life for an epilepsy patient, the founders wanted Bleuberi to be the bright spot in the whirlwind of monitoring health conditions.
So why the name Bleuberi? Rawlins and her family love blueberries and felt it would be a great name because the Bleuberi App would be easily identifiable in a sea of epilepsy chaos.
Cannabis Connection: While other startups are currently developing technology to find out what medical conditions will benefit from the use of cannabis, the founders of Bleuberi decided to go a different route that starts with understanding the patient's underlying medical conditions before administering cannabis. Bleuberi's technology stores all data measuring the cannabis that is used and how it's interacting with the patient's current medical plan, with data points throughout each day. Bleuberi's data collection observes and tracks the use of cannabis, whether it's inhaled via a vaporizer or smoking, ingested via edibles, or taken via a tincture. The patient enters data via videos, intake screens, and has areas to write notes. Bleuberi tracks the type of cannabis products used, and if in fact, it contributes to any measurable improvements of the health condition.
"This is the crucial difference with our technology – being able to specifically discuss with your doctors and care team what is effectively working. Bleuberi's technology measures the appropriate factors for success; all the data points are collected and stored for future reference," Rawlins said.
Due to the legalization of cannabis, living in California afforded Rawlins access to medical professionals and others that were experimenting with cannabis for various health conditions.
"Over the years, we have all seen the videos of people ingesting cannabis oil and their seizures stopping or slowing down," said Rawlins, whose daughter initially had to undergo brain surgery and then a long recovery. "This intrigued me and so I began my cannabis education and my daughter began her medicinal cannabis exploration."
Eventually, with all the hard work and trial and error being documented with Bleuberi, Ryan has been seizure-free for the last six years and is living independently. She still uses her Bleuberi app to help her maintain her cannabis, pharmaceuticals, and health regimens.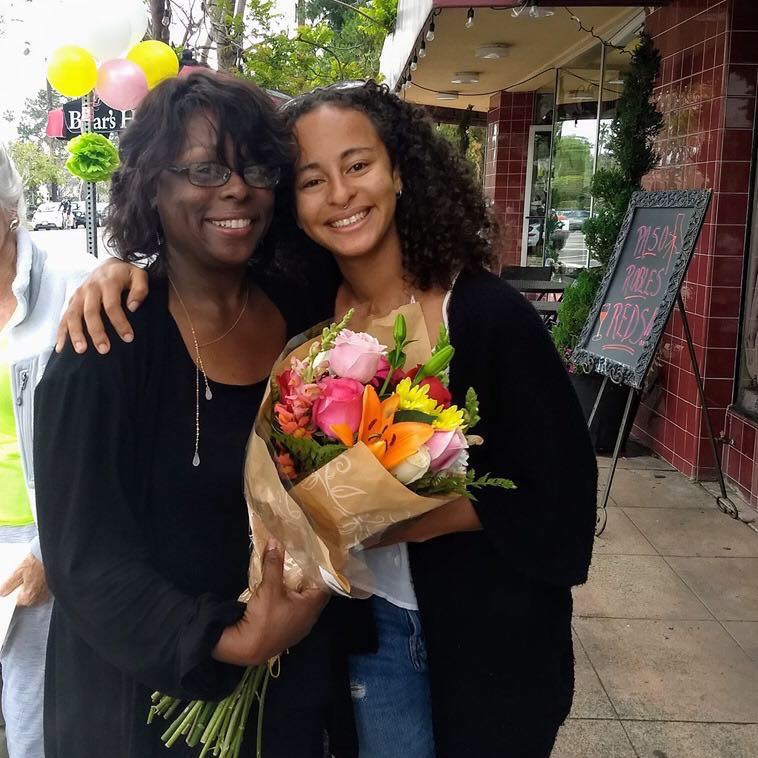 The Market: Per the Center for Disease Control, there are about three million people with epilepsy in the United States and nearly 50 million worldwide. After reading this information, Rawlin's quest to develop technology to better track medical conditions began. She got her other co-founder, Daniel Hopson, on board to create the Bleuberi app for this growing need. They spent two-and-a-half years researching, designing, and coding Bleuberi. In December 2018, they had a soft launch with their official launch date of March 2019.
Currently, Bleuberi serves the consumer markets with epilepsy patients being the company's largest group and autism being the second fastest-growing user group. According to the Epilepsy Foundation of America, 1 in 26 people will be diagnosed with epilepsy in their lifetime while approximately 200,000 people are diagnosed each year in the United States.
Funding: Bleuberi's founders say they are currently open to various types of funding and are also currently seeking a $500,000 convertible note.
"We want to find the right partners," Rawlins said. "Stakeholders that understand epilepsy are important to work with from the beginning as they can relate to the need for this app."
Giving Back: Bleuberi is currently creating a User Give Back program and plans to give 10% of the previous year's subscription revenues to the funding and establishment of its User Give Back and Charity & Research Initiative programs.
"Bleuberi believes in a purpose beyond profit," Rawlins said. We plan to implement a program that reinvests in both the epilepsy and cannabis patient communities. We feel a responsibility to do our part and give to those charities who help and support our patients/users because these patients and caregivers are the heart and soul of our company."
On the Horizon: Recently, the Food and Drug Administration approved Epidiolex (cannabidiol-CBD) oral solution for the treatment of seizures associated with two rare and severe forms of epilepsy, Lennox-Gastaut syndrome and Dravet syndrome.
Rawlins said these types of approvals can help pave the way for other cannabis-related treatments.
"We believe in patients having as many treatment options available to them as possible," she said. "Bleuberi allows patients to track treatment options whether it's pharmaceutical or medical cannabis. Because there is no cure, epilepsy continues to be a growing problem."
Bleuberi might have been initially created for epilepsy, but with 46 million family caregivers in the US, the need to track other medical conditions and data for patients is an urgent need as we live longer and require more health management. Bleuberi's plans include expanding from epilepsy to many other health conditions that require monitoring data.
"There are so many people that could benefit from this technology as well as the entire healthcare industry," Rawlins said.
Repost with permission from Roslyn Rawlins, Bleuberi.com