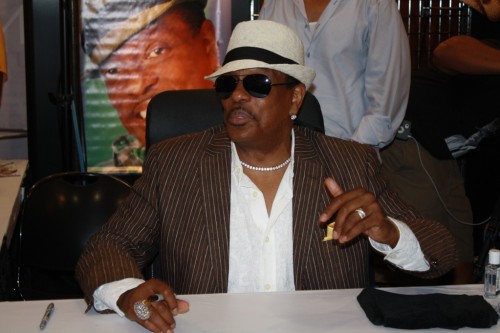 Via Press Release (Silver Spring, MD) – TV One will premiere the 21st Annual Trumpet Awards, hosted by TV and Radio One personality Rickey Smiley and acclaimed actress Essence Atkins on Easter Sunday, March 31, 8PM/ET, with an encore presentation at 11 PM/ET.
2013 Trumpet Award Honorees:
Chaka Khan – Legend Award
Charlie Wilson – Lifetime Achievement Award
Michael McMillan – Community Service Award
Alonzo and Tracy Mourning – Humanitarian Award
Debra Martin-Chase – Entertainment Award
Edward Welburn, Jr. – Corporate Award
Mayor Kasim Reed – Public Service Award
Presenters for the 21st Annual Trumpet Awards include Eva Marcille, Derek Luke, Dr. Steve Perry, Tika Sumpter, Patrick Ewing, Dikembe Mutombo, Roland S. Martin, Jason Cooper, Ambassador Andrew Young, Isha Sesay, Ryan Smith, Tom Joyner, and Verdine White. Performances provided by an award-winning lineup including Charlie Wilson, Fantasia, Avant, Tamela Mann, Anthony Hamilton, Linda Herring, Luke James, Jennifer Holliday and TV One's R&B Divas Keke Wyatt, Nicci Gilbert-Daniels, Syleena Johnson, LaTocha Scott and Monifah.
The Trumpet Awards were created in 1993 to honor African-American achievement in diverse fields such as law, religion, politics, public service, sports and entertainment. The annual Trumpet Awards acknowledges the accomplishments of men and women who have significantly contributed to enhancing the quality of life for all…individuals and/or groups who augment the richness of society by promoting the cause of justice and equality of all.
Originally presented by Turner Broadcasting and now managed by the Trumpet Awards Foundation, the Trumpet Awards honors people who are viewed not only for what they have individually achieved but also for the achievement they inspire in others. During the past 20 years, the Trumpet Awards have honored Muhammad Ali, Nelson Mandela, Henry "Hank" Aaron, Gordon Parks, Lena Horne, Dr. Benjamin Carson, Sen. Ed Brooke, and many others.
The Trumpet Awards are produced by Central City Productions for TV One. Executive producers are Xernona Clayton and Don Jackson. Executive in charge of production for TV One is Craig Henry.
To learn more about this special awards ceremony honoring Black achievement, and the founder of the Trumpet Foundation, Xernona Clayton, visit www.trumpetfoundation.org.