Stunning chocolate beauty and sprinter Carmelita Jeter is recognized as the fastest women in the world! Jeter became the second-fastest woman in history in the 100m, winning her race in an astounding 10.64 seconds. Only the late Florence Griffith-Joyner (Flo Jo) has run faster.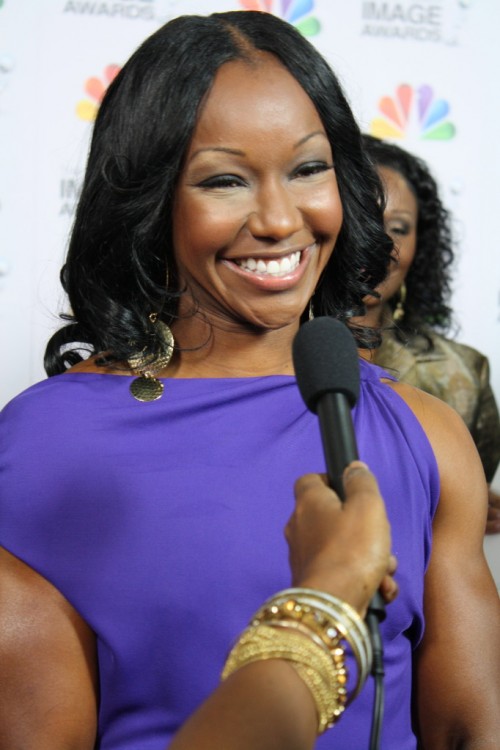 Recently, at the 2012 NAACP Image Awards The Chocolate Voice caught up with Jeter (pronounced jetter), as in "jet setter" on the red carpet for a quick chat and some powerful words of wisdom.
TCV: How did you train to become the fastest woman alive?
CJ: I trained physically and mentally every day because I wanted to be the best. When you want to be the best, it doesn't stop when practice is over; you need to figure out something else to do that makes you perform better.
TCV: As children, many people say when I grow up, I want to be…Did you always know you wanted to be a professional athlete?
C.J. In our house, there was always sports: basketball, football and track. I played basketball growing up. We knew that we all wanted to go to college and get there for "Free" so we had to pick a hobby ( She laughs). My brother Eugene "Pooh" Jeter played with the Sacramento Kings.
TCV: Where did you attend college, and what was your major?
C.J.: I studied Kinesiology at Cal State Dominguez Hills in Carson. I graduated! ( Laughs)
TCV: What words of Wisdom do you have for other young athletes in training?
C.J. Never give up. When someone says you can't
do it, do it anyway on purpose! Keep on pushing yourself, make a believer out of non believers, prove them wrong.
TCV: How would you suggest making a believer out of non believers?
C.J. Be yourself, show class and never change just because those around you may change. It's very important to keep your class all the time. Eventually those same people who are against you will eventually start to respect you.
Jeter, 31, has already met the qualifying standards to run in two events at the Olympic trials in Eugene, Oregon on June 22 and July 1, 2012, where she will run in the 100 meter and 200 meter races.
Olympics are held in London in August 2012, where Jeter hopefully takes home the Gold.