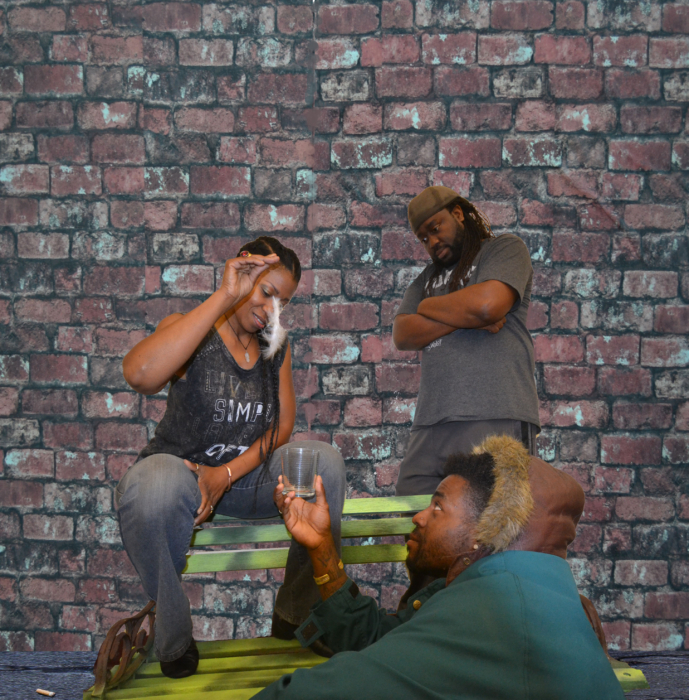 Ira Aldridge Repertory Players in collaboration with San Diego Continuing Education Division, Educational Cultural Complex proudly presents the San Diego premiere of  Christina Anderson's BLACKTOP SKY.
ABOUT THE SHOW:
After witnessing the police harass a fellow resident of the housing projects, 18-year-old Ida (Tina Machele Brown) befriends Klass (Wrekless Watson), an unpredictable young homeless man she finds sleeping on a bench between the institutional high-rises. As their unlikely friendship grows, Ida must choose whether to embrace the struggle for justice within her neighborhood or to chase a new life elsewhere with her upwardly mobile boyfriend, Wynn (Kendrick Dial).
Directed by Calvin Manson and Assistant director Vimel Sephus.
"The poetry of the language, the visual poetry of the stage directions, and the gut-wrenching timeliness of the story, struck me as the kind of play that we need to see more of. It flips from humor to heaviness at the speed of life."  Calvin Manson, Founder/Producing Artistic Director
ABOUT THE DIRECTOR:
A native of San Diego, Calvin Manson is an award-winning writer, producer, director, Founder and Artistic Director of Ira Aldridge Repertory Players. Calvin Manson was the recipient of the San Diego Theatre Critics Circle, 2010 Craig Noel's Award for "Best Theatrical Production" Lookin' for an Echo. His original work Passion & Honey was nominated for nine Associated Community Theatres' Audrey Award and the winner of 4 "Best Production," "Best Direction," and "Best Ensemble," Manson also won first place in The Negro Ensemble Theatre Company playwright Contest for Passion & Honey.
He served as the Chairperson of Community Arts of City of San Diego Arts Commission; he is a former board member of Rolling Reader, Common Ground Theatre, Black Storytellers of San Diego, Community Actors Theatre and advisory board member of the Friends of San Diego Library. He co-founded Black Writers and Arts renamed African-American Writers and Artistic.
Stage directing credits include the World premieres of his critically acclaimed plays Harlem, Harlem, Evenin' with Billie, Sassy-Sarah Vaughan, Nina, The Life and Music of Nina Simone, Raisin' the Rent, Lookin' for an Echo We After 40 Years We Still Ain't Got A Band, Standing in the Gap, 5 Shades of Blues, the Blues Poets, Passion & Honey and Poetical Not to be Played on the Radio in 2009 and 2011.
ABOUT THE PLAYWRIGHT:
Christina Anderson's plays include The Ashes Under Gait City, Good Goods, Man in Love, Blacktop Sky, Hollow Roots, How to Catch Creation, and Drip. Her work has appeared at The Contemporary American Theater Festival, Penumbra, Yale Rep, A.C.T., The Public Theater, Crowded Fire, and other theaters all over the country. American Theater Magazine selected Anderson as one of the fifteen up-and-coming artists "whose work will be transforming America's stages for decades to come." For two consecutive years, her plays have appeared as one of the top recommendations on The Kilroy's List, an annual industry survey of excellent new works by female playwrights. Christina obtained her B.A. from Brown University and an M.F.A. from the Yale School of Drama's Playwriting Program. She's an Assistant Professor of Playwriting at SUNY-Purchase College.
BLACKTOP SKY opens on June 10.  All performances will be held at Educational Cultural Complex Performance Arts, 4343 Ocean View, San Diego, CA. 92113
For more information about the show click HERE or call (619) 283-4574.
Information on Group Discount and Marketing opportunity contact Clara Carter at [email protected] or [email protected].