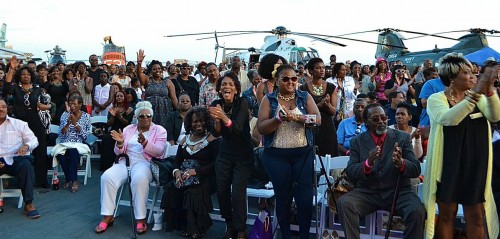 (San Diego, CA)  For the first time in history, and through the power of M.A.N.D.A.T.E. Records, a gospel concert was held on the U.S.S. Midway in San Diego! This event, occurring Sunday evening, July 27, San Diego's super talented Gospel singers—along with featured headliner and gospel royalty, award-winning artist Karen Clark-Sheard—brought "church" to the bay!
Perhaps the truest and most inspiring quotes from Sunday—if one must be picked, for every moment was history!—would be the opening statement:  "If people don't celebrate San Diego, San Diego will celebrate San Diego!" And, by the many men, women, and children dancing, singing, and clapping within the audience, celebrate is exactly what we did!
For a bit of background on featured artist Karen Clark-Sheard, she began her career as a member of the Grammy Award winning gospel female group The Clark Sisters under the direction of their mother, the late Mattie Moss Clark. Clark-Sheard also the mother of singer and actress Kierra "Kiki" Sheard, who currently serves as a judge on BET's Sunday Best, and one of the stars of the networks hit reality show The Sheards.
The entertainment line-up also included: Men 4 Christ, Eddie Baltrip & Fulfillment, Archie Robinson & N.B.P., Stephanie Stephens, David Dredden & Undefeated, Divine Praise Dances, and San Diego United Gospel Artists.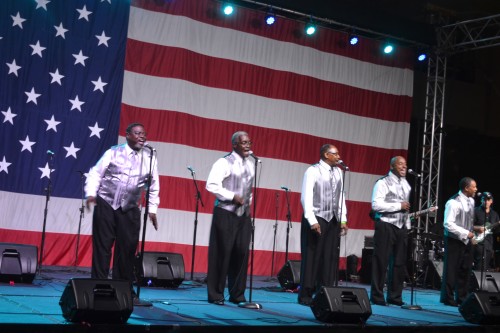 Starting off the evening were the sweet sounds of inspirational music including, performances by several local performers, all of which sang their hearts out to a crowd of over 1,000 people, who gathered for the purpose of benefitting a worthy cause—raising awareness to military veterans and their families.
We happened to have met one of these celebrated veterans, Rose Reed, and her charming family, who appeared just as into the concert as all others that attended! Though the concert was a fundraiser, and meant to please all whom attended, it was especially great to see the celebrated members of the audience have a good time and receive the honor they deserved.
Last on deck to perform that evening, Clark-Sheard made it clear that the concert was going to be just as glorious in the end as it was from the start when she addressed the crowd by saying, "Ain't no party like a Holy Ghost Party!"
The musical jubilee on the water titled Bayside Gospel Concert Aboard the U.S.S. Midway was a true testament of choirs with precision, style, and grace.
Thanks to co-sponsors of the event, Michelle Thompson and Walter Ko of Gospel on Demand, G.O.D. Radio, The San Diego Urban League, the American Veterans Coalition, and M.A.N.D.A.T.E. Records, the summer fundraiser on the bay was a great success.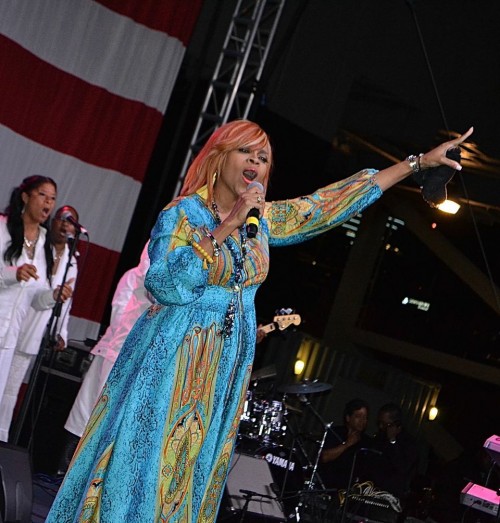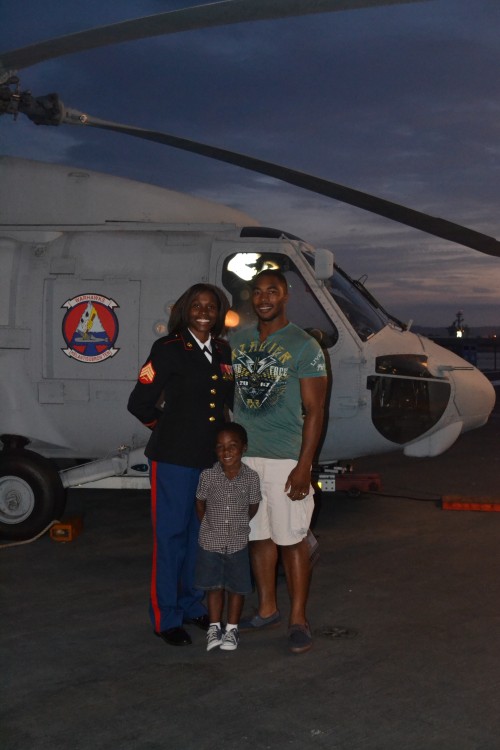 Contributors of this article:  Gwen Pierce and Jordan Brooks.