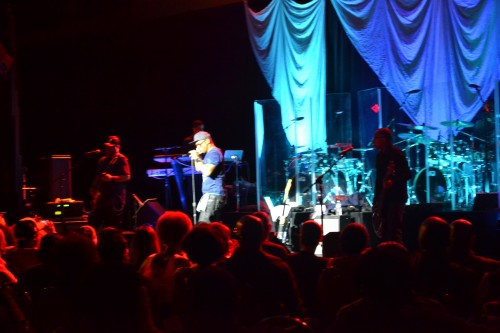 The Jacobs Center for Neighborhood Innovation, located in the heart of Southeast San Diego, is fast becoming the hottest concert venue south of interstate 8.
On January 22, the vibrant multi-purpose center also known as Market Creek Plaza, kicked off JACOBS PRESENTS featuring the award winning group Mint Condition, for the venue's inaugural series.
Hundreds of fans were comfortably seated in the multi-culturally decorated 12,000 square foot Celebration Hall which, transformed nicely into an intimate and personal night club ambiance.
On hand to set the vibe were the soulful sounds of local D.J. John Phillips who played R&B hits to a 30 and older crowd until show time.
Just prior to the show, President & CEO, Reginald Jones gave thanks to the organizers and to the attendees of the event.  Following Jones, District 4 Councilmember Myrtle Cole, excitedly introduced the celebrated band.
Once the show began, it came to me as no surprise that the guys of Mint Condition came to perform!
Did I mention that, they are one of my all time favorite bands?
The caliber of talent in the band had the crowd on their feet for the entire show. Front man Stokely Williams known for his amazing vocal range and energetic stage presence, gave it his all and then some.
In addition to Williams, the phenomenally talented and polished band consists of: Ricky Kinchen, Larry Waddell, Jeffrey Allen and Homer O'Dell.
What sets the band (originally formed in the 80's in St. Paul Minnesota) apart is that, unlike many of the performers today, Mint Condition, stays true to a sound that features a mix of funk, jazz and R&B. A precise sound that has solidified their staying power in an industry where there are rare live band performances.
The group performed primarily all the fan favorites:  "What Kind of Man Would I be," "If You Love Me," "U Send Me Swingin," and, some of their more recent hit's, "You Caught My Eye," and "Nothing Left to Say."
After performing one last song and leaving the stage, the crowd  stood up and demanded an encore. The band returned to the stage by closing the show out with arguably their most popular hit "Breakin' My Heart (Pretty Brown Eyes)."
Finally,  the band thanked the fan's for "all of the support shown over the years," and asked that San Diego not wait too long to invite them back.
What's left to say is that, Mint Condition, brought down the house at the Jacobs Center.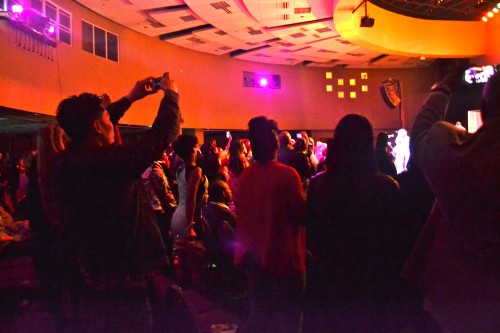 For more information on the complete 2014 concert series visit JacobsPresents.com.