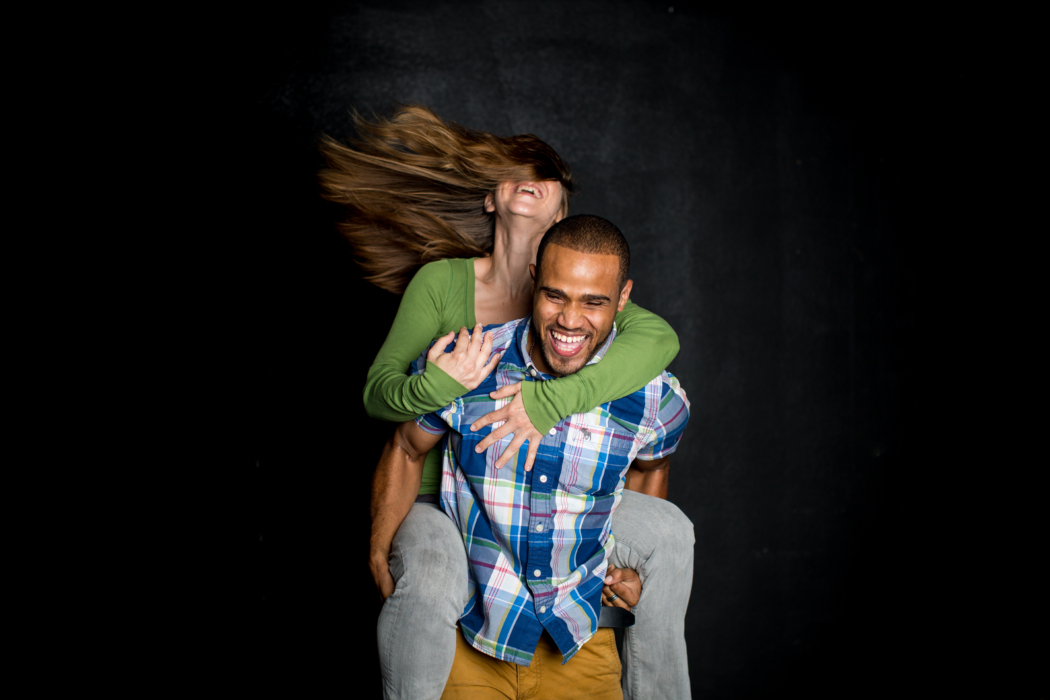 Rachel VanWormer and John W. Wells III as Charlotte and Jonny.
Photo credit: SIMPATIKA
Dorm room and dinner conversations surrounding race, religion and sexuality are topics that make up Bathsheba Doran's cleverly written and entertaining dramedy, "The Mystery of Love and Sex", now playing at Diversionary Theatre in San Diego.  Known as the second oldest LGBT theatre in the country (1986), the cozy theatre located in the quaint University Heights neighborhood situated between eclectic eateries and shopping, Diversionary primarily explores plays and musicals with LGBT themes.
However this holiday season, Diversionary is presenting a unique story about family in "Mystery" as the story goes beyond in addressing serious subject matters that many families face, while swirling in comedy.
Directed by Matt M. Morrow, we are first introduced to Charlotte, played energetically and provocatively by Rachel Van Wormer, a White 21-year-old, who's apparently attracted to Jonny, played by John Wells III, her childhood friend who happens to be Black. The pair now in college anxiously await the arrival of her parents to tell them about their seemingly romantic relationship.
In the comical first scene, Charlotte's parents (played by Marci Anne Wuebben and Mike Sears) add complexity to conversation, with bold hints of subtle comments surrounding family, race and religion. Particularly from Charlottes father, a Jewish author, who's shown as being evasive towards lending a hand to Jonny, an aspiring writer, that he's know since he was a child. Case in point, when Jonny asks him to read some of his writing, he's asked to go and pick up something from the store. Could it be because Jonny is Black? There's mystery surrounding that question as well.
After the adults leave, Charlotte confides in Jonny, who by the way is a Baptist and virgin that she might be Gay. Without giving away too much, as the story unfolds, truths in relationships come to the surface as Diversionary's production of The Mystery of Love and Sex, taps into diverse issues that often take place in our every day lives.
Doran skillfully keeps the play's plot full of surprises and clever turns-of-phrase i.e., L.U.G. Lesbian Until Graduation a term which many of the audience members seemed very familiar with.
For the most part, light hearted and funny, "The Mystery of Love and Sex", strikes a chord pointing out that as liberal as some families may seem, they too, often struggle with the challenges of family truths, questioning their very own humanity.
"The Mystery of Love and Sex", runs through December 24, 2016.  For tickets visit Diversionary.org