City of San Diego Proclaims December 14, 2015 as
"The Dr. Suzanne E. Afflalo Day":
Friends, Family Support the Recognition and Praise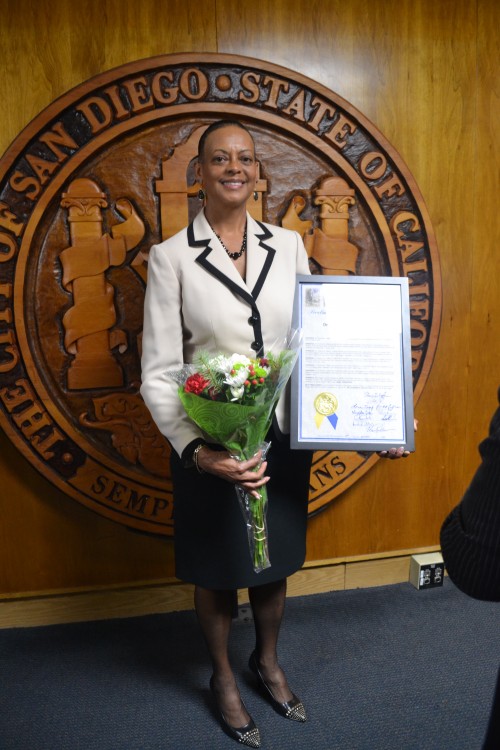 San Diego, December 14th, 2015– Dr. Suzanne Afflalo of Kaiser Permanente was honored for her work in the medical profession as well as her tireless work within the San Diego community.

Dr. Afflalo was presented with an award at the city of San Diego Administration Building, by District 4 Council member Myrtle Cole, who gave recognition to the doctor for her commitment to numerous organizations throughout San Diego.

"We have witnessed Dr. Afflalo leading health fairs, screening for blood pressure control in barber shops and serving as a mentor for young women and men interested in health careers.  She has also launched Healthier Me, an innovative approach with the San Diego Black Health Associates, to improve health behaviors working with churches." 

Members of community organizations including: Black American Political Association of California (BAPAC) San Diego Chapter, San Diego Black Health Associates, friends and a host of others were on hand to show support for Dr. Afflalo, all of whom know and gave praise to the doctor for her dedication to the community.  

Philip W. Liburd, an official with the Black American Political Action Committee, affirmed her leadership and extra efforts in health care. 

"Dr. Afflalo's has consistently demonstrated that she will do whatever it takes to ensure that patient's compliance is enhanced as a result of her efforts."

Dr. Afflalo is a member of the Board of Directors of San Diego Black Health Associates,  a non-profit organization working to eliminate health disparities through community education, membership support, policy advocacy and research.

"Dr. Afflalo embraced our efforts to promote breast health education for African American women", noted Denise Adams Simms, Executive Director.

  She is active in our outreaching to different churches with an integrated health message.  Dr. Afflalo was selected as our Dr. Antronette Yancy Community Education Leadership Award in 2014 for leadership in community health."

Dr. Afflalo announced her retirement from Kaiser Permanente after 23 years of service. After she rests and travels, Dr. Afflalo will continue to provide health advocacy and support services to the Southeast San Diego Community.

Dr. Suzanne Afflalo graduated from the George Washington University School of Medicine and Health Science. She specializes in Family Medicine.