I recall meeting Derek Shelton years ago when we were just kids, around age 8 or so. We became acquainted on account of him being my fathers customer.   In our over the phone conversation, Derek says, "One of my fondest memories of childhood, is when your father had to place a bench on top of the  arms of the barber chair, in order for my head to reach high enough for his long arms to cut my hair."
My father was, and still is  a longtime barber, and one of the few  Black owned barbershops in Tucson, AZ.
Recently,  I had an opportunity to  re-connect with my childhood friend, who is now the Author of two books and working on a third.
Shelton's latest work, (e-book — Amazon Digital Services, Inc.)  Just Shy of Amazing, tells the autobiographical story of a young boy raised in Tucson, Arizona, during the 60's, who constantly perseveres through trials, and maintains the determination to succeed.  Left by his father one month after his birth, Shelton's original inspiration for relentlessly pursuing success was the desire to prove to his father that he was vastly more successful than him by playing professional football or participating in the Olympics.
In addition, the fact that Shelton was small as a child and an easy target for bullies made him work very hard at becoming fit, which included martial arts training and summer camps for football.  Unfortunately, Shelton's primary bully was one of  his siblings, who complicated the family dynamic due to the fact that there was no father figure for Derek to turn to, and their mother was constantly at work to provide for her children.  The sibling relationship was further complicated for Derek, who's quite clever with words described himself as a "Cinderfella," was a younger child in the family, because he had a different father than his siblings.  However, instead of crumbling under the hurt of bullying and abandonment, Shelton says today, "There's cancer survivors, I'm a bullying survivor."  Shelton, who now has his own children, says he has told his kids to always come to him so that bullying can be "nipped in the bud."
In fact, Shelton says the purpose for writing his latest book, Just Shy of Amazing, is so that people who are unhappy about their current place in life can find inspiration to improve their own situations based on his experiences.  In addition, after years of accumulating physical strength to combat bullying and prepare for sports, Shelton also wrote a book of fitness tips entitled World Class Fitness Tips, which also has the intent of helping others reach their own fitness goals so they can live a happier and healthier lifestyle.
What started out as a mission to prove that he is better than his father ended up being a catalyst for the repair of the father-son relationship when Shelton was twenty eight years old, and the start of a very successful career as an author whose new mission is to inspire others to achieve their goals.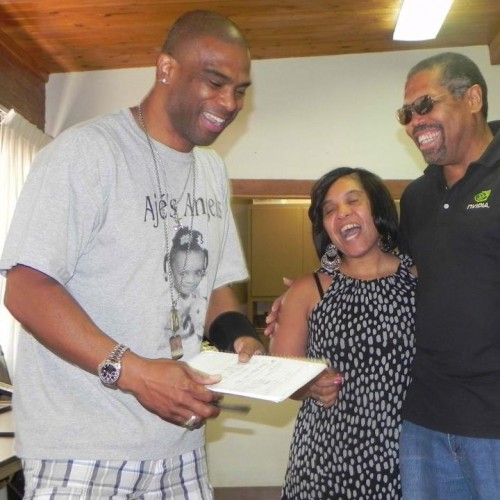 Contributors of this article include:  Gwen Pierce and Emily Kohlheim