I love the fact that growing up in a record shop, I learned to appreciate the sweet sound of soul pleasing music.
Can't you just feel the love on Valentine's Day?  I know I can, especially while listening to love songs with romantic catchy lyrics like; "Play another slow Jam this time make it sweet, a slow jam for my baby and for me." You can't tell me those lyrics aren't hot. 
So, in honor of Valentines Day I decided to share 14 of my all time favorite R & B Love songs, in no particular order, I adore them all.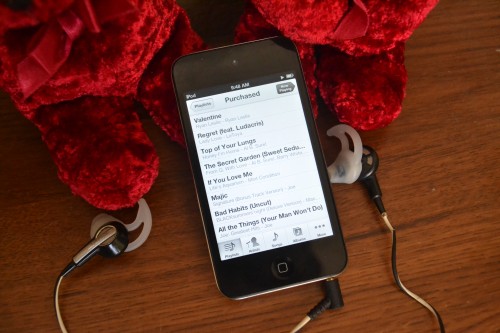 "Best of My Love" – The Emotions – "Doesn't take much to make me Happy…" This is a such happy love song.

 

Besides that, tit doesn't hurt that these ladie's can really saaang!
"You Can't Hide Love" – Earth Wind and Fire – If you're trying to resist love – this sexy song will break you down real quick. One of my favorite groups of all times.
"If You Love Me" – Mint Condition – This call to action song sends a simple yet poignant message to the heart.

 

I love me some Mint Condition, another one of my favorite groups!
"Love Hangover" – Diana Ross – Don't you just love how this song starts out slow and sexy, then picks up the tempo midway- It's just a mix of dance with romance. Get it Diana!
"These Three Words" – Stevie Wonder – Lyrically, Stevie is just so smart and the absolute best. Frankly, I don't know of a bad Stevie tune, this just happens to be the first one that popped in my head.
"The Closer I Get to You" I love two versions, Donny Hathaway & Roberta Flack and, Beyonce featuring Luther Vandross -Both are simply amazing and so romantic.
"For the Love of You"- The Isley Brothers – Drifting on a memory… Everytime I hear this song, it just takes me back to a place to where….I'd better quit while I'm ahead.
"There Goes my Baby"- Charlie Wilson – Who doesn't love Uncle Charlie! Check him out in concert performing this hit, at one point he just let's the audience take over, we love this song and we love us some Charlie "last name" Wilson."

 

Can't wait to see him on tour with my other favorites KEM and Joe!
"Sweet Thing" – Chaka Khan – Chaka Khan sang to every man and woman who had that special sweet thang, if you know what I mean.
"Lost Without You" – Robin Thicke – I just love everything about this romantic song; the lyrics, the musical arrangement, it's just plain smooth!
"I Can't Stop Loving You" – KEM – Believe or not, this song was my first introduction to KEM, and I haven't looked back since. You can't go wrong with KEM's sultry love music.
"Two Occasions" – The Deele Another one of my all-time favorite songs, especially the live version. After all Kenny "BabyFace" Edmonds has a hand in this hit.
"Spend My Life With You" – Eric Benét & Tamia – We're huge fans of these two sweet and talented vocalist.
"I Wanna Be Loved" Eric Benet is just so romantic. Like most artist on this list, I can't get enough of Eric Benét's music, you can't go wrong.
I couldn't stop there without mentioning the following:
"Love" – Music SoulChild – I just adore this soulful ballad with gospel undertones.
"Love Me in a Special Way" – El DeBarge – That falsetto is just so smooth.
"I Wanna Know" Joe – You have to admit it's so sexy when a man asks you what turns you on.
"The Way"- Jill Scott – Well, what can I say, Jill Scott makes us feel so confident in love on this tune.

 

"Love Never Felt So Good" – Michael Jackson
"Got to be There" – The Jackson 5- Growing up this was one of my favorite Jackson 5 hits, and it still is today.
Let's Stay Together" – Al Green – This is just one of those timeless love songs. A big hit at wedding anniversary parties, including mine.
"Ribbon In The Sky" – Stevie Wonder – Is the absolute perfect wedding song.  Trust me on this one.