LaDreda's Story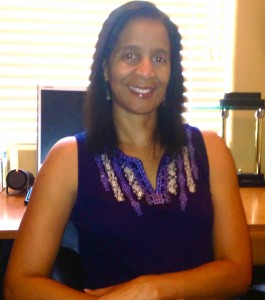 (Bonita, CA) LaDreda Lewis knew at an early age that she wanted to help kids.
Growing up in East Oakland's Sobrante Park, a neighborhood pocket known for its illegal drug crimes and high incidents of violence, LaDreda always knew that once she left, she would pay it forward by helping those who grew up less fortunate.  Kids like herself, who had experienced a personal tragedy or family hardship.
Being raised by a single mother in a household with four older brothers,
LaDreda's life took an unexpected turn at age 12, when her mother was diagnosed with cancer.  As the baby of the family and the only girl, she stayed close to home to help care for her mother during her illness.
Sadly, her Mom passed away three years later when LaDreda was just 15.
At the time of her mother's passing, two of her brothers had gone away to college on a football scholarship but, chose to return home to help care for the three younger children. Once they returned, Sobrante Park, once considered a working class black neighborhood, had become plagued with crime from the growth of the illegal drug trade.  Dealing cocaine was a way for young men to make money.
"Unfortunately, I lost two of my brothers to violence, one is in prison and the other one is doing well. I kind of had to make it happen on my own." LaDreda says. She adds, "Being surrounded by caring community members, who saw something special in me, is what I internalized."
She attributes her involvement in the Upward Bound Program, and meeting people along the way who saw that she was driven to succeed, is what helped her find her way.
Making her way to College and a Career
After high school, she left the bay area and headed for southern California to attend San Diego State University. While attending SDSU, she received a BA in Liberal Studies with an emphasis in Education, and went on to earn a Master's in Education.
"I chose to attend SDSU because it was far enough away from Sobrante Park and the pain of losing my family but not too far away."
All smiles she adds, "It was on my first day of college where I met my husband economics major Terrence Lewis, which she says the two dated forever before finally getting married. The couple has two daughters; one in middle school and, one is a sophomore in college at U.C. Davis, where she earned a full ride on a golf scholarship.
"Interestingly, God works in mysterious ways.  Things didn't quite work out as I had planned.  Once I finished college, my goal was to help students who grew up like me." LaDreda says.
As it turned out, she needed a job that lead her to begin her teaching career at a predominately white school, Murdock Elementary in La Mesa, California.
"Once I arrived, I saw that there was no one like me. No teachers, no students, no one." She said.
LaDreda explains how she ended up teaching at Murdock Elementary, was when then African American Principal Sylvia Ginwright, an educator she was assigned student teacher with, boldly approached the La Mesa Spring Valley School District and said, 'You say you want diversity well, this girl (LaDreda) is good and getting ready to leave if you don't hire her!'
The district heard Ginwright loud and clear. LaDreda was hired.
After teaching at Murdock Elementary for eleven years, her career in education continued to flourish. She continued to teach in the La Mesa Spring Valley School District, where she taught at La Mesa Dale Elementary for 5 years, Dean of Students at Spring Valley Middle School for three years and, Vice Principal at Cajon Park Middle School in Santee, for two years.
Entrepreneur/Sylvan Learning Center
How going from a career in education to becoming a business owner came about was through her husband Terrence, who has been in business since he left SDSU and, was working with franchising.
While attending a franchising conference Terrence, learned that Sylvan Learning Centers—tutoring centers designed to cater to the needs of students by helping them to achieve mastery by closing learning gaps or reaching mastery beyond grade level, through custom curriculums designed for kids and adults, was franchising their corporate centers.
LaDreda recalls, "I remember the day my husband called me from the conference and said, with my business experience, and your twenty year background in education let's buy three Sylvan Learning centers."
Her response was, "Yeah Honey right, let's talk about it later."
Unapologetically she says, "I am an educator and a non-profit person by heart. That's just who I am."
On the other-hand astute businessman Terrence, thought it would be a good idea to move forward. And within a few months, Sylvan Learning Centers in Bonita, La Mesa and Imperial Beach were re-opened under 40 Acres and A Mind, Inc. and ready for business.
Ambitiously, when the Lewis's took over three centers in June of 2008, they never imagined the nation was on the brink of a recession and that the economy would plummet within a few short months of opening.
"Regretfully, it just made sense to close the Imperial Beach location after two years," explains LaDreda.  "Demographically and economically we just couldn't afford to keep it open.  The Imperial Beach center was one of the reasons why I wanted to open Sylvan because it was in a community that could use the services."
Currently, the Lewis's operate two centers. Both locations offer flexible scheduling to meet the needs of athletes and students who are involved in extra-curricular activities.  Director's at Sylvan work with the parents and the schools, by meeting monthly to support each student's academic goals.  The centers also work around students' schedules to make sure the kids get the help they need.
"We couldn't do it without the help of the parents and schools, our partners in education. The Goal is for students to gain mastery and move on." LaDreda explains.
Coming from a non-profit background LaDreda says, one of her challenges with being a business owner in the beginning was finding ways to financially serve the needs of everyone across the board.  With that in mind, she made sure that her centers qualified as an approved provider for Supplemental Educational Services (SES), a Per Pupil Allocation (PPA) fund that allows parents to select supplemental educational services for their children. PPA funds are designed to increase the academic achievement of students attending school improvement schools in year 2, many of these schools are in underserved communities.
Sylvan incorporates technology by using the original Sylvan model, where portions of the program allow kids to go online and take different tests.  To further implement technology, LaDreda is excited to announce that in the next few months, the centers will transfer resources over to SylvanSync, where main reading and math programs are transferred over to IPads.
It will be five years in June, since LaDreda left her job as Vice Principal. On the fast track to growing the business, she recently received her Ace It! Tutoring license, an additional Sylvan franchise, which allows her to take Sylvan Learning out of the center and into the schools and neighborhoods that can benefit from Sylvan's proven system.
When asked if she's happy with the transition, she answers, "I am able to combine business with my love of education.  Yes, I feel complete."
Click here for more information on Sylvan Learning Centers in Bonita and La Mesa, CA.