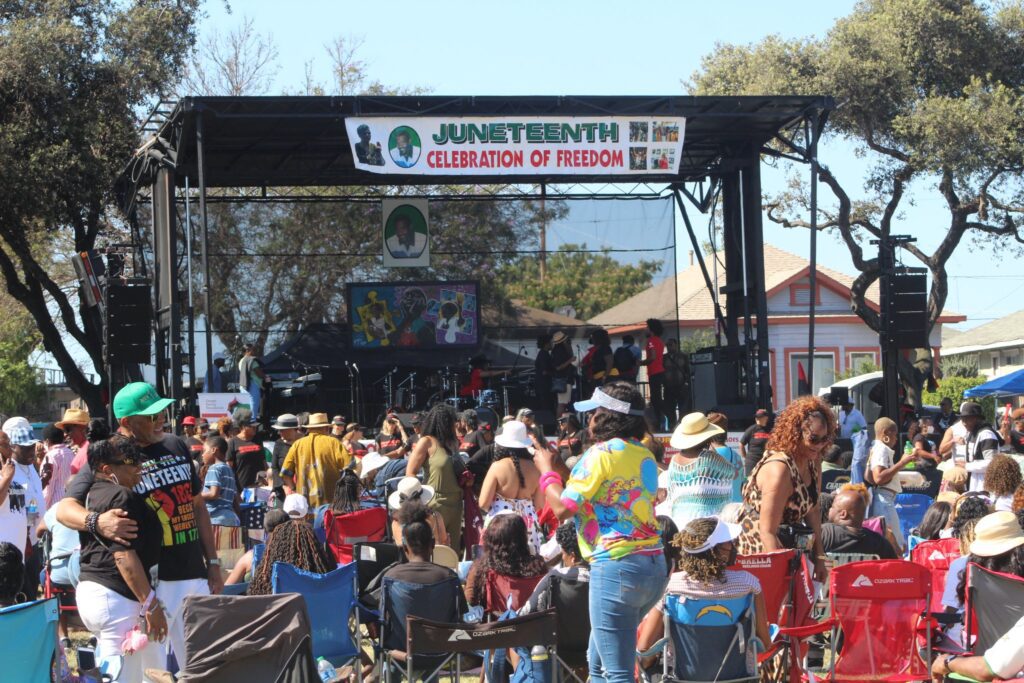 History of Juneteenth
The holiday is recognition of June 19, 1865, the day Union soldiers notified enslaved African Americans in Galveston Bay, Texas that they were free under the Emancipation Proclamation.
Two and a half years earlier, enslaved and free African Americans gathered in churches and private homes across the country to mark what was known as "Freedom's Eve" on Jan. 1, 1863. They were awaiting news confirming that President Abraham Lincoln had signed the Emancipation Proclamation that ended slavery in Confederate States. Anticipation heightened and celebrations began as the news spread of the 13th Amendment, the constitutional modification that established the abolition of slavery. Union soldiers began their march to spread the news throughout plantations and cities in the South.
However, not everyone in Confederate territory would immediately be free. Even though the Emancipation Proclamation was signed into law in 1863, it could not be implemented in places still under Confederate control. As a result, in the westernmost Confederate state of Texas, enslaved people would not be free until much later.
In Galveston Bay, freedom finally came on June 19, 1865, when some 2,000 Union troops arrived. The army announced that the more than 250,000 enslaved black people in the state, were free by executive decree. That momentous day came to be known as "Juneteenth," by the newly freed people in Texas.
The post-emancipation period known as Reconstruction (1865-1877) marked an era of great hope, uncertainty, and struggle for the nation. Formerly enslaved people immediately sought to reunify families, establish schools, run for political office, push radical legislation, and even sue slaveholders for compensation.
---
Check out ways to celebrate Juneteenth 2023 in San Diego:
Community Actors Theatre's Juneteenth Celebration: Join the Community Actors Theatre for a day of entertainment, vendors and learning about the history of Juneteenth. This event is open to all ages, and there will be an arts and crafts table for kids. There are cement bleachers, so consider bringing a pillow to sit comfortably.10:30 a.m. to 5 p.m. June 17. Gloria's Mesa Amphitheater in Chollas Lake Park, 6350 College Grove Drive, San Diego. Free. communityactorstheatre.com/event/juneteenth2023
Juneteenth R&B Block Party: Enjoy the music of the 1970s, 1990s, early 2000s and R&B fusion at this block party with multiple DJs and performers. 5 to 9 p.m., June 17. Quartyard, 1301 Market St., San Diego. Tickets start at $10. quartyardsd.com/event/rb-block-party-juneteenth-celebration
Black Biz Flea Market: Celebrate Black-owned businesses at this flea market in celebration of Juneteenth. There will be more than 50 vendors with jewelry, art, food, plants, home decor and more. Noon to 5 p.m. June 18. WorldBeat Center, 2100 Park Blvd., San Diego. worldbeatcenter.org/event/juneteenth-celebration-black-biz-flea-market/
Afrodiaspora Celebration Day 2.1 – Juneteenth Edition: The dress code for this 21-plus event is "Afro-inspired and traditional," according to organizers. A least four DJs will play for a night of dancing, food and drinks, games, and local vendors. 4 to 9 p.m. June 18. Quartyard, 1301 Market St., San Diego. Tickets start at $9.99 before fees. quartyardsd.com/event/afrodiaspora-celebration-day-2-1-juneteenth-w-afrobeats-afrohou
Juneteenth Day of Restoration: The program includes speakers on health, wellness, education, and entrepreneurship, and will be moderated by Cassandra Schaeg, founder of SIP Wine & Beer and host of the KPBS series, Fresh Glass. The event includes reflection and story-telling commemorating June 19, 1865, when enslaved people in Galveston, Texas, were freed. 11 a.m. to 4 p.m. June 25. California Center for the Arts, 340 N. Escondido Blvd., Escondido. Free admission; tickets are required for entry. Optional brunch tickets are $25; $15 for Children ages 3-12 years or $40 Bottomless Mimosa Brunch. Visit https://artcenter.org/event/juneteenth-day-of-restoration.