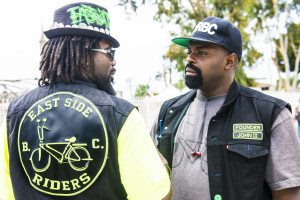 (South Los Angeles-Watts, CA) During the last couple of years or so, my husband and I, and maybe one other family member have occasionally enjoyed outdoor cycling.  I must admit, they more so than me. Thankfully, my attitude is getting much better because I know the mental and physical benefits of getting up, out and moving.
This brings up a question I have for my cyclers of color, Do you ever find yourself counting the number of people of color you see riding bicycles through neighborhoods in organized cycling clubs?  And, would you also agree that you've observed very few? (SMH-Yes!)
Have you ever wondered why? Perhaps the best answer is fear.  At least that's the answer that 35-year old John Jones, III, Founder of the East Sider Riders bike club in the South Los Angeles-Watts says.
In a recent phone conversation with The Chocolate Voice, Jones says that back in 2007, when his father told him, his brother and an uncle that he wanted to start a bike club in Watts, Jones laughed and told his dad that he was crazy!
Fast forward, nine years later Jones, realized that his father's idea wasn't that crazy after all.  Now he does what he calls "spandex-up" and has become one of Southern California's most fearless and enthusiastic bike riders.
Jones admits that his change of heart for the sport all started when he had some time on his hands after being laid off from work, and agreed to take his father up on bike club idea.
The first club ride included 10 people, all family members.
"The first thing we did was put together 50 sandwiches with 50 water bottles and rode around Watt's handing them out." One of the things we did as kids was feed the hungry-something my mother taught us. We  always found a way to give to those less fortunate. So we incorporated food into the bike club."
Although the main purpose of the bike club was to engage the community in exercise, while riding around the neighborhood, Jones says that he saw that there was much more work to be done than just feed people.  As the group rode through four graffiti-ridden housing projects, he observed people without shoes, people drinking on corners, many who looked aimless and in search of something to do.
As the group grew, they began to advocate for making improvements in the neighborhood–bike lanes, bike safety and group rides.  In 2010 they started a R 4 Love Ride, which takes place every year in February.  Jones recalls that about 90 people came out to the first one. The group rode around the neighborhood doing random acts of kindness.  This year, the group had approximately 230 people participate, and is now sponsored by Cyclists Inciting Change through LIVE Exchange and the Los Angeles County Metropolitan Transportation Authority.
Consequently, Jones' hard work and determination in advocating for safer streets has landed him a job as a Field Deputy for Los Angeles city councilmember Joe Buscaino. That position came about three years ago while advocating for bike lanes and, when someone noticed his pull sign advertising company, which was a 5'X8" sign bolted to a bike to advertise for businesses.
Through his advocacy work on the Los Angeles 15th council district they have implemented with the police, and the sheriff's office, the Los Angeles County Bicycle Coalition, and the Watts Labor Community Action Committee, called Life Lanes.
"Basically, it means that gang members know not to bother folks on bikes around Watts."  Says Jones.
Gang members are invited to join East Side Riders bike club on one condition: They must ride on bikes. "When they're on bikes, they get a pass from other gang members because it's known that they're doing something good for the community."
When we asked Jones the question, how did you come up with the name East Side Riders bike club?
He says, "I'm glad you asked.  It comes from the show, The Jeffersons!" We are poor but  as George and Weezy would say, we are movin' on up to the Eastside. We want to improve our community instead of leave.  I'm proud to be apart of the Watts community.  Our property values have increased ranging anywhere from $350,000-$500.000.00.  Now, people are looking to buy property in Watts."
The East Side Riders bike club has definitely made a huge impact on the community. It's become safer. "10 years ago people were afraid to ride bikes, especially in Watts.  Now, more and more people are taking up cycling, and learning to ride the correct way." Jones says.
Following Eastside Riders Bike Club's lead, now there are more bike clubs in Watts, Florence-Firestone, and in Compton.
"We have bicycle education and safety training classes that teach people how to ride with traffic.  Our goals is to give out helmets and lights to encourage people to take the course."
Since the family's passion for cycling has had such a positive impact on his community, and his professional life, Jones continues to ride the wave of success. Jones recently launched East Side Riders Bike Club Co-op, in September, selling used and new bikes as a essential resource for transportation, and for learning how to fix your own bike. Repairing bikes is something that Jones's dad has done for years on his own.  In fact, Jones says that says he still has the Schwinn bike his dad fixed and gave to him in the eighties parked in his garage.
Recently, Jones has started a GoFundMe campaign to buy a truck to start a mobile bike shop.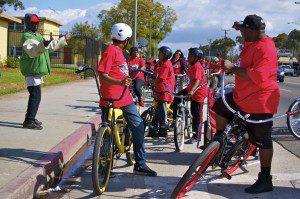 Jones is proud of the fact that more and more people of color are taking up cycling. He says that riding brings different cultures together. Our club rides with people from Pasadena, Silverlake and to areas further south—Coronado Island, in San Diego.
"To our community, a bike was just a toy. We're trying to show kid's that it's a way to get exercise—it's a way to get around. You can go pro with cycling."
We owe a big thanks to the East Side Riders Bike club, for their role in improving the streets of Watts.
For more information on East Side Riders Bike club visit: esrbc.org