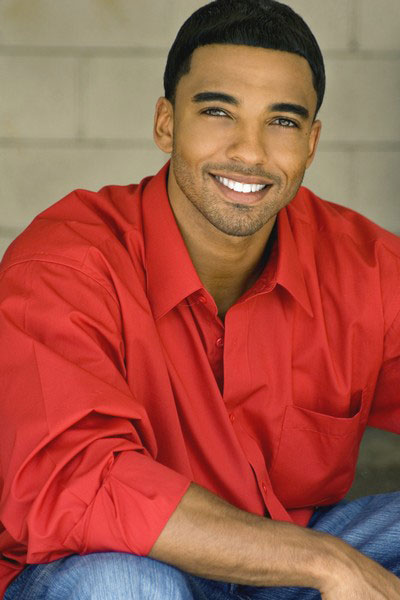 Christian Keyes is so much more than just a "Pretty Boy."   Make no mistake, being FINE certainly helps in the business of entertainment, with that being said: The actor, singer, model, producer, screenwriter, is a complete package and then some.   Oh and let's not forget, former fitness trainer! 
Keyes is one hard working and driven young man.  From acting in over 40 stage productions and more than 1,200 theatrical shows, including memorable roles in "Tyler Perry's What's Done In The Dark" and "Madea Goes To Jail," it's safe to say that after 12 years of experience in the entertainment industry, the Michigan native's hard work is paying off. 
Born in Detroit and raised in Flint, Keyes, is also an accomplished vocalist who's performed alongside Brian McKnight, Shirley Murdock, Cheryl Pepsi Riley, Anthony Hamilton, Lyfe Jennings, Avant and David & Tamela Mann.
Currently he's starring in the lead role as Fitness Trainer, Reggie Brooks in the stage play, "Love Will Find A Way," which made its world television premiere exclusively on UP (formerly GMC TV) on Saturday, June 1st, and will re-air on Saturday, June 15.
The Chocolate Voice recently had a conversation with Keyes who opened up about music, and how his love for acting has taken on a life of its own.
TCV:  Good morning Christian!
Christian: How are you today?
TCV: Great, I appreciate you taking time out to talk with me.  Shall we get started?
Christian:  Let's do!
TCV:  What inspired you to become interested in the entertainment industry?
Christian:  At first music was my first love and, I was sure that music would be my way into the entertainment industry. Clearly God had other ideas. Then 12 or 13 years ago, acting opportunities began to open up and, the more I studied, the more bookings I got. Before I knew it, my acting career took on a life of its on and now I love it.
TCV:  What type of professional training have you had in acting and singing?
Christian: I actually studied at a couple of different schools but most of my training is in musical theatre, where I studied at Ferris State University in Michigan. I have taken a bunch of acting classes plus, I read any books that I can get my hands on.  I'm still taking acting classes in fact I have a class today.
TCV:  Being labeled by Tyler Perry as "one of the most consistent male actors I've ever worked with." How did you feel when you heard that?
Christian:  It was a very nice compliment. I mean, clearly that should be the goal for anyone to show up, be professional, consistent and deliver.
TCV:  Let's talk about "Love Will Find A Way," which airs on UPTV on Saturday, June 15th, you star as the lead character Reggie Brooks, Fitness Trainer, tell us about your character?
Christian:  Reggie manages a gym with two CRAZY friends played by Jason Weaver ("ATL" and "Drumline") and Carl Payne ("Martin") two extremely talented actors.  Reggie comes into a large some of money in the form of an inheritance.  Reggie doesn't change but it's the people around him do. The woman he's dating who's played by Gabrielle Dennis ("The Game") changes and the storyline follows how people react to others having money, and how they want you to act.  It's a really funny story!
TCV:  You work with a very accomplished cast on "Love Will Find A Way" how was that?
Christian:  Absolutely. Gabrielle Dennis, Jason Weaver, Vanessa Simmons ("Run's House," Dysfunctional Friends.), Carl Payne, Shanti Lowry ("The Game," "The Closer") and Suveria Mota (Las Pandillas de Los Angeles) were all great to work with. It went really, really well. When you get a group of talented people together with great spirits it's impossible for it not to work.
TCV:  Who would you say in the entertainment business inspires you?
Christian:  I can't say just one individual I take notes on a wide range of actors. Clearly, I would have to say Jeffrey Wright, Don Cheadle, Will Smith, Denzel Washington, Robert Dinero and, Anthony Hopkins. And Meryl Streep, who is extremely dope!  I just love really good acting.  So, I watch a little of everyone to try to and see how they create those honest and magical moments.
TCV:  You look like you're in great shape. Any fitness tips you'd like offer up?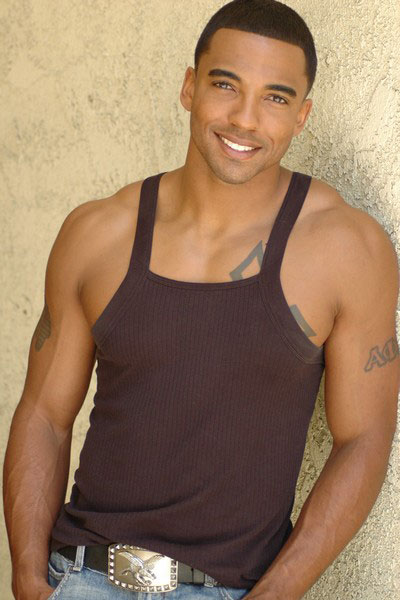 Christian:  Well, I work out five days a week.  It helps with some of the types of roles I'm up for.  I stay ready so I don't have to get ready.
TCV:  Do you have a trainer?
Christian:  I'm a certified trainer and I have been training me since college.  I used to train other people but thankfully, I'm too busy with acting so, I only have time to train me.
TCV:  Has love found it's way in your heart?
Christian:  I have been in love before but as of right now I'm single?
TCV: What other projects do you have coming up? 
Christian:  Well, my next project, which I'm really excited about we start shooting in three weeks. It's called "Ladies Night." It's a black version of "Magic Mike" meets "Takers," which I wrote the script and the cast is shaping up really nicely.  So far it's: myself, Lamman Rucker, Wesley Jonathan, Wendy Raquel Robinson, Vanessa Bell-Calloway, Marcus Patrick and we'll probably cast another 5 to 6 more major roles.  It's a great story.  I definitely think the fans are definitely going to be pleased at how we present it.  They're going to get classy plus excitement with an urban take.  When "Magic Mike" first came out I, saw a lot of tweets from Black women especially saying that there was no Black male presence, and I was like  Umh? 'Let me write one.'
TCV:  That's great!  That how you get it done.  When you see that there's a void and you take matters in your own hands.
Christian:  It's gonna be great, I think people are really going to enjoy it.
TCV:  We're proud of your accomplishments and, thanks again for taking the time out to talk with us, Christian!
Christian:  Thank you, and have a wonderful day!
"Love Will Find A Way, airs exclusively on UP (formerly GMC TV) on Saturday, June 15.
For updates follow Christian on Twitter @ChristianKeyes and, on Instagram ChristianKeyes