Since creating his first film, D. Jus Riley's filmmaking career has moved at a much faster pace than the thirty something year old expected. Riley's short film, 5: Thirty-One was accepted into this years 10th annual San Diego Black Film Festival, he's in talks to produce a documentary for Big Daddy Kane, produced a music video for Mr. Cheeks and he's just finished writing a suspense script in which he will film and star in. So how does he do it all? The Chocolate Voice sat down to talk to the New Yorker to figure out how passion and a dream brought him success.
Raised in South Jamaica Queens, Riley admits that growing up in his close-knit neighborhood brought everyone with similar goals together. His street bred future hip-hop artists, filmmakers and other people now involved in the entertainment industry. Riley mentioned that it's also always helpful when someone knows someone, who is willing to help make a connection in pursuit of their dreams.
Although Riley's neighborhood had some entertainment connections, a career as a filmmaker wasn't a viable option in his family. He recalls, "During my senior year in high school, I remember finding an Army pamphlet that my mother placed under my pillow." Despite having many talented family members, and Riley being enrolled in acting school, it was clearly understood that in his family, one was to either join the military or get a steady job.
As his family didn't necessarily understand his passion for art, he explained that fulfilling his dreams were more important, "It helps to get validation from others and it hurts when you don't but, it's you that has to live with yourself.  I don't want to live my life saying what if?"
After graduating from high school and abiding by the wishes of his family, Riley respectfully entered the Army starting out in infantry by flying spy planes. It wasn't a bad job to have because along with being grateful for the opportunity to serve the country, Riley says that having that constant paycheck helped with financing his film projects, and to pursue his dream.
"It was the military that inspired me to creatively change my name to D Jus Riley," he adds,  "In the military, a person is referred to by their last name and when someone would ask me my name, I'd answer, just Riley.  So I added my own twist, D for Donnell— my birth name, Jus for Just, and last name Riley."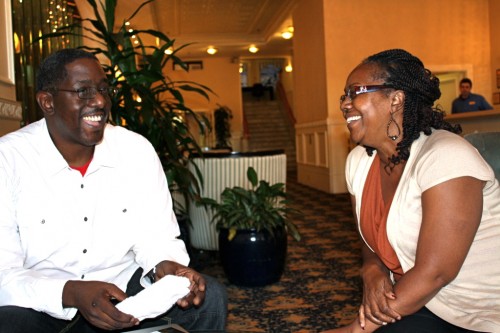 While his creativity was sparked, and as fate would have it, he returned home from Afghanistan as a result of an injury—sending him to Ft. Bragg for a year of rehabilitation. It was in rehab that he and a friend were inspired to create and produce thought provoking television and film projects.
He acknowledges that being in the military helped to shape his film career in a sense that he learned how to be direct, carry out a mission and apply that experience to film making. Completely self-taught, Riley received his film education through youtube, or as he coins it, "The University of YouTube".
Ironically, youtube is where he met another fellow New Yorker, established actor, producer, filmmaker, writer and web series developer, Al Thompson.
Thompson is best known for co-starring roles in films A Walk to Remember, Love Don't Cost a Thing and The Royal Tennenbaums, a film Riley admits as being one of his favorites.
"Al is there for me every step of the way. He encourages me to call him for anything and if I don't, he calls me and says, 'Why didn't you call me?' He's like a big brother."' Riley says.
Another director that Riley has admiration and respect for is Spike Lee, mainly because he believes strongly in following ones passion. Although Lee teaches film at NYU, he also advocates that a person doesn't necessarily need college because of more access to technology. "Spike fights everyday to be apart of mainstream Hollywood, yet he still wants people of color to fight for our own." Riley says.
Living by Lee's motto to fight for our own, Riley has sought out to bring interesting stories to the big screen. His most recent film 5ive: Thirty one, 5:31 being a biblical verse, is a script that he wrote in just two weeks. The film is based on a serial killer who strongly believes that people need to take responsibility for their actions and not put them off on God.  Riley that says he became fascinated with getting into the mind of serial killers like Charles Manson, whom he argues are very intelligent people who have extremely thought out reasoning. He studied many, and became intrigued with the psychology behind insanity.
The suspenseful and thought provoking film also questions the morality of a serial killer, and the logic behind their actions. So far, the film has been accepted into four festivals including the International Film Festival Manhattan, the San Diego Black Film Festival, the Short Channel Film Festival and the Queens World Film Festival.
With a career already destined for longevity and success, Riley makes it known that his plans for the future are simple—he proudly declares, "I'm going for the EGOT—the Emmy, Grammy, Oscar and Tony."
We at The Chocolate Voice are more than confident that Riley can in fact receive all four awards in no time, and we're simply proud to say that we know the filmmaker, actor, future superstar, and all-around good guy.
After our interview D Jus Riley's Film 5IVE:THIRY ONE was nominated for for Best Short Film at the 2012 San Diego Black Film Festival.  www.FaceBook.Com/531Movie