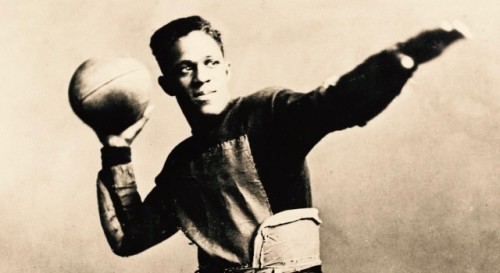 As we head into the Super Bowl, here are 10 amazing facts on the incredible journey of Fritz Pollard, one of the first African-American players to play professional football and also the first to become a head coach.
1. He was born Frederick Douglass "Fritz" Pollard. Pollard grew up in Rogers Park, a community area on the north side of Chicago, Ill. It was a German-immigrant part of town. That's where he got the nickname Fritz.
2)  Slight in build, he was 5'9 165 pounds, he was the first African-American selected to the Cook County All-Star team, which earned him the chance to attend Brown University of the Ivy League.
3) Pollard's father was a champion boxer and barber from the Civil War era.
4) Pollard was the first African-American to play in the Rose Bowl, but the trip was not without challenges. Pollard was refused service by the porters of the Pullman train car which carried his teammates across country. The hotel the team was staying at in California even refused to give a room to Pollard. It wasn't until an assistant coach threatened to remove the entire Brown team that the hotel agreed and let him stay.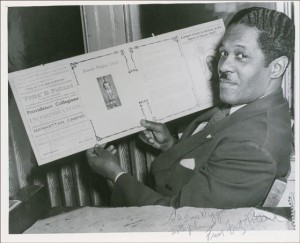 5) After Pollard finished his playing career at Brown, he
studied to be a dentist at the University of Pennsylvania and served in the army during World War I before he was recruited to play football professionally.
6) He joined the Akron Pros in 1920 in the American Professional Football League (which would later become the National Football League).
7) Pollard founded and coached the Chicago Black Hawks in 1928. They were an all African-American team from the Windy City, but often went barnstorming through the West Coast. His team became one of the most popular, especially once the Great Depression forced many teams of that era to fold.
8) He founded the first black tabloid in 1935, New York's "Independent News."
9) He also founded the first black investment firm and would go on to be an agent who represented black entertainers.
10) Pollard also had another impact on Hollywood, According to Pollard, Walt Disney was at the 1916 Rose Bowl game and he became enamored with Pollard's antics on the sidelines. Pollard was animated as he lobbied his coach to get back into the game. The image of Pollard's theatrics stuck with Disney and in one cartoon, he modeled Mickey Mouse's movements after Pollard.
Pollard died at age 92 in 1986, and was inducted into the Pro Football Hall of Fame in 2005.
A trailblazing pioneer, Fritz Pollard has done more in one lifetime that one could ever imagine. We celebrate Fritz, #blackhistorymonth and every month.
Now that's #blackexcellence.