By DL White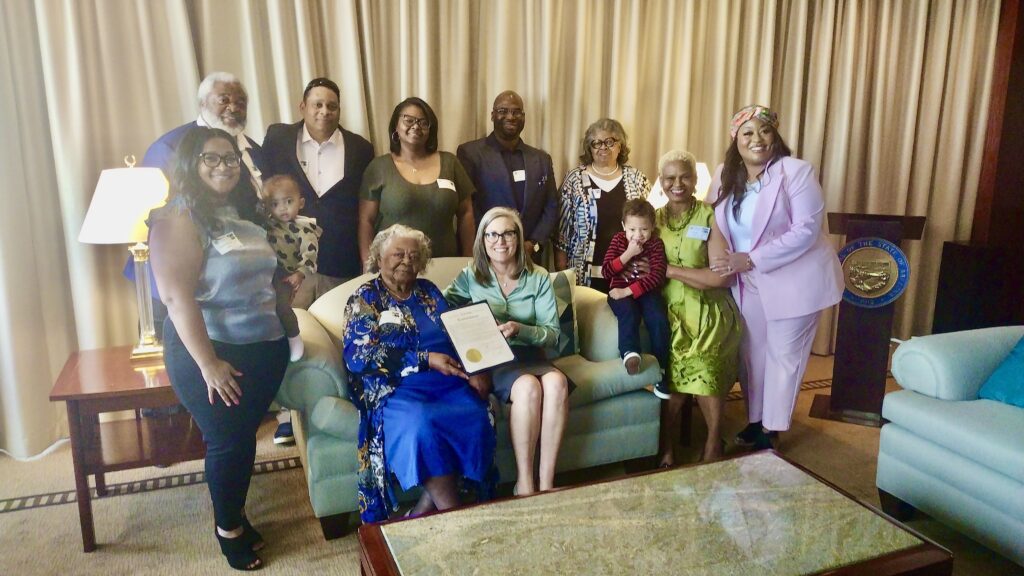 On Monday, February 21, one day after celebrating her 100th birthday with family and 72 hours after a celebration fit for a Queen, Mrs. Elizabeth J. White, owner and proprietor of Mrs. White's s Golden Rule Cafe, the business icon found herself on the 9th floor of 1700 W. Washington, being honored by Governor elect Katie Hobbs.
The special recognition came secondary to several family members submitting letters and completing the required online request for a proclamation and or special letter of recommendation.
"Mrs. White, I'm honored to share this proclamation with you. You are a living legend, a living business legend. It is such an honor to meet you," shared the smiling and gracious Governor, holding the proclamation in both hands.
After a brief exchange and greeting family members present, the Governor read the read the document which contained several highlights of Mrs White's amazing journey in business.
Concluding in the customary fashion of ,
"I therefore proclaim the week of February 20, as Mrs. Elizabeth J White Day week, and call upon all Arizona's to acknowledge and honor Mrs White for her longevity in business and life"
The Governor then say next to Mrs. White CV or a personal chat and continued to acknowledge family members present…
A good day in the succession of good days that make up a remarkable life.
Notable family members present for the special recognition included Mrs White's son and Co- Owner of the business Larry White, Sr., daughter Portia White- Buze, son DL White, grandson Larry White, Jr and wife (Rasheedah), granddaughter Kianna White, great-grand daughter Toyesha Jackson and baby great-great grand daughter Layla, Jeff Richards, nephew, and former daughter in-law Renee Knight.
---