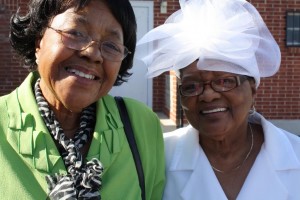 Those who know me pretty well often say, "You're so much like your Mama." I take those words to heart, and wear it on my sleeve like a badge of honor.
The way I see it, a person should never be told, that "Your'e too nice." Or, asked questions, "Why are you always smiling and what are you so happy about?"
My mother is that down-to-earth, soft-spoken, somewhat bashful, type of person who only gets upset when she's reached her wits end. Except for when it comes to her children and sports—that's when she becomes fierce.
I grew up mesmerized by her ability to simultaneously run a business, raise four kids and actively participate in community theater. I would watch her organize fashion and talent shows with kids from the neighborhood as means to keep them busy and off the streets.
When she was working at her record shop, she appeared to be a fun boss and I admired how she interacted with the teenagers who worked for her. The creative work environment she provided was professional, upbeat and fun. A true entrepreneur when it came down to business, she would encourage them to one day be their own boss.
Sometimes I don't think that my mother realizes what an impact she had and has, on those around her.
So, now when people say, "You're so much like your mother." I look at them and, say I can't imagine being half the women she is.
Happy Mother's Day, Mama!  And, Happy Mother's Day to mothers everywhere who inspire us to be the best that we can be.