By G. Napier Barnes III
The first intercollegiate football game between Black Colleges took place on December 27, 1892, between Biddle College (now Johnson C. Smith University of Charlotte NC) and Livingstone College (of Salisbury NC). The Charlotte team traveled the 40+ miles by horse and buggy to play the game on Livingstone's snowy front lawn. The uniforms for both teams were created by the women who attended Livingstone. Street shoes were modified for traction. The teams ponied up their funds to buy a real regulation football. They faced off for 90 minutes (about 1 and a half hours), playing two 45-minute halves. Biddle won 5-0 (touchdowns were only 5 points at the time) A Biddle player recovered a fumble late in the contest and rumbled in for the score. Some say the fumble was out of bounds and should not have been returned for the score. I guess they did not have instant replay back in 1892. The officials said the play was good.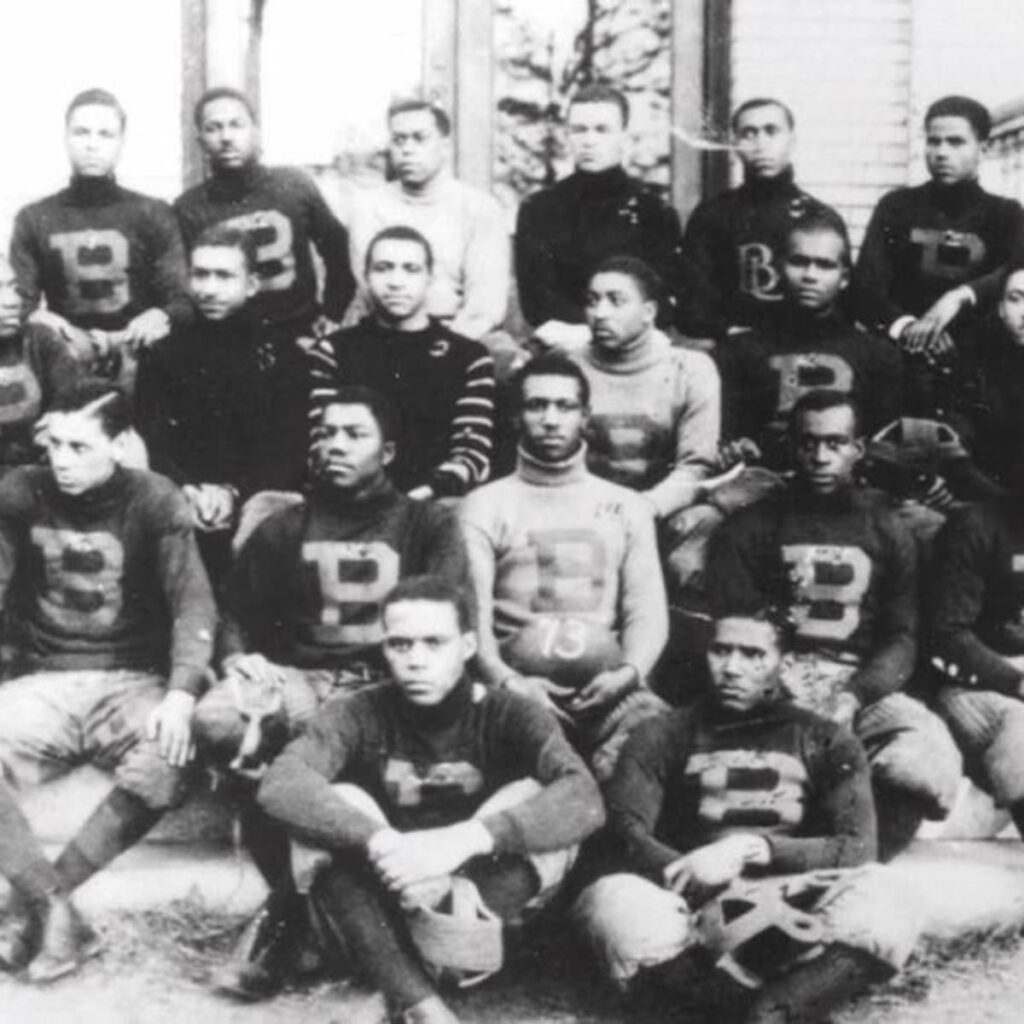 Fast forward to 2023. Week Zero saw three HBCUs in action. Bluefield (W.Va) State University defeated Florida Memorial 50-47 in a shoot-out. It must be noted that BSU is a Historically Black College or University (HBCU) But 80% of the student enrollment is currently white. Langston University (Oklahoma) loss to Mid-American Nazarene in OT 24-21. Jackson State University revenged a Celebration Bowl beat down by spanking South Carolina State 37-7 at the MEAC/SWAC Challenge in Atlanta.
Week One had both its traditional blowouts which comes when some of our HBCUs play up in competition in what are called "money games." and close encounters of the football kind. North Carolina A&T State University traveled to Birmingham, Alabama. The Aggies were manhandled by the University of Alabama Birmingham 35-6. The University of Arkansas-Pine Bluff went to Tulsa, OK to play Tulsa University. They lost to the home team 42-7. Tennessee State University traveled to South Bend IN to face the fighting Irish of Notre Dame. Notre Dame played like a heavy weight contender beating a fly weight challenger 56-3. The worst beating of the week came in Midland, TX. Tiny Texas College took on the University of Texas-Permian Basin UTPB trampled TC 96-0. Texas College has an enrollment of less than 1,000. The Steers play at the NAIA level. UTPB has over 7,000 students and competes in the NCAA Division II. One must wonder did the money that was paid to the losers of these "money games" add up to a worthwhile investment to these schools eventually? I expect not.
There were several upsets in week one. The Central Intercollegiate Athletic Association (CIAA) a Division II conference saw two of its' members defeat Mid-Eastern Athletic Conference (Division 1) members. Bowie State University (CIAA) defeated Delaware State University up in Dover, DE 22-11. Virginia State University (CIAA) traveled to Norfolk to defeat the Norfolk State University Spartans 33-24. The MEAC did pick up a big conference victory when Morgan State University upset the University of Richmond on the Spiders home Field 17-10.
There were three nationally televised HBCU contests last weekend. Florida A&M handed Jackson State University its first loss in the AD era (After Dieon). The Rattlers prevailed 28-10 at the Orange Blossom Classic shown on ESPN. Virginia Union University crushed Morehouse College 45-13 at the Black College Football Hall of Fame Classic in Canton, OH. The game was televised on the NFL Network. The most exciting game of the week was the Boeing Red Tails Classic pitting Southern Intercollegiate Athletic Conference (SIAC) powers Fort Valley State University against Tuskegee University in Montgomery, Al. Red Tails were the Black pilots that were trained at Tuskegee from 1941-46. These extraordinarily successful pilots painted the back end of their aircrafts red, thus the name. TU saw a sizeable lead cut to six points. On the final play of the game a FVSU player was tackled inches from the goal line to preserve the victory (37-31)
The elephant in the room last week was Colorado's triumph over a Texas Christain University team that played for a national championship last season. Colorado was 1-11 last season. They brought in a new coach, Dieon Saunders formally from HBCU Jackson State University. Coach Prime brought in over 80 unfamiliar faces, including his son, quarterback Shedeur, and the highest rated recruit in HBCU history (Travis Hunter). Sanders passed for 510 yards and four touchdowns, Hunter, who played both ways, caught eleven balls for 119 yards and added an interception on defense in the 45-42 victory. The Buffalos were 21-point underdogs.
Football weeks two and three will also consist of cross conference and money games. Stay tuned to The Chocolate Voice for up-to-date scores.
---
Story by: George Napier Barnes, III. George is a proud alumni of historically black college or university (HBCU) Fayetteville State University, Kappa Alpha Psi, and currently lives in Phoenix, Arizona.
---