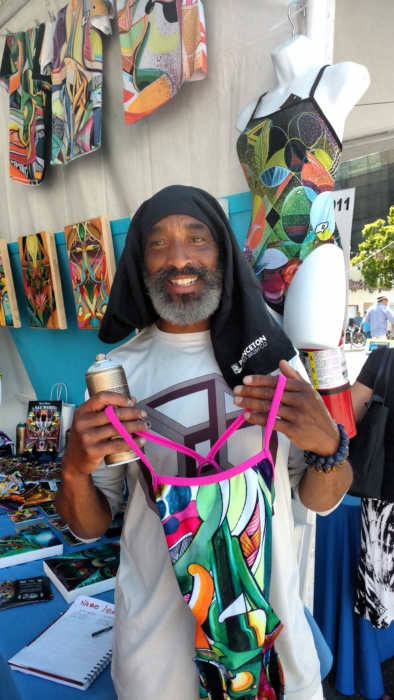 Each year San Diego's original fine art festival ArtWalk, bring together hundreds of artists to the streets of Little Italy to showcase their own brand of creative expression.
This year, just in time for summer, International Muralist Maxx Moses, who paints large scale murals throughout the world, showcased a vibrant piece of wearable art, a swimsuit wear designed by the artist's own unique brand of graffiti artwork.
Moses's process is considered Concrete Alchemy, the physical transformation of blank surfaces into colorful, dream-like realities. His tools are spray paint and acrylics. His inspiration is life, which he views as an ever-changing natural canvas of chaos and order.
According to Moses, who also goes by the name of Daniel A. Hopkins, painting large scale murals throughout the world and forging deep connections with communities is how he examines the depth of his learning and the quality of his art.
Moses also displayed a large graffiti mural at ArtWalk for festival goers to express their own brand of creativity.
For more information Maxx Moses click here.