By DL White
"We might not have chosen the time, but the time has chosen us!"

John R. Lewis (1940-2020)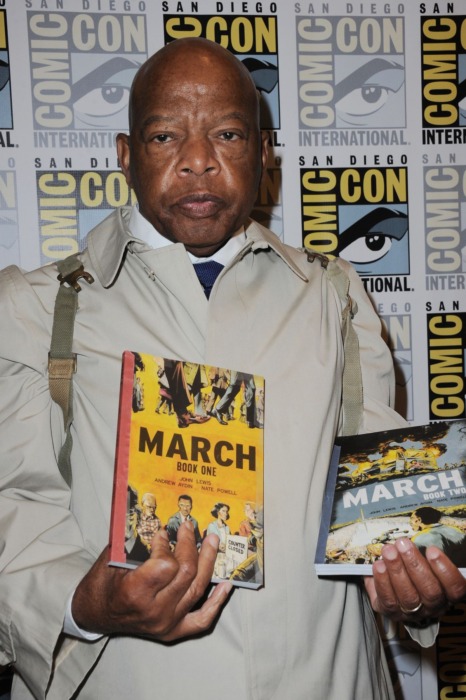 John Robert Lewis, considered by many as the "moral conscience" of the U.S. Congress, and the venerated voice for Voting Rights in America since 1961, fought his last fight and voiced support for Black Lives Matter while standing in BLM Plaza on the Washington Mall, in June.
Very similar to young David in the biblical text, who slew the Philistine giant Goliath, John Lewis stood against racism and hate and through his courage and zealous work laid the foundation for the passage of the Voting Rights Act (65) and improved conditions for people of Color in these United States of America.
It is safe to say, John Robert Lewis loved and believed in America and the principles upon which it was founded more than the country returned that love early in his career.
Lewis envisioned himself preaching the gospel. As a child he practiced his sermons on the family's chickens in rural Alabama. That life was not to be for John Lewis, one of nine children born to sharecroppers.
Lewis would preach, but his gospel would be Voting and Human Rights and he would gain a different audience as his pulpit would become the streets, byways and highways of Alabama and the Deep South. He referred to his activism as "Good Trouble."
Former President Barack Obama, stated during his time in office, "I am only here (President) because of what Congressman John Lewis and others did years and decades before. I owe him and the entire nation own John (Lewis) a huge debt of gratitude."
"I was honored to have met the Congressman here in Phoenix" recalled NAACP Arizona State Conference President Charles Fanniel.
Having seen Lewis numerous times at the NAACP National Convention, Fanniel reports "Lewis was one of the originals. He was a man dedicated to civil, human and voting rights. The Senate needs to pass Voting Rights Act extension and name it in Lewis honor."
"Congressman Lewis was excited about the number of young people involved today. He believed that real change would come from young people voting and being involved in the process," shared East Valley NAACP President Roy Tatem, who met Lewis at the 2017 Congressional Black Congress Annual event in D.C.
The last of the Big-Six (planners of the Great March on Washington, 1963) along with Dr. King, Whitney Young (Urban League), Roy Wilkins (NAACP), A. Phillip Randolph (AFL-CIO) and James Farmer (CORE), Lewis was the youngest and considered (at the time) a youthful agitator, as the President of SNCC.
Lewis embraced non-violence and the importance of voting rights, as he along with Hosea Williams, civil rights stalwart lead 600 marchers on a Voting Registration march from Selma to Montgomery on March 7, 1965.
The march was interrupted when Alabama State Troopers intervened mounted on horseback with Billy-clubs and beat Lewis and other marchers to near death on the Edmund Pettus Bridge. The incident became known as Bloody Sunday.
The horrific and brutal incident was viewed on national television by hundreds of thousands and gave impetus for then President Lyndon Johnson to usher the 1965 Voting Rights Act through Congress.
House Majority Whip – James Clyburn (D) South Carolina, a life-long friend and colleague of Lewis, stated on CNN State of the Union on Sunday (July 19), "If President Trump and Senate Majority leader Mitch McConnell want to honor and remember John Lewis, then pass the Voting Rights Renewal Act (make it permanent) and rename it the John Lewis Voting Rights Act!"