With a heart of gold, an imagination for success and a passion for baking, Terrie Ferguson is living proof that dreams do come true.
Although her business is only 9 months old, she's already focused on  opening 2 other locations, has been approached for a reality TV show,and has already knocked out her competitors in a short amount of time.
Her business, The Cupcake Place, mixes bedazzled glam with wholesome simplicity that gives each customer a delicious treat and a wonderful memory each time they visit. As colorful cupcakes are painted on the walls and art deco tables line the middle of the shop, the ambiance of The Cupcake Place is much like a dessert lovers dream, and it is evident that Ferguson has put her all into it.
Contrary to what most would assume, baking wasn't the first career choice for this Orange County native—in fact, she didn't even have a culinary background.  For 25 years she's been a care provider for a residential facility for the developmentally disabled, and it was baking for clients that helped her discover her untapped talent.
She jokes that over time, her kitchen started to look like a cupcake shop, and one day she told her husband, "I should open up a cupcake store!"  She laughed that he supported her partially because she was making such a mess in the kitchen—but mainly because he believed in her talent.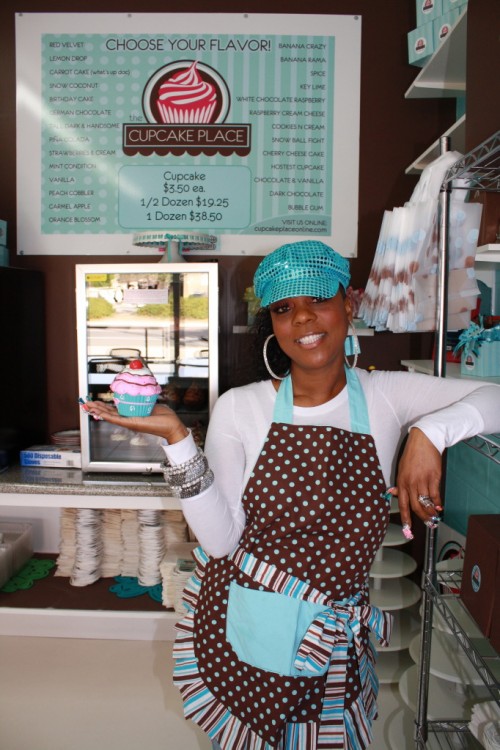 Her supportive family has been with her every step of the way, and she credits her belief in self-employment to them. In fact, Ferguson mentioned that even in elementary school, her family recognized her entrepreneurial spirit because she always had various odd jobs to make money.
With an encouraging family, an already flourishing business and a flair for baking, Ferguson set out on a journey to open The Cupcake Place.
Financing everything on her own, she found a plain square building and brought it to life with her vivacious eye for design. It started through word of mouth advertising and catering parties, and pretty soon the concept was complete. With cupcake names like Tall Dark and Handsome and Mint Condition, Ferguson steered clear of the typical cupcake flavors, giving her an edge above her competitors. She then brought on her dream team—Shirley, Tina and the rest of her lovely staff of 7. Although each member has a specialty, the group is collective and shares the responsibilities of the entire shop.
Her team and extremely delicious cupcakes place her in a league of her own and Ferguson doesn't need to worry about the competition, because she has a special ingredient—her personality.  Although she admits to being shy, her warming and bubbly presence makes each cupcake taste that much better. She is adamant that her special ingredient is the moisture of her cupcakes, but we at The Chocolate Voice know that she must have something else hidden under her sleeves to make her cupcakes taste like heaven.
The future is already shining for Ferguson as she will open up another shop by the University of Riverside in the summer of 2012. She also plans on expanding to Corona and hopefully to San Diego, if we at The Chocolate Voice can convince her to open one more location near us. If she is offered another reality TV show, she plans on accepting it since her confidence has soared with the successful opening of her shop.
As for advice for other entrepreneurs, Ferguson replied simply, "Do the best you can.  Whatever happens, happens."  If doing the best you can, can result in the huge achievements that Terrie Ferguson has had, then we strongly suggest following ones passion—well, that and visiting The Cupcake Place to taste her incredible cupcakes.
Putting her heart and soul into this business has brought her dreams to life and it is clear that Terrie Ferguson has found her true calling—but don't take our word for it, check out her mouth-watering cupcakes for yourself.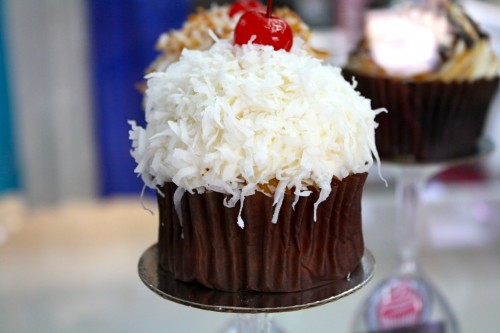 For special orders visit thecupcakeplaceonline.com
The Cupcake Place is located at 10580 Magnolia Ave. Riverside, CA 92505  phone no. (951) 358-1201