Let's just be real, when wearing a BIG Fro, Dreads, Braids or any other natural hair style, getting our hair wet daily from the shower is challenging to maintain.
That's no longer a problem thanks to one  determined woman who has found the solution.
Margie Cattouse (pronounced Cuh-touse), a 59-year-old from Queens, NY, says that she was never a risk taker.
Then, the unthinkable happened. She lost her Wall Street job of 22 years. The uncertainty of not knowing when another job would come through forced Cattouse to reassess her way of thinking.
Using Reverend Jessie Jackson's saying, "Business up or down, do the best that you can to make a success out of a dream," for inspiration, this mother of twin sons decided to take a risk and start a business.
Cattouse, who wears her hair in dreadlocks, thought of her business idea when she realized that the small, plastic shower caps she was using did not prevent her hair from falling out and getting wet.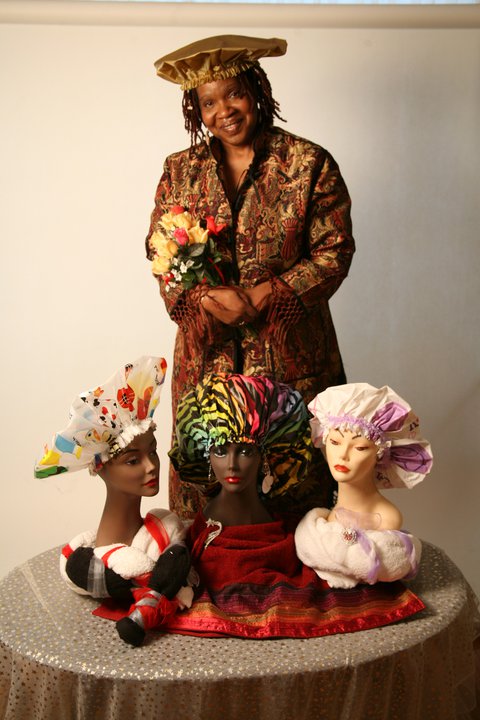 In her quest to fulfill her need, she began searching online and tried every beauty supply store in her area to find a shower cap large enough to fit her long, thick dreads. Cattouse continued her search by hopping Burroughs and went to Brooklyn, which she considers the Mecca for hair care on the East Coast because of its large Rastafarian community.  The community's answer to Cattouse's question about how they protect their hair in the shower was simple. They use trash bags.
A light bulb went off, and her creative juices began to flow.
Cattouse explains, "African Americans spend a lot of money on hair care.  We are the ones who wear versatile hairstyles: Fro's, braids and dreadlocks."
With that mind, she took out Miss Whitney, "her Singer sewing machine," and enlisted the help of her eighteen-year-old granddaughter and her product lines was born: Celestial Crowns Shower and Slumber Bonnets.
Made from high quality materials and, resembling a colorful vintage couture lamp shade, Celestial Crowns appeals to a wide customer base, with product sales reaching international clients.  Sold individually and varying in sizes and colors, the company takes pride and craftsmanship in creating a well manufactured product.
Cattouse, who is now a successful business owner, says, "I wanted to appeal to all tastes, offering a variety. I'm very proud of what I offer to customers."
For more information on how to purchase visit Celestial Crowns Shower Caps and Slumber Bonnets.