By:  Deah Mitchell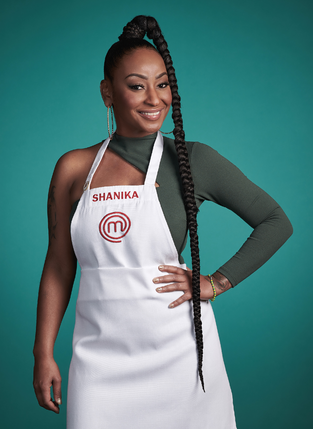 Get to know Miami-native, turned Season 9 MasterChef contestant Shanika Patterson as she shares her rather unusual guilty food pleasure, how her previous career gives her a leg up on the competition,  and the tea on that supposed beef with Chelsea.
TCV: You have a background in event promotions. Has this worked to your advantage or against?
SP:    Yes, coming from a professional career in event promotions has definitely helped me in the competition. Having that background I've learned skills like thinking quickly on my toes, learning to work with different personalities and having a good amount of stamina.
 TCV:  You shared in episode 1 that your mother passed when you were 14. I can imagine she was an influential person in your life. What's one thing she taught you about food that transcends the kitchen?
(Shanika fell quiet and I gave her a moment to collect herself before she began.)
SP:  Sorry, about that. My mom was truly a great woman and I miss her. She meant so much to us.
TCV: My deepest condolences. I can't imagine how that incident shaped you into the woman you are today.  What was her name? Do you mind sharing?
SP:   Sure, her name was Paulette Patterson. I'm probably oversharing, but she died from ovarian cancer. I guess the thing my mom taught me was to always try new and different things, both in and out of the kitchen. I inherited her strength and passion for food.
TCV:  In episode 5 we saw you struggle with the handling the crab before finding out you're allergic to shellfish. Have the most difficult challenges on MasterChef been more mentally or physically demanding?
SP: That was the toughest challenge so far! It was both mentally and physically challenging because in the back of my head I knew it could have turned really bad with my food allergy. I just kept thinking about that trophy and the $250,000 check and knew I had to finish.
TCV: Being a home chef have you felt the pressure to "prove" yourself against chefs who have been trained in culinary schools?
SP: "If other people have more knowledge in any field it pushes me to research the subject and learn more about it. I Figure out ways to work harder to gain the knowledge and respect, but I'm not intimidated…"
TCV:  We all have favorite foods that we say are our favorites publicly. But what's your guiltiest pleasure that you're embarrassed to admit?
SP: (She laughed before admitting the bizarre guilty food pleasure) "You know the pork rinds that they sale in a bag?"
TCV: "Oh yeah. Those are big in the south. Here in Texas we call them "skins" or "pork rinds".
SP: "Well," she laughs, " I like to put rice wine vinegar on them and add spices on top."
TCV: "Say what now?" I ask, somewhat amused but intrigued.
SP: "Yeah, there's an art to it doing it properly though. The pork rinds need to sit in the vinegar for the right amount of time, so that it's not too hard but not too soft. Then you add the spices on top. It's really good! Try it and let me know what you think!" She encourages.
TCV: Ok, we have a couple of minutes left, so let's end with our viewer's choice question submitted by a viewer from Arizona.  If you had to prepare a dish for President Trump, what ingredients or what dish would you prepare and why?
SP: Hmmm, that's a good question. If I were cooking for any president I would make beef wellington with a red wine reduction, prepare cream leek soup as a side dish. Something royal and delicious. Regardless of our personal opinions, you always want to put your best foot forward.
After Chelsea was chosen as team captain and did not save Shanika from the dreaded "pressure test", the two looked as though they would be at odds. But the self-proclaimed "female version of Gordon Ramsey in the making" wants us to know that she and Chelsea are friends.
"Sometimes in the heat of the moment we all say things we don't mean. I like Chelsea and we're all good."
Shanika may enjoy foods with questionable flavor combinations, but one thing we aren't questioning is how far this sexy chef's talents and sharp wit will take her. With any luck, all the way to the top!
Follow Shanika on social media : IG/@cookinafterdark TWITTER / @chefshanika
---
Deah Mitchell is a freelance writer and culinary instructor who is publishing her first book entitled "Cornbread & Collard Greens: How West African Cuisine and Slavery Influenced Soul Food."When she is not writing, she enjoys planning food-themed events, traveling, reading and spending time with her family and friends. Follow Deah on Instagram @whatdedesays