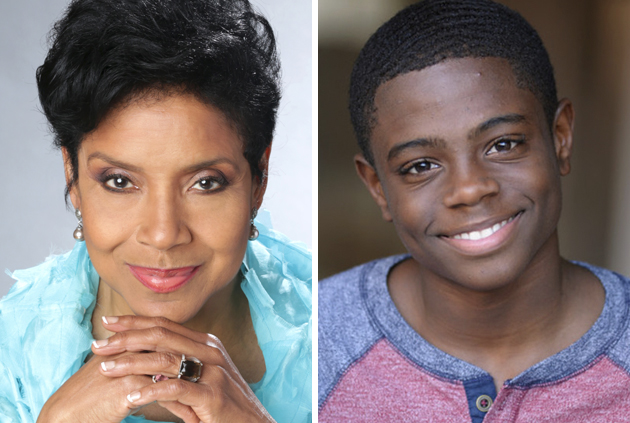 Continuing its commitment to creating diverse, elevated original programming from the entertainment industry's leading talent, OWN: Oprah Winfrey Network today announced the ensemble cast — including Emmy nominee Phylicia Rashad — for its new original drama series David Makes Man, the television debut of Academy Award winner Tarell Alvin McCraney (Moonlight), produced by Warner Horizon Scripted Television. McCraney wrote the coming-of-age drama and will serve as executive producer alongside Mike Kelley & Melissa Loy (Revenge), Michael B. Jordan (Creed) and Oprah Winfrey. Dee Harris-Lawrence (Shots Fired, Unsolved: The Murders of Tupac and the Notorious B.I.G.) has been named showrunner and will also join the executive producer team. Production will begin on the drama this summer in Orlando, Florida, for a 2019 premiere.
David Makes Man centers on a 14-year-old prodigy from the projects who is haunted by the death of his closest friend and relied on by his hardworking mother to find a way out of poverty. He must choose between the streets that raised him or the higher education that may offer him a way out. Set in South Florida, the lyrical drama, inspired by events in McCraney's own life, explores the inherent trauma sustained in the fight for survival.
The cast of David Makes Man includes:
Akili McDowell (The Astronaut Wives Club) is set to star as David, a young teenager and former block drug dealer from a state housing project in Homestead, Florida, who rides a bus every day to attend a magnet school for academically gifted kids. Aware of the expectations and perceptions other have of him, he has become an expert chameleon who toggles between two distinct personas that reflect his surroundings — but this exacts an emotional price.
Emmy nominee Phylicia Rashad (Creed, The Cosby Show) stars as Dr. Woods-Trap, a respected and intimidating instructor at David's middle school who is one of those teachers that students remember for the rest of their lives. Her assignments are challenging but rewarding, and her students genuinely like and respect her. Though firm with David, she sees something special in him and becomes his advocate.
Rashad starred in McCraney's play Head of Passes in 2017 and will appear in the upcoming Creed sequel starring Michael B. Jordan.
Nathaniel Logan McIntyre (Magic Camp and Barry) is set to play the role of David's best friend, Seren. Seren holds painful secrets, and his relationship with David has recently become fraught.
Broadway actor Isaiah Johnson (Hamilton, The Color Purple) plays the role of David's close friend, Sky, prone to quiz and give David advice.
Ade Chike Torbert (East Los High) will play Raynan, whose ties to the drug trade drive a wedge between him and David, despite Raynan's desire to connect on behalf of their mutual friend.
Jordan Bolger (Peaky Blinders) is set for the role of Shinobi, Raynan's second-in-command who, like Raynan, clashes with David.
Cayden K. Williams (Girls Trip) will play JG (Jonathan Greg), David's rough-and-tumble younger brother, who is more vulnerable than one might expect.
Travis Coles (Liza on Demand) will play the genderqueer Ms. Elijah, a longtime Homestead Village resident who watches over David when his mother is away. Ms. Elijah knows all the skeletons of Homestead Village and its residents.
Dee Harris-Lawrence most recently was co-executive producer and writer on the drama series Unsolved: The Murders of Tupac and the Notorious B.I.G., Shots Fired and Star. Before that, she served in the same capacity on series such as Zoo, Detroit 187 and Saving Grace, among others. Her other writing credits include Any Day Now, Kevin Hill, New York Undercover and more.
Playwright, actor and producer Tarell Alvin McCraney received an Academy Award, with director Barry Jenkins, for Best Adapted Screenplay for the 2016 film Moonlight, which also won for Best Picture. The movie was based on McCraney's semi-autobiographical script In Moonlight Black Boys Look Blue. McCraney currently serves as the chair of playwriting at the Yale School of Drama. This will be his first foray into creating a scripted drama series for television.
Page Fright producing partners Mike Kelley and Melissa Loy have worked on several notable scripted series, including Revenge, where they served as executive producer/showrunner, and executive producer, respectively
Michael B. Jordan has had prominent roles in critically acclaimed films including Fruitvale Station, Creed, and Black Panther as well as on popular television series including Friday Night Lights and The Wire. Last year he launched his own production company, Outlier Productions.
David Makes Man is produced by Page Fright and Outlier Productions in association with Warner Horizon Scripted Television.